camcorders
Samsung SC-HMX10 Camcorder Review
The SC-HMX10, released in 2007, is Samsung's first high definition camcorder. Employing a 720P H.264 compression, the company is well behind the competition in its technology, but the SC-HMX10 has a certain appeal. The compact body, stylish curves, and uber-simple menu will catch the eyes of the fashionable crowd. For a "budget HD" camcorder, this is perhaps the best we've seen. But for a few hundred dollars extra, far more enticing camcorders are within reach. Can the SC-HMX10 justify its value? Only for a very specific type of user, we believe.

Performance
Video Performance* (6.75)*
The Samsung SC-HMX10C is equipped with a single CMOS sensor measuring 1/4.5 inches. The gross pixel count is 1,610,000. The specs sheet states the effective pixel count as 1,560,000, but does not state if this is with the electronic image stabilization on or off.
For general indoor shooting, the camcorder is pretty good. Under the right conditions, this version of H.264 does a better job of hiding its compression artifacts than certain AVCHD camcorders. Don't get too excited, though. There are plenty of compression artifacts. They can best be seen in areas of high contrast, or large, flat areas of black, where the massive grid-like structure of chunky blocks is easy to see. In more complex shots, such as outdoor shooting on a busy street, the artifacts are less noticeable. What that setting does reinforce, however, is the poor dynamic range.
Rarely could this camcorder capture any detail in the shadows if a brightly lit area was dominant. Unfortunately, there is no option to change the auto metering method, which appears to be in a "whole frame evaluative" mode. If the SC-HMX10 could be shifted to center-weighted or spot metering, it would be easier to work around the deficiency. Also, there was a fair amount of haloing which may stem from over-aggressive sharpening.
We went out and took identical outdoor shots minutes later with the Canon HV30 (recording in 1080/60i), which helped draw out just how different interlaced HDV is from progressive H.264. The HV30 rendered an incredibly sharp picture when the action is still. Fast moving objects, however, often experienced less blurring with Samsung's progressive recording. You may not even notice it in side-by-side comparisons of the footage. But freezing the image shows a sharpness that HDV couldn't match. This could be important for those users that frequently have to pull out usable frame grabs (i.e., law enforcement, surveillance, sports). In slow moving objects, the HDV model was better by far due to the increased resolution. It's a compromise – what kind of shooting is most important to you? In our experience, the vast improvement in resolution and color that the HV30 offers is more than worth it.
In the lab, we shoot a DSC Labs ChromaDuMonde color chart at an even 3000 lux. Under these more-or-less ideal conditions, the SC-HMX10 looks good. It clearly lacks the resolution of more expensive 1920 x 1080 camcorders, but Samsung has done a good job producing a "budget HD" camcorder.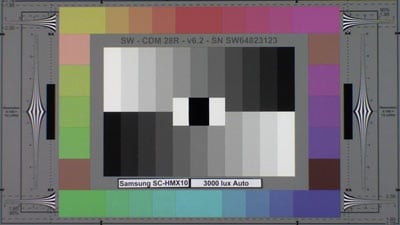 One clear issue made itself known early on in testing. The SC-HMX10 has a hard time keeping the entire frame in focus. Most of the testing shots showed a significant drop-off around the edge (see image below). Typically family shooting and backyard frolics will not suffer too much from this. However, any serious shooters will find this reason enough to avoid Samsung as their HD of choice.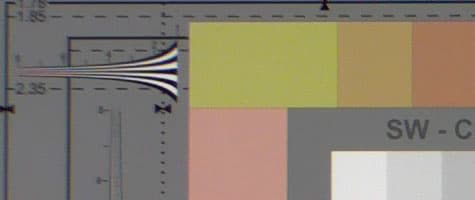 A 100% crop of the chart in its native 1280 x 720. Note the focus drop-off at the edge.
The closest competitor to the SC-HMX10 (that we've tested) is the Sanyo VPC-HD2. While the Sanyo appears to have more resolution, in fact it simply pushed the in-camera sharpening to a much stronger degree than is typical. On the whole, the Samsung produced a better, less saturated color and more natural amount of sharpening. Of course, Samsung had the problem of focus drop-off, which Sanyo did not.
The solid state camcorders that record in 1080i, such as the Sony HDR-CX7, offer a much better performance. The resolution tested much higher, and the picture looks much cleaner and sharper to the eye. Sony did a brilliant job with the color performance; a tad oversaturated, but not excessively. The price difference between the CX7 and the HMX10 is significant, but the performance boost is worth the money. However, readers should be aware that the CX7 records in 1440 x 1080, and is then anamorphically stretched to 1920 x 1080. Most 2008 Sony camcorders now record in full 1920 x 1080. A replacement for the CX7 was not announced in January 2008, so it seems likely that the follow-up model will appear later in the year.
Video Resolution* (9.03)*
The video resolution is determined by shooting a DSC Labs video resolution chart at an even, bright light, then looking at the playback footage on a high definition monitor. We found the SC-HMX10 produces a horizontal resolution of 425 line widths per picture height (lw/ph) and a vertical resolution of 425 lw/ph.
This score was significantly lower than HDV camcorders and the AVCHD camcorders we have tested so far, all of which record in 1080i (either 1920 x 1080, or 1440 x 1080 that is anamorphically stretched for playback). The Samsung SC-HMX10 records in 720P (1280 x 720). As we described above, progressive shooting is better for certain kinds of shooting – ESPN prefers to broadcast sports in 720P, for example – but the consumer camcorder industry has clearly sided with 1080i. Sony, Canon, Panasonic, and JVC all use 1080i. So far, only lower-cost camcorder manufacturers like Samsung, Sanyo, and others have sided with 720P. Our own testing has shown a marked drop in resolution in the 720P camcorders.
Low Light Performance* (2.39)*
The scoring for low light is based on the testing in our labs, which takes place in three stages. First, we shoot our DSC Labs ChromaDuMonde at an even 60 lux and 15 lux, then compare those shots with the competition. At 60 lux, the Samsung SC-HMX10 did not appear much darker than its more expensive solid state HD counterparts, the Sony HDR-CX7 and the Panasonic HDC-SD1 (we did not test the second-gen HDC-SD5). However, the noise was significant, enough to put a real dent in the fine detail resolution.
By comparison, the Sanyo VPC-HD2 (also 720P) produced a much, much brighter image at 60 lux, but it didn't look good. The noise was too high and the image too fuzzy. The Sony HDR-CX7 was certainly not free from noise, but looked remarkably sharper than the Samsung SC-HMX10. Color retention was excellent. The Panasonic HDC-SD1 produced a decidedly "softer" image than the Sony, but was much cleaner and sharper than the Samsung.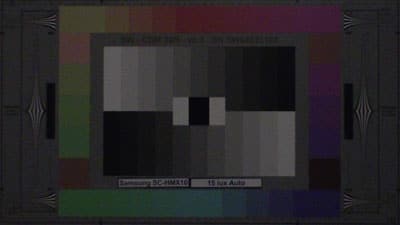 At 15 lux, the Samsung's image is pretty well kicked. The color retention is low and the noise is very high. Fine detail retention is virtually nil. Only high contrast detail can be discerned from the mess. This is not uncommon in consumer camcorders, though we tend to have higher standards for HD. Under the same conditions, the Sanyo VPC-HD2 pushed the saturation to its limit, but the color it produces appears false, almost painted on. The Sony HDR-CX7 hardly did better with color, though the fine detail retention was better. The Panasonic HDC-SD1 fended off a lot of noise and managed to retain a good amount of color.
The second part of the test involves shooting a GretagMacBeth Color Checker chart at an even 60 lux, then running frame grabs through Imatest imaging software to determine color accuracy. We found the Samsung SC-HMX10 to produce a color error of 12.5, which ranked very well against the competition. The noise score, 1.88 percent, was merely average. The saturation measured 65.72 percent.
Finally, we tested the camcorder's sensitivity by slowly and steadily lowering the light while watching the outputted IRE levels on a waveform monitor. IRE levels are a measurement of exposure, typically ranging from 5 to 100. We lower the light until the camcorder is outputting a max of 50 IRE. The Samsung SC-HMX10 produced 50 IRE at a light level of 21 lux. This was an unimpressive score, but not unexpected considering the size of the imaging chip (1/4.5 inches). The low score also put a hurt on the overall score for Low Light Performance.
Shooting out of the lab showed the Samsung SC-HMX10 to be a mediocre low light performer. The imaging chip was simply not up to the task of catching a lot of light. The lack of compensatory controls only exacerbates the problem. The manual shutter speed can't dip below 1/60 of a second. There is no special low light shooting mode, nor any manual gain control. In a dark room, the exposure compensation is boosted as high as it will go, so making a manual adjustment is fruitless. The camcorder is equipped with an LED light, which is good for a few feet. Yet for some unfathomable reason, there is no way to turn it on while you're shooting. You have to turn it off and go to the second tab of the Main menu, then toggle through three screens of options until you see the "LED Light" selection. It seems this could have been better placed in the easily accessible Q.Menu.
Stabilization* (3.96)*
The SC-HMX10 is equipped with Electronic Image Stabilization (EIS), a system inferior to Optical Image Stabilization (OIS), which is found on nearly all Panasonics and high-end Canons and Sonys. EIS creates a digital buffer around the frame to compensate for shake, while OIS stabilizes the lens itself, so as to not sacrifice pixels. Unfortunately, the SC-HMX10's high speed shake prevention fell flat on its face.
We tested the SC-HMX10 at two speeds using our custom-built shake emulator. Speed One is equivalent to typical stationary handheld shake, while Speed Two simulates a light jog or rollercoaster ride, camcorder in hand. At Speed One, the SC-HMX10 exhibited a 66.67 percent shake reduction, while at Speed Two it yielded a measly 11.11 percent shake reduction. The SC-HMX10's EIS simply cannot handle fast motion.
Wide Angle* (10.0)*
We tested the SC-HMX10's maximum field of view by placing the camcorder on a tripod with the zoom pulled back fully and EIS disabled. A vertical laser was used to measure the left and right angles and the footage was later interpreted on an external monitor in order to obtain a true aspect ratio. The SC-HMX10 displayed a wide angle measurement of 50 degrees, which is on the high end.
Our editors review and recommend products to help you buy the stuff you need. If you make a purchase by clicking one of our links, we may earn a small share of the revenue. Our picks and opinions are independent from any business incentives.
Sections
Our editors review and recommend products to help you buy the stuff you need. If you make a purchase by clicking one of our links, we may earn a small share of the revenue. Our picks and opinions are independent from any business incentives.
Advertisement - Continue Reading Below
Compare Prices
Our editors review and recommend products to help you buy the stuff you need. If you make a purchase by clicking one of our links, we may earn a small share of the revenue. Our picks and opinions are independent from any business incentives.
Advertisement - Continue Reading Below
Advertisement - Continue Reading Below
Advertisement - Continue Reading Below
Advertisement - Continue Reading Below
Advertisement - Continue Reading Below
Get Our Newsletter
Real advice from real experts. Sign up for our newsletter
Thanks for signing up!