Manual Focus
Miscellaneous Controls
x.v. Color
Panasonic calls this feature "Digital Cinema Color", but it is no different than any x.v. Color mode. It simply allows you to record using the xvYCC expanded color gamut, which, when displayed on a compatible HDTV, will show you a wider range of colors.
Picture Adjust
You can adjust sharpness, saturation, white balance shift, or exposure using Picture Adjust. Each can be adjusted on a scale from -5 to +5 increments. We love this control, but we wish it was easier to access (it is buried in the menu system).
Guideframes
Grid lines appear on the screen to assist with framing. The TM900 has three display options: a set of 3 horizontal lines, a 9-sector grid, or a 60-sector grid.
Tele macro
Turn this setting on and the camcorder automatically zooms in to its full zoom setting. You can then focus in on subjects that are less than 70cm away from the lens.
Zebra Pattern
A prized feature for many pro videographers, Zebra Patterns displays stripes on overexposed portions of the frame.
Luminance Meter
A small box appears in the center of the screen that measures the luminance level for that portion of the frame (this option can be set to always appear or to only be active during iris adjustment).
Histogram
Displays a histogram chart on the LCD (can be set to always appear or to only appear during iris adjustment).
Auto Controls
What really stood out to us on the TM900 was the camcorder's poor auto white balance and finicky autofocus. We mentioned the autofocus issues in the performance testing sections of this review, but we've provided you with some comparison images below so you can get a better idea of what we're talking about. In simple terms, the TM900 had difficulty providing a fully focused image when we used autofocus. The left side always appeared slightly blurred, while the right side was crisp. We could correct this issue with manual focus, but, even when we did that, both sides of the frame were never perfectly sharp.
Auto white balance gave us similar problems. Things looked great outdoors or when we used a manual white balance, but auto mode often had troubles under indoor light. Images looked murky and discolored, at least for the first few seconds of recording under a new lighting condition. The camcorder does calibrate fairly well eventually, but it can take time.
Audio Controls
The HDC-TM900 has a built-in, 5.1-channel surround sound mic. It's the same mic that has been featured on Panasonic's flagship models for the past two years. The mic isn't placed extremely well, as its position on the top of the camcorder comes in close proximity to where your pinky ends up when you grip the TM900, but we do like the surround sound capabilities. There's also plenty of audio controls on the TM900 as well—manual audio level adjustment, zoom mic capabilities, an advanced wind cut feature—just to name a few.
If you're really adamant about recording great audio, the HDC-TM900 has a convenient 3.5mm external mic jack near the front of the camcorder. This port is protected by a small cover, and it is grouped with a headphone jack as well. Our only issue: the hand strap kind of gets in the way of the two ports at times.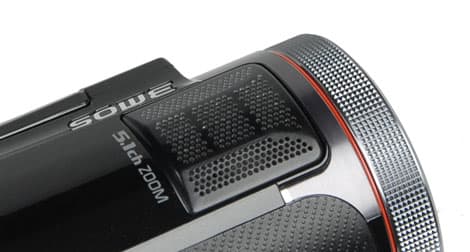 Editing
The Panasonic HDC-TM900 comes with a new version of the HD Writer AE software (version 3.0) that it has been including with camcorders for years. The new version isn't wildly different than past iterations, but it offers a few new tricks worth talking about.
Our editors review and recommend products to help you buy the stuff you need. If you make a purchase by clicking one of our links, we may earn a small share of the revenue. Our picks and opinions are independent from any business incentives.
Sections