Low Light Sensitivity
The HDC-TM900 didn't surprise us in our low light sensitivity test. The camcorder managed to reach 50 IRE with 11 lux of light, and that's exactly the same amount of light the HDC-TM700 needed in this test (that's what we meant by "no surprise"). Of course, if you shoot 3D video with the TM900, you can expect to need a whole lot more light to capture a usable image. The conversion lens limits the amount of light that hits the sensor, and that doesn't bode well for low light situations.
Here's another thing to remember: the HDC-TM900, like many of today's modern camcorders, has a very wide angle lens. So, when we zoomed in for our sensitivity test, the camcorder had to close up its aperture a bit. This also lets more light hit enter the camcorder and negatively impacts low light sensitivity. We tested the TM900 without any zoom and it needed just 6 lux of light to hit 50 IRE. That is a difference of 5 lux, and that is significant. It isn't as huge as some of the discrepancies we've seen—just take a look at the Sony HDR-CX550V's different results with and without zoom to see what we're talking about.
Because of this huge difference in sensitivity due to the wide angle of the HDC-TM900's lens, we took the average of the two scores (one with zoom and one without zoom). We have begun to do this with all camcorders that show a significant difference in low light sensitivity when we shoot with and without zoom. We did it with the Sony HDR-CX550V last year, and we have continued this practice this year to keep things fair.
Low Light Noise
The HDC-TM900 averaged 0.76% noise in low light, which is marginally more noise than we saw on last year's HDC-TM700. Despite this slight increase in noise, the TM900 still put up numbers that were of what we come to expect from a high-end camcorder in this test. Still, this noise increase surprises us because Panasonic claimed its new processor in the TM900 should reduce noise levels by up to 45%. We saw no reduction in our testing, so we can't say there's been any improvement over last year's TM700. If anything, the two camcorders were nearly identical in terms of performance.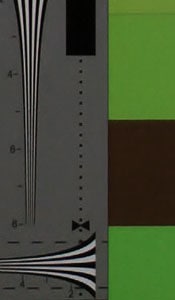 Much like we saw in our bright light testing, the HDC-TM900 didn't have quite as sharp an image as its predecessor, the HDC-TM700. You can see this by looking at the crop comparisons above. The difference is slight, however, and it may not be noticeable when watching video on an HDTV, but we did see it during our tests. We also saw the same problem with autofocus not working properly with the left side of the image (but the image looked better when we used manual focus).
Low Light Color
Like we saw in our bright light color test, the HDC-TM900's accuracy and saturation levels were consistent with what we saw from the TM700 last year. The camcorder measured a color error of 4.32 in low light with a saturation level of around 84%. Both of these numbers are very good and are comparable to the results from the new Canon HF G10 as well as last year's TM700.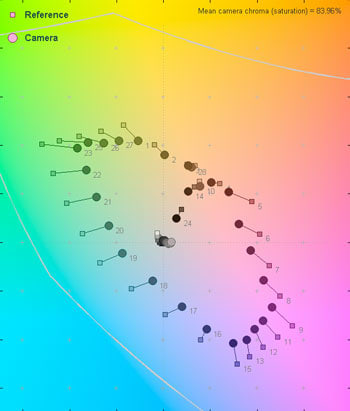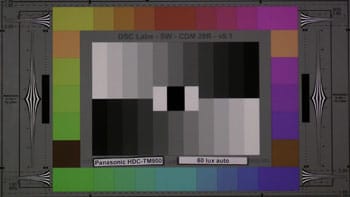 The HDC-TM900 has a 1080/60p mode and a Digital Cinema 24p mode, but neither of these modes made a significant difference in low light color scores. The 24p mode does increase the brightness of the low light image a bit, however, but it does so by allowing the camcorder to use a slower shutter speed (in conjunction to the lower frame rate).
Our editors review and recommend products to help you buy the stuff you need. If you make a purchase by clicking one of our links, we may earn a small share of the revenue. Our picks and opinions are independent from any business incentives.
Sections