camcorders
Sony NEX-F3 Digital Camera Review
The new NEX-F3 certainly keeps up with the Sony's family tradition of strong video performance.
$558.88 at Amazon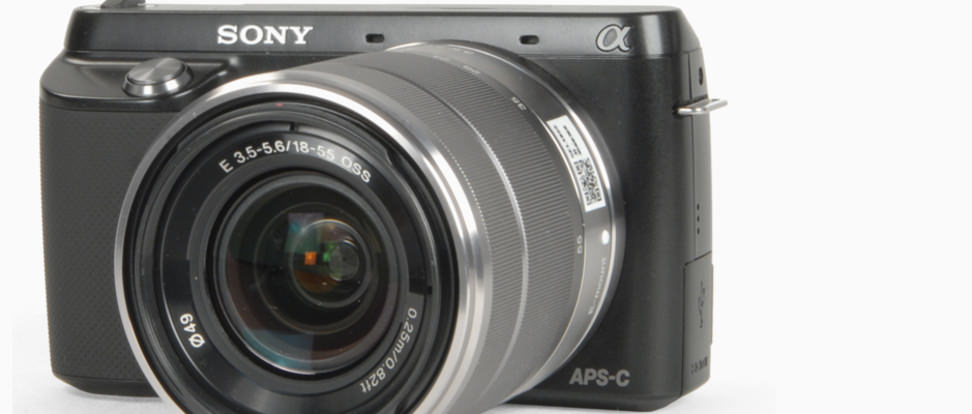 Introduction
Sony's line of mirrorless NEX cameras always seem capable of putting up good numbers on our video tests, and the new NEX-F3 certainly keeps up with the family tradition. The NEX-F3 has some excellent video attributes, including a strong set of manual controls, AVCHD and MP4 HD recording, and multiple frame rate options (60i, 24p, and 30p). Video performance wasn't jaw-dropping, but at times the quality was on par with that of a high-end consumer camcorder.
Motion & Sharpness
The Sony NEX-F3 had some small issues with our motion test, though nothing out of the ordinary for a camera of this type. Its images still weren't very sharp, but there was very little artifacting visible in the final image in our motion test. We did notice some trailing and ghosting, and a slight bit of signal interference, but that was right in line with what we'd expect from an entry level compact system camera. It doesn't match up to a prosumer camcorder, however.
See our full motion performance review, including video clips.
Sharpness on the NEX-F3 was quite limited, though within the normal performance bounds of most interchangeable lens cameras on the market. We found that in bright light it was able to resolve, at best, 525 line pairs per picture height of resolution horizontally and 600 LPPH vertically. This was in the 1080/24p mode, with the interpolated 1080/60i mode seeing a sharp decline in sharpness vertically.
Read our full sharpness performance review.
Low Light
We found the Sony NEX-F3 was able to produce a visible image (which is defined as registering 50 IRE on a waveform monitor) from just 7 lux of light on a white target. That puts the NEX-F3 in line with most of its APS-C competition and pretty far ahead of some compact system cameras with smaller image sensors. It's more than sensitive enough to capture video in a dimly lit bar, while still being able to pick up fine details. Read our full low light sensitivity performance review.
Conclusion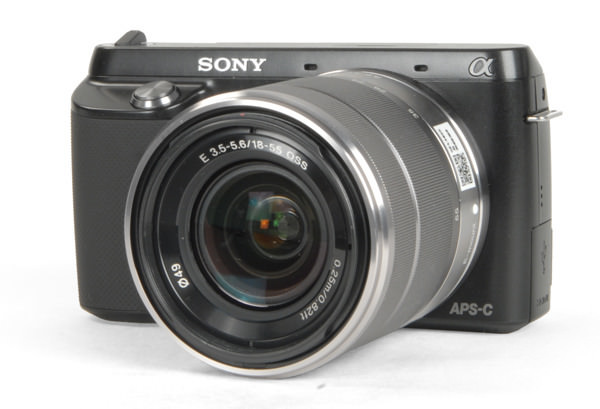 It's cameras like the Sony NEX-F3 that should have mid-range camcorders shaking in their boots. The F3 costs just $600 with its 18-55mm kit lens, and on most of our video tests it was certainly an equal to the likes of the Canon HF M52, Panasonic HDC-TM90, and just about any camcorder you'll find in the $500 price range. And none of those camcorders offer the ability to use a variety of lenses.
Of course, like most cameras that shoot video, the NEX-F3 does have a few limitations compared to a traditional camcorder. Its auto controls aren't as reliable and its body design isn't great for a long day of handheld shooting (although there are plenty of third-party grips and adapters available to transform the F3 into a more video-friendly recording device). The autofocus on the NEX-F3, like the autofocus on all Sony mirrorless cameras, is better than the competition—but it's still not as fast as the autofocus you'll see on a dedicated camcorder.
The Sony NEX-F3 is a solid choice if you want a camera that can record film-like video with an assortment of lens options. With its $600 price tag the camera won't put too much of a dent in your wallet, and it's a whole lot cheaper than those high-end DSLRs that you hear about movie producers using to shoot Hollywood productions. The NEX-F3 isn't on the same playing field as the Canon 5D Mark III, but it's surprisingly good at recording video for a camera that only costs $600 bucks.
To read our full conclusions for the Sony Alpha NEX-F3 including analysis of the camera's video handling and audio options, plus see sample videos and photos, visit the full review at DigitalCameraInfo.com.
Our editors review and recommend products to help you buy the stuff you need. If you make a purchase by clicking one of our links, we may earn a small share of the revenue. Our picks and opinions are independent from any business incentives.