camcorders
Sony HDR-PJ710 Camcorder Review
Sony's new HDR-PJ710V is one of the most impressive camcorders we've reviewed this year.
Manual Focus
Manual focus, with peaking, is available on the HDR-PJ710, and you can set the focus using the touchscreen or the control dial on the front of the camera. Our preferred choice is via the control dial, which, while not quite as good as a lens ring, does give you the ability to quickly change focus on the fly with accuracy. The focus assist peaking feature can be set to three different colors: red, yellow, or white. And if you hate setting focus manually, but still want to exert some control over the focus, there's also the touch focus feature on the PJ710 that lets you tap the portion of the LCD you want to bring into focus.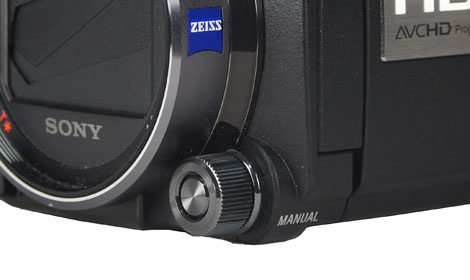 Manual Exposure
Like most high-end camcorders, the HDR-PJ710V has loads of exposure controls. There's your basic exposure adjustment, which is the best option if you simply want to bump the brightness of your image up or down. You can also do this using the auto exposure shift function, which lets you apply adjustments to the way the camcorder automatically determines exposure levels.
For the more advanced user there are three more exposure controls: aperture (iris), shutter speed, and AGC (gain) limiter. The aperture and shutter speed are both priority modes, so they can't be set independently from one another, but that's not a huge deal on a camcorder like this. All it means is that you get to pick one to set, while the camcorder selects the other automatically. The camcorder's shutter speed range is solid, going from a slow of 1/8 (great for blurry, slow-shutter effects) to a fast of 1/10,000 of a second. The iris range isn't as good, but it's not too shabby either; it ranges from f/1.8 to f/9.6. Just like focus, the aperture, shutter speed, and exposure controls can all be set using the control dial on the front of the camcorder.
There's also that AGC limiter feature we mentioned as part of the three exposure controls on the HDR-PJ710. AGC stands for auto gain control, so the limiter is basically a roundabout way of controlling gain. Instead of actually being able to set the gain, however, the camcorder lets you set a limit to the amount of gain that can be used. We'd prefer full-fledged gain control, but this is much better than nothing—and it's still fairly uncommon to find any kind of gain control on a consumer camcorder these days. The limiter maxes out at 24dB (the most gain) and goes all the way to 0dB (no gain), with options in between in 3dB increments. The AGC limiter can't be set using the control dial, so you have to go into the menu system to turn it on.
If that's not enough exposure control for you (and it might not be if you're in the need for independent aperture and shutter control), then you should also check out the camcorder's Zebra Pattern setting. This option—an essential tool for pros—helps you identify areas of the frame that are overexposed. Zebra patterns will appear on areas that are too bright, and you can set the sensitivity to 70% or 100% of the broadcast standards for overexposure.
Advertisement - Continue Reading Below
Miscellaneous Controls
In addition to its suite of exposure controls, the HDR-PJ710 also has a manual white balance option and two white balance presets (outdoor and indoor). We could do for a a few more presets, but we also like the simplicity of the "indoor" and "outdoor" option. Usually people don't know what kind of light they're shooting under, so naming the presets after bulb types can be problematic. The PJ710 also has a WB Shift feature that lets you tilt the color temperature in one direction or another.
Cinematone
For more film-like colors and shadows, you can turn on Cinematone on the HDR-PJ710V. The feature will work in most shooting modes, but for the most cinema-like-look you can use Cinematone in conjunction with the 24p frame rate.
Tele Macro
For shooting closeups with a lot of optical zoom, you may want to switch the PJ710 over to its Tele Macro mode. The camcorder can do extreme closeups without its Tele Macro mode engaged, but if you're using lots of zoom then you may not be able to get the focus right without it.
Conversion Lens
This feature is only necessary if you're using the PJ710 with one of Sony's conversion lens (either wide angle or tele converter). If one of these conversion lens are attached, you can select the conversion lens option in the menu system to optimize the image stabilization and autofocus to work better with the conversion lens. We're not sure why Sony can't have these features engage automatically when a conversion lens is attached, but at least the option is here for you to turn on.
Guide Frame
Sony doesn't get crazy with guide frames, as the PJ710V only has one option: on or off. Turned on, and the camcorder will display a 9-sector grid to help you frame your image. There are no options for different colors, shapes, or larger/smaller grids.
Auto Controls
The automatic controls themselves don't have much to complain about. Focus and exposure are adjusted extremely quickly and quietly, in fact the adjustments may be a bit too fast for some people. Auto white balance sometimes took a few seconds to calibrate properly, but the PJ710 usually handled scenes just fine after a few moments. The 10x optical zoom focus is easy to set with the slider on the top of the camcorder, and we had no problem getting the variable zoom to go the speed of our liking (by applying more or less pressure to the toggle). There's also a 120x digital zoom if you want even more zoom on the camcorder, but using this will deteriorate your image quality.
Audio Controls
You'd be hard-pressed to find a consumer camcorder with more audio features than the HDR-PJ710V. The camcorder comes with a built-in 5.1-channel surround sound microphone that sits just above the lens. This mic can also be switched to regular 2-channel stereo if that better suits your purpose. The mic is placed decently, but if you're not careful, or if you have huge fingers, you could find your pinky wandering over to the top of the mic when you grip the camcorder. Be careful and you'll be fine.
Additionally, the PJ710 has a 3.5mm mic port and a headphone jack for working with an external mic. The audio levels can't be adjusted fully—that's one of the few letdowns of this camcorder's audio features—but you can switch between normal and low audio recording. There is a full-fledged audio level display, auto wind noise reduction, and a zoom mic feature that will optimize audio recordings based on what the lens is zoomed into. The closer voice feature works in conjunction with the zoom mic and face detection to make people's voices sound clearer.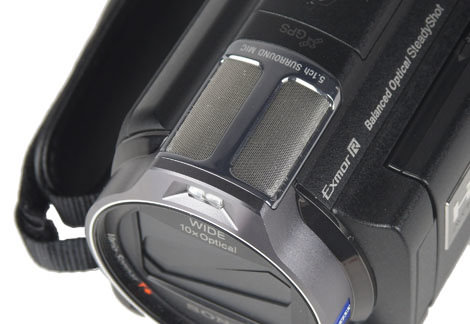 Our editors review and recommend products to help you buy the stuff you need. If you make a purchase by clicking one of our links, we may earn a small share of the revenue. Our picks and opinions are independent from any business incentives.
Sections
Our editors review and recommend products to help you buy the stuff you need. If you make a purchase by clicking one of our links, we may earn a small share of the revenue. Our picks and opinions are independent from any business incentives.
Advertisement - Continue Reading Below
Compare Prices
Our editors review and recommend products to help you buy the stuff you need. If you make a purchase by clicking one of our links, we may earn a small share of the revenue. Our picks and opinions are independent from any business incentives.
Get Our Newsletter
Real advice from real experts. Sign up for our newsletter
Thanks for signing up!