camcorders
Sony Handycam NEX-VG30 Camcorder Review
Sony's excellent—and pricey—successor to the VG20 includes a new power zoom and an updated EVF.
$2,699.00 MSRP
Buy now at Amazon

With a new power-zoom function, some added picture effects, and an improved electronic viewfinder, the Sony NEX-VG30 is nothing more than a minor upgrade to the excellent Sony VG20. Like its predecessor, the VG30 is a member of Sony's NEX interchangeable-lens camcorder family, which also includes the NEX-VG900—Sony's first camcorder with a full-frame image sensor (and a $3,300 price tag).
We've applauded Sony for the innovative nature of its NEX camcorders in the past, but the incremental updates provided on the VG30 aren't quite enough to justify its increase in price. The camcorder retails for $1,799 (body only), but if you want to take advantage of the new zoom function you need to kick in an extra $900 for Sony's 18-200mm power zoom lens. That's a total package of $2,699 for the camcorder and lens—a huge difference from the VG20, which was available for $1,599 body only, or $2,199 kitted with a manual 18-200mm zoom lens.
Power Zoom
Is better zoom worth an extra $500?
It's the only new feature worth talking about at length, and it's the reason the VG30 costs more than its predecessor. Having the powered zoom control can be a great help, and the VG20's lack of this feature is something we complained about in our review. But we're not crazy at how big the powered zoom lens is, and its added weight does make the VG30 a less-balanced camcorder. Still, having a mechanical zoom is perfect when you want a consistent, fixed-speed zoom option that doesn't force you to rely on the sensitivity of your fingertips. The zoom speed can be precisely controlled (on a 1-32 increment scale), or it can be set to variable control that zooms faster or slower depending how hard you press the rocker.
Design & Usability
Without the power zoom lens attached, the VG30 could easily be mistaken for a VG20.
Other than a few button rearrangements and some menu modifications, the design of the VG30 is largely unchanged from what Sony offered on the VG20. The body is essentially the same size, with a traditional camcorder form factor topped with a large handle that supports the stereo microphone, the new multi-interface hot shoe, and the tiltable EVF.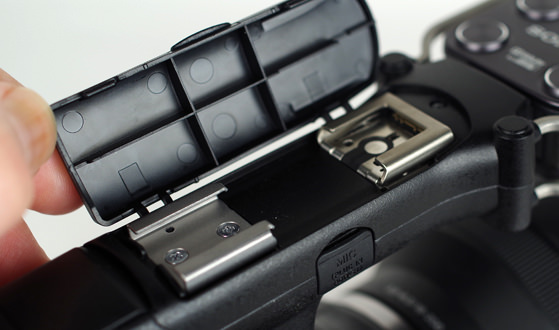 The other main addition is not part of the body, but rather the included power zoom kit lens. While the new power zoom functionality is a welcome addition, it's heavier than a traditional lens, however, so there were times when we actually preferred the way the VG20 and its manual-zoom lens handled. The difference really comes down to how much you appreciate having a zoom rocker at your fingertips and whether or not you require the steadiness of a mechanically-controlled zoom.
Comparable Products
Before you buy the Sony NEX-VG30, take a look at these other camcorders.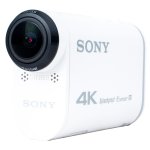 Performance
As far as performance goes, the VG30 is an exact replica of its predecessor.
As expected, the VG30 performed in a near-identical fashion to its predecessor, the VG20. Across the board, the results in our lab tests were excellent; bright light video was vivid and crisp, motion looked smooth and had minimal artifacting, and the provided battery pack offered a more-than-capable 3+ hours of continuous recording.
If the VG30 has one problem it's that the 18-200mm kit lens isn't superb in low light. It's an f/3.5 lens at its widest aperture, which is quite a bit slower than your average consumer camcorder with a built-in lens (most of which are as fast as f/1.8 these days). This means you won't be able to get a clear image in a low light environment unless you bring an artificial light source or buy a faster lens. It should be noted the VG20 had the exact same problem with its own kit lens, as it had the same f/3.5 maximum aperture.
Conclusion
A great interchangeable-lens camcorder, but you can save a lot of money by going with a DSLR or mirrorless camera instead.
Besides the added zoom control, the biggest change with the VG30 is its price. The camcorder retails for $1,799 body-only, which is $200 more than the VG20 original sold for in 2011. If you want the fancy new 18-200mm power zoom lens, that'll kick up the price to $2,699—a $500 increase over the cost of a VG20 kitted with the non-powered 18-200mm zoom lens. Those are hefty price hikes just to have an easier zooming experience at your fingertips, and we're quite surprised Sony didn't keep the price of the body-only VG30 at the same level of the VG20.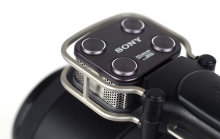 Making matters worse is that fact that, with the VG30 in stores now, Sony has officially discontinued the cheaper VG20. You can still find it online at a few places, but it's getting harder every day. If you want to save a few bucks by going with the VG20 instead, you'll have to act fast.
Since its inception, we've always appreciated Sony's NEX camcorder line. The idea is innovative and exciting, and it's the ideal way to introduce interchangeable-lens camcorders to people who think shooting video with a DSLR just doesn't "feel right." The VG30 feels great, can be controlled with one hand, and with its added zoom feature it functions just like a traditional handheld camcorder—just one that lets you change lenses whenever you want.
But given the high cost of entry, we should be clear: you can get just as good quality and performance from a DSLR or a mirrorless camera with more lens options… you just won't get the camcorder form factor and the special controls that are designed specifically for shooting video. Is that worth the extra money considering the kind of video quality a sub-$2,000 DSLR can produce? In our experience, not so much.
Our editors review and recommend products to help you buy the stuff you need. If you make a purchase by clicking one of our links, we may earn a small share of the revenue. Our picks and opinions are independent from any business incentives.