camcorders
Sony Handycam HDR-PJ790V Review
With its built-in projector and 96GB of internal memory, the PJ790V may be too much of a good thing.
$1,599.00 MSRP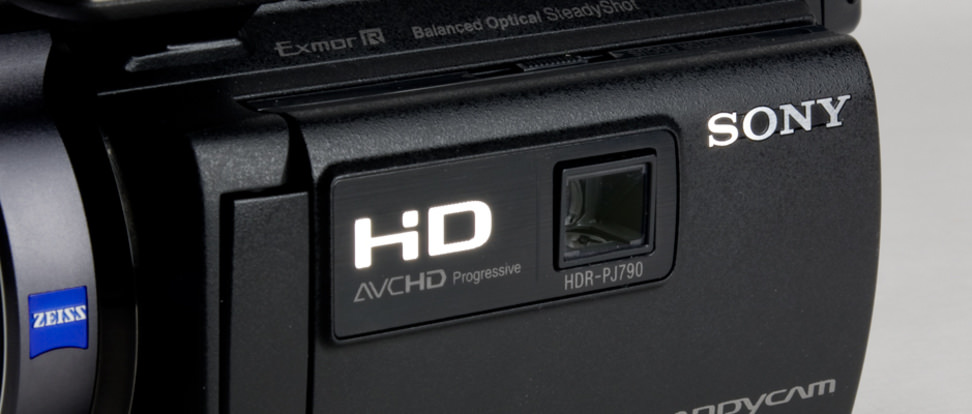 Sony's high-end Handycams are usually fantastic, and this year's top-of-the-line HDR-PJ90V is by all means a great camcorder. But good Handycams are expensive, and the $1,600 price tag for the PJ790V is seriously steep, especially with the flood of low-cost video DSLRs hitting the streets.
Last year Sony stole the spotlight at the top of our camcorder rankings, mainly because Canon and Panasonic didn't do enough to upgrade their top products. Now we're seeing Sony take a page out of the same book. The PJ790 comes from the same pedigree as last year's award winners, but Sony didn't bother improving the guts on its new camcorder. It has the same lens, sensor, and processor as its predecessors, and, as a result, it has the same image quality.
The updates Sony did provide are fairly minor: a new microphone (with an awkward design), an improved built-in projector, and a new 720p recording option. A few manual controls, like wider exposure adjustment and full audio level control, have also been added. With the exception of the new mic placement, these additions are all appreciated, but the PJ790V was not infused with quite enough energy to compete with the top models from Canon in 2013.
Performance
Riding on the coattails of its predecessors.
In nearly every shooting situations, the HDR-PJ790V can get you excellent image quality. That's easy to do in bright light, where most HD camcorders can produce great video. In low light, however, it's more difficult to pull off, and the PJ790V does a fantastic job. Even in total darkness the camcorder is capable of recording decent images, thanks to its NightShot infrared shooting mode.
Keep this in mind, though: if you're a fan of last year's high-end camcorders from Sony, the HDR-PJ790V is not going to get you anything better. As far as performance goes, it's got the same capabilities as the HDR-CX760V and HDR-PJ710V—both of which we reviewed, and lavished with praise, in 2012. The PJ790V is a great performer, but it's not any better than last year's Sonys.
Features
Magic Microphone
The HDR-PJ790V features a striking design alteration that should jump out at anyone familiar with the way traditional camcorders have looked for the past five years. Like a horn growing from the camcorder's forehead, the PJ790V has a strange, protruding microphone that juts out above the lens. This mic setup is brand new, a design that Sony incorporated specifically for the PJ790V Handycam. While the design may look strange (and a bit fragile), it actually does make sense from an audio recording perspective. For starters, the camcorder ships with a wind sock that slips over the microphone—something that would not be possible with a flat microphone built into the top of the lens. In addition to the new mic setup, the PJ790V also features a fully-manual audio level control option, which is something Sony has neglected to include on previous Handycams.
While the design may look strange, it makes sense from an audio recording perspective.
The video and still image controls on the HDR-PJ790V are mostly rote. There's a new 720p MPEG-4 record mode, which is a great feature for making clips suitable for the web, but we wish the MPEG-4 options were more extensive (multiple frame rates, Full HD recording, anything!). Just like last year's CX760V and PJ710V, the PJ790V has plenty of manual video controls, and most can be set using the small control dial under the lens. Sony hasn't done anything to improve this dial in a few years, so it's starting to feel stale compared to the sweet lens rings offered on the Canon HF G20 and HF G30, as well as the Panasonic HC-X920.
Another feature the PJ790V lacks is built-in WiFi, although the camcorder does have GPS (that's what the "V" stands for). Instead of including WiFi right on the camcorder, Sony sells an optional WiFi adapter for $75 (ADP-WL1M) that lets you pair the PJ790V with your smartphone or tablet. Leaving this feature off may upset people who love wireless tech, but frankly it doesn't bother us. Sony is giving consumers an option and letting them decide for themselves if WiFi is something they want.
Comparable Products
Before you buy the Sony Handycam HDR-PJ790V, take a look at these other camcorders.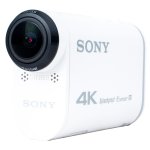 Built-in Projector
It may be a gimmick, but it's a fun gimmick.
Last year Sony had two separate lines for its high-end Handycams. The "PJ" series, which included the HDR-PJ710V and HDR-PJ760V, incorporated built-in projectors on the back of their LCD panels. The CX series, headed by our Best of Year winner HDR-CX760V, was identical to the PJ760V except it lacked the projector function—and was cheaper as a result.
The projector on the PJ790V has been significantly upgraded.
This year things have changed. Sony now includes a projector on all of its high-end camcorders, making the feature a staple of the Handycam lineup. If you find the idea of a built-in projector gimmicky or stupid, you must either give up on Sony or get over your prejudice now.
At least the projector on the PJ790V has been significantly upgraded. The new projector outputs at an 800 x 480 resolution (compared to 640 x 360 on previous models), emits light intensity up to 35 lumens, and offers a projector input port. This means you can theoretically project any content using the PJ790V, simply by connecting a media device to the camcorder's Micro HDMI projector terminal. This feature is really cool when you think about it, especially if you happen to be in the market for both a camcorder and a small, cheap video projector. If so, the HDR-PJ790V kills two birds with one Sony.
Conclusion
In the battle vs. Canon, Sony comes in second.
We won't argue the fact that the HDR-PJ790V is a great camcorder, but the lack of improvement when it comes to performance is frustrating. If you have a Sony HDR-CX760V, HDR-PJ760V, or an HDR-PJ710V from last year, then you shouldn't bother upgrading. But if you skipped out on those models last year, then the PJ790V will get you everything those cams had, plus a significant boost in audio performance and an improved projector.
Even though the HDR-PJ790V is great, we can't help but wish the camcorder had more: a full suite of MPEG-4 record modes (including higher bitrate options), a 1080/30p recording option, a lens ring or improved control dial, a better hand strap, and a capacitive-touch LCD. By simply offering a high-bitrate MPEG-4 setting, Sony could easily give its top Handycams a slight boost in performance, and that's all the already-great PJ790V would need to keep up with the competition from Canon.
For now, though, Sony's top Handycam is stuck in limbo. With Canon releasing not one, but two high-end camcorders this year (the HF G20 and the HF G30), Sony has lost its competitive edge. The Canon models have more controls, better features, and stronger performance—particularly in low light—than the PJ790V. And if you want to keep things cheap, the Canon HF G20 is available for around $1,000, as is Panasonic's top camcorder, the HC-X920. That's a good $500 worth of savings over the Sony PJ790V.
Our editors review and recommend products to help you buy the stuff you need. If you make a purchase by clicking one of our links, we may earn a small share of the revenue. Our picks and opinions are independent from any business incentives.