camcorders
Sony DCR-SR300 Camcorder Review

Performance
Video Performance* (6.0)*
The DCR-SR300 comes equipped with the best imaging feature set that Sony offers this year: a 1/2.9 ClearVID CMOS sensor, which has a gross pixel count of 3,200,000 (effective pixel count 2,280,000 in 16:9; and 1,710,000 pixels in 4:3). The ClearVID CMOS has been Sony's chip design of choice for the last few years on their top camcorders. This particular chip is the largest yet, and we hope it produces the best image.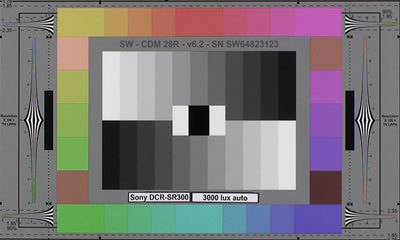 At 3000 lux, the image looks surprisingly similar to its predecessor, the DCR-SR100, which had a 1/3" CCD. At a broad glance, most picture elements are identical: color, sharpness, exposure, and tonality. The new DCR-SR300 has stronger greens – more saturated and better differentiated from the yellows. A closer inspection shows that the DCR-SR300 has more dynamic range, with whiter whites and blacker blacks, without any obvious failings of being too bright or too dark.
Upper-end Sonys generally produce good video. As expected, the colors are oversaturated, but they still look healthy. Last year, we praised the DCR-SR100 (retailing for $1100) for having great performance in bright light. Each year brings new stresses to the market, however. The SR300, retailing for practically the same price ($1000 MSRP), is now flanked by HD camcorders, offering far better image quality – namely the Sony HDR-HC5 and Canon HV20. And just recently, Sony seemed to almost willfully knock the SR300 out of the running by releasing the HDR-SR5 – another HDD camcorder that records in AVCHD. Though AVCHD certainly has editing prohibitions – even with software now emerging – why on earth would anyone buy standard definition when they could have HD? We're sure someone, somewhere has a reason (feel free to comment below), but we can't find one. Sorry, Sony, you're pushing out camcorders so quickly you're burying your own product.
Low Light Performance* (7.19)*
The Sony DCR-SR300 has a very large imager, so we're expecting great low light performance. Considering what else is available in this price range, the DCR-SR300 has no excuse to do poorly.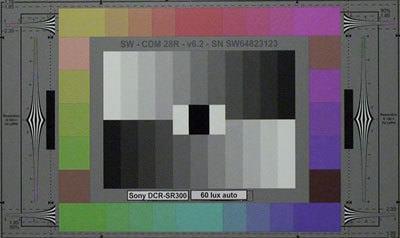 At 60 lux, the DCR-SR300 maintained a good deal of color information as well as an overall exposure. It would have been great, save for one big problem – noise. The picture was rife with noise, a fuzzy, white and blue noise. Last year's DCR-SR100, with the CCD, had far less noise. For the longest time, CMOS chips had the stigma of producing more noise than traditional CCDs, but it seemed as though that era was behind us – apparently not. Something has gone awry here, either in the chip or the processor, and we're quite disappointed. Also, Sony consumer camcorders do not offer manual gain, which might have given the opportunity to lower the noise.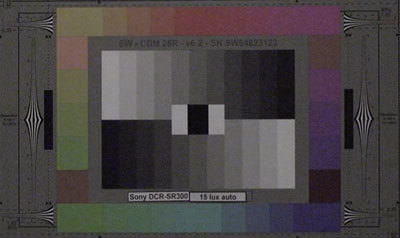 At 15 lux, the image is pretty much shot. Noise has increased a great deal and most of the color has been lost. This is not too much of a surprise, as most camcorders conk out at such a low light. However, we were hoping for a slightly better showing from such a large imager.
The DCR-SR300 managed to produce 50IRE at 9 lux. The light was then raised to 60 lux to measure color accuracy, noise, and saturation. At best, the camcorder produced a mean color error of 6.3, with 1.7475% noise and a saturation of 105.0%.
Stabilization* (7.78)*
The Sony DCR-SR300 utilizes Super Steady Shot, an optical image stabilization (OIS) system, to reduce the effects of camcorder shake on the image. OIS systems achieve this through an optical process that does not impact video resolution, often in the form of a gyroscopes built around the lens element. This contrasts with EIS (electronic image stabilization) systems that reduce shake through digital processing. The digital processing found in EIS systems does result in a slight loss of image resolution, and are inferior to OIS.
We found the OIS system on the SR300 to be very effective. With our shake emulator device set to speed 1, roughly equivalent to the motion produced while hand-holding a camcorder and standing still, the SR300 reduced movement by about 75%. At speed 2, the more aggressive and high-speed setting, the SR300 actually reduced motion by a greater degree – over 86%. The SR300 is the first camcorder we've tested that reduced motion more at speed 2 than speed 1.
Wide Angle* (10.0)*
We tested the Sony DCR-SR300 in16:9 recording mode to determine its maximum field of view. To run this test, pulled the zoom all the way back, disabled OIS, and manually focused the camcorder to ensure a stable shot. This SR300 produced a maximum field of view of 50 degrees putting it right in the average range for comparable consumer camcorders.
Comparable Products
Before you buy the Sony DCR-SR300, take a look at these other camcorders.
Our editors review and recommend products to help you buy the stuff you need. If you make a purchase by clicking one of our links, we may earn a small share of the revenue. Our picks and opinions are independent from any business incentives.
Sections