camcorders
Sony DCR-HC38 Camcorder Review
The Sony DCR-HC38 is a tiny step up from Sony's actual entry-level, the HC28. The primary difference, a 40x optical zoom, may actually be the most compelling reason to buy it. The manufacturers know that people respond to big numbers, and 40x is about as big as we've seen. But there's precious little else to this camcorder. The HC38 has virtually no manual controls and a poor menu system. But cheap and easy count for a lot, and Sony has those areas covered.

Performance
Video Performance* (2.85)*
The Sony DCR-HC38 comes equipped with the standard low-end imager, a 1/6" CCD with a gross pixel count of 680,000 and an effective pixel count of 340,000. With an imager this small, it might be able to pull off a decent performance in bright light, but not in low light.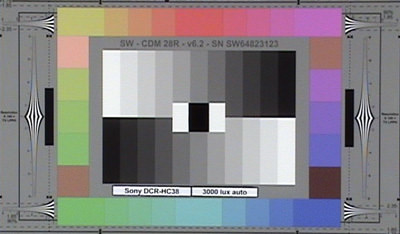 At 3000 lux, the image certainly looked every bit its price tag. The color performance is dull, which is a little surprising. Most of the time, when a manufacturer wants to mask poor image quality it boosts the saturation, often through the roof. Perhaps it's to Sony's credit that they chose to imbue the HC38 with a more natural color palette. Or they forget. Who can say? In any case, the colors will be considered passable by undiscerning shooters. The image is also noisy, noisier than an image should be in bright light. The noise is a fine grain, black-ish fizz, similar to low-end Panasonic camcorders.
Last year's DCR-HC36 is essentially identical. We see the same color performance and the same quality of noise. This year's Canon ZR850 is identical in MSRP to the DCR-HC38. The ZR850, however, is blessed with a better imager. It's still 1/6", but packs in 1,070,000 pixels. It's not surprising that the picture looked much sharper than either Sony. The color palette was very similar. The cheaper Canon ZR830, which has 680,000 pixels, offered the same sharpness, but much, less noise. Finally, last year's Panasonic PV-GS39 had the same type of fine grain, black noise. Again, the color performance was almost identical. Sony pushed the blues a little more, and Panasonic favored the greens.
Overall, the Sony DCR-HC38 is par for the price.
Video Resolution* (5.25)*
To test the DCR-HC38's video resolution output, we shoot a DSC Labs video resolution chart and review the playback footage on an HD monitor. The camcorder produced an approximate horizontal resolution of 350 lines widths per picture height (lw/ph) and a vertical resolution of 300 lw/ph).
Low Light Performance* (3.9)*
The Sony DCR-HC38 is not likely to fare well in low light due to the single 1/6" CCD and the poor track record of low-end Sonys in this test. At 60 lux (moderately low light), the camcorder produced a very noisy image. The noise was thick and black in most areas. In neutral color areas – greys, whites, blacks – and in anything blue or violet, we saw a lot of blue fine grain noise as well. Blue noise has been a problem with low-end Sonys for years, and we're not seeing any improvement with this camcorder.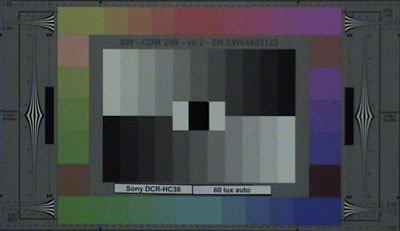 Last year's direct antecedent, the DCR-HC36, had a very similar image. Noise was the primary issue in that camcorder, too. The HC36 pushed the saturation levels a little higher, which can be considered a boon in low light, as long as they don't skew too far from the actual color. Side by side, the HC36 gives a stronger image. The Canon ZR850 was much darker, offering no competition for color performance. The Panasonic PV-GS39 looked best under 60 lux conditions, with the highest exposure and a finer grain noise than Sony camcorders.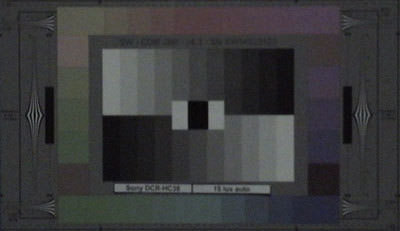 At 15 lux, the Sony DCR-HC38 lost pretty much everything. There was almost no color information and the camcorder had difficulty focusing. The fine detail was lost under the immense amount of noise. Last year's DCR-HC36 definitely looked better, managing to salvage some color and remain in focus. The Canon ZR850 was an even draw with the HC38. Again, we saw no color and very little fine detail. The Panasonic PV-GS39 retained both color and detail, and managed to stave off noise admirably (for a camcorder in its price range). We hope to see the same thing from entry-level Panasonics this year.
The Sony DCR-HC38 was able to produce 50 IRE at 13 lux. Under an even 60 lux lighting, Imatest imaging software reported a color error of 17.8, with a noise level of 2.385% and a color saturation of 51.9%.
Stabilization* (3.28)*
The Sony DCR-HC38 is equipped with an electronic image stabilization (EIS), which works, in short, by removing a portion of the imaging chip from normal use and applying them to the task of stabilizing the picture. By cutting down on the number of pixels used, your overall image quality is suffering. Optical image stabilization is preferable. Using our custom built shake emulator, we tested the DCR-HC38's EIS effectiveness by recording footage at two speeds. Speed one simulated the gravitational force applied to the camcorder when walking slowly with it. Speed two simulated a light jog with the camcorder, or a recording from a tempestuous boat. The DCR-HC38's EIS produced a 50% shake reduction at speed one, but did not affect speed two with a shake reduction of 0%. This tells us that the HC38's EIS is only going to help with slight hand wobbles. Anything after that, and you'll want to use a tripod.
Wide Angle* (10.4)

*We measured the wide angle of the Sony DCR-HC38, pulling the zoom all the way back and turning the electronic image stabilization off. The HC38 was able to achieve a wide angle of 52 degrees, the same as Sony's entry-level DVD camcorder, the DCR-HC38. This is slightly higher than average for a consumer camcorder.
Comparable Products
Before you buy the Sony DCR-HC38, take a look at these other camcorders.
Our editors review and recommend products to help you buy the stuff you need. If you make a purchase by clicking one of our links, we may earn a small share of the revenue. Our picks and opinions are independent from any business incentives.
Sections