camcorders
Sony DCR-DVD108 Camcorder Review
The DCR-DVD108 ($399 MSRP) is Sony's entry-level DVD camcorder this year, a market which Sony has capitalized on with astonishing zeal. The DVD108 is a prime example of why Sony holds the cards. Name recognition, ease of use, and the right price – the hook, line, and sinker for the consumer.
$695.00 at Walmart

Performance
Video Performance* (3.0)*
The Sony DCR-DVD108 offers a truly entry-level imaging set. Inside is a small 1/6" CCD with the standard low-end gross pixel count of 680,000 and an effective pixel count of 340,000 in 4:3, and 260,000 in 16:9. These numbers indicate that you should not shoot in 16:9 (the de facto size of all future video), as you'll only be using a small portion of the imager.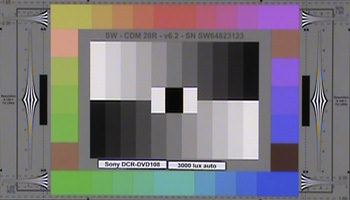 At 3000 lux, the camcorder looked very similar to its predecessor, the DCR-DVD105. For an entry-level camcorder, the color balance is good. Yes, the colors are heavily saturated, even more so than last year, but that's just par for the course in pretty much anything under $1000. The only color that looked simply too exaggerated to excuse is blue. What is it with Sony and blue? In years past, blue noise was rampant in Sony images, regardless of the light levels. Last year, blue noise seemed to have been quarantined to low light. This year, at least from what we've seen in the low-end models, blue saturation is up, and certainly making a starring role in low light.
The sharpness is a little better that what you see in a lot of camcorders in this price range. There's definitely a lot of oversharpening going on. Also, in areas of high-density information, like the tight bands of the resolution trumpet, there was a lot of discoloration.
The Canon DC220 sells for $50 more. Under the same light levels, the DC220 produced a far less saturated image, except perhaps for the greens. The apparent sharpness was about equal to the DCR-DVD108. Last year's entry-level Panasonic VDR-D100 was near-indistinguishable to last year's DVD105 in terms of color, making it less saturated than the DVD108. The VDR-D100 did have the advantage of a sharper image.
Video Resolution* (3.5)*
In order to determine the video resolution that the camcorder can actually output, we shot a DSC Labs video resolution chart and watched the playback of that footage on an HD monitor. The Sony DCR-DVD108 was able to produce an approximate horizontal resolution of 350 line widths per picture height (lw/ph) and an approximate vertical resolution of 200 lw/ph. The poor vertical resolution was surprising. We also saw a lot of bad discoloration in areas of dense information. Better imagers tend to simply blur the lines as they get too tight. Bad imagers, like this one, create strange yellow and blue overtones that look like a surreal Cub Scout kerchief.
Low Light Performance* (3.64)*
The Sony DCR-DVD108 has a very small imager, as far as camcorder imagers go, though 1/6" is standard for entry-levels. Under an even 60 lux lighting, the CCD shows its limitations quite clearly. The image is considerably darker than it was at 3000 lux. And while most of the color spectrum darkened in commensurate measures, the blue areas exploded with oversaturation and blue noise. It really looks terrible. This may actually stem from the (apparently) boosted resolution this year. Last year's DCR-DVD105, with the same size imager, had less saturation in bright light, and here in low light, the noise doesn't look so bad.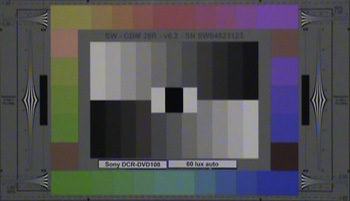 The Canon DC220 had a slightly brighter image with different, but not better, color performance. The DC220 had oversaturated greens, but no strong blue noise. Overall, the Canon image looked better. The Panasonic VDR-D100 was probably the best of the four camcorders here. It lacked color differentiation in the yellow-green portion of the spectrum, but the color performance overall was good. There were loads of fine-grain noise, but it was a blackish noise strongly preferable to discoloration.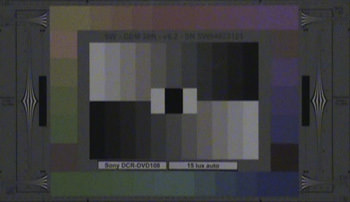 At 15 lux, the Sony DCR-DVD108 lost nearly all of its color information, veering towards greyscale. Medium grain noise picked up tremendously. Of course, this is all expected for an entry-level camcorder, but it's never fun to witness. The Sony DCR-DVD105 was essentially the same. The Canon DC200 managed to push through more color information, but the image looked terrible overall due to noise. The Panasonic VDR-D100 once again turned in the best performance, noisy as hell but managing to salvage some color while retaining adequate amounts of fine detail.
The DCR-DVD108 was able to produce 50 IRE at 15 lux. At 60 lux, the camcorder produced a color error of 14.7, according to Imatest imaging software. This is a high number, and one of the indications that you're working with a lower-end sensor. The noise levels averaged out to 1.995%, with a very high percentage in the blue channel, and a saturation level of 60.75%.
Stabilization* (3.84)

*We tested the DCR-DVD108's electronic image stabilization (EIS) by recording footage at two speeds while the camcorder was mounted to our custom built shake machine. Speed 1 simulates a shake derived from walking slowly with the camcorder. Speed 2 simulates a shake more like running or shooting from a slow-moving car car. The DCR-DVD108's EIS produced a 60% shake reduction at speed 1, and a 20% shake reduction at speed 2. Given these scores, the DCR-DVD108's image stabilization exceeds the capabilities of most comparatively priced camcorders.
Wide Angle* (10.4)

*In order to obtain the DCR-DVD108's maximum field of view, we perform a wide angle test by pulling the zoom out and disabling EIS. The DCR-DVD108's maximum field of view is 52 degrees, which is slightly above average for a consumer camcorder.
Comparable Products
Before you buy the Sony DCR-DVD108, take a look at these other camcorders.
Our editors review and recommend products to help you buy the stuff you need. If you make a purchase by clicking one of our links, we may earn a small share of the revenue. Our picks and opinions are independent from any business incentives.
Sections