camcorders
Sony Alpha SLT-A33 DSLR Camera Review
The Alpha A33 from Sony is a cheaper alternative to the Sony A55V, which was one of our top DSLRs for video in 2010.
$649.99 MSRP
Buy now at Amazon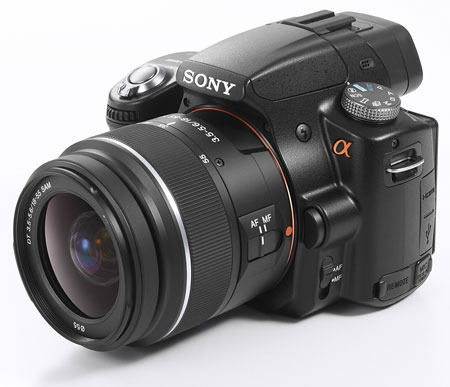 Introduction
The Alpha A33 from Sony is a cheaper alternative to the Sony A55V, which was one of our top DSLRs for video in 2010. The A33 doesn't have as many pixels on its sensor as the A55V, but other than that small fact the two cameras are extremely similar—which is why the A33 managed a solid showing in our video tests.
Color & Noise
The SLT-A33 from Sony showed us good color accuracy in our bright light video testing, although its numbers weren't that of a top-notch camcorder. In all, the A33 measured a color error of 3.82 and a saturation level of 94.84%, both of which are very similar to the numbers put up by the Sony A55 in this test. See our full color performance review, including color swatches and crops.
Because of their large sensors, video-capable DSLRs usually perform very well in our noise testing, often putting up better numbers than high-end camcorders. The Sony A33 averaged 0.45% noise in this test, and we consider anything under 0.5% to be a very low amount of noise. The A33's performance was equaled by last year's Sony A55V and the Pentax K-x, while the Canon T2i measured slightly more noise (but still kept the levels fairly low). See our full noise performance review, including crops and comparative analysis.
Motion & Sharpness
The Sony SLT-A33 records Full HD video (that's a 1920 × 1080 resolution) using a 60i frame rate. There's also an option for recording video at a 1440 × 1080 resolution using an alternate compression system (MP4) and a 30p frame rate. We liked what we saw from the A33's 60i recording, however, and it is pleasing to see this kind of frame rate offered on a DSLR. Most only have 30p or 24p recording options, so having a 60i setting is somewhat refreshing. Of course, we would have appreciated a 24p record mode as well. See our full motion performance review, including video clips.
The A33 produced crisp video in our testing, but its sharpness numbers weren't quite that of its higher-end cousin, the Sony A55. In all, the A33 managed a horizontal sharpness of 700 lw/ph, but its vertical sharpness was only 600 lw/ph. While these numbers are good, and are also better than most video-capable DSLRs we've tested, they are still a bit lower than the sharpness scores we are accustomed to seeing from high-end HD camcorders. Perhaps with a better lens the A33 could improve its results on this test. Read our full sharpness performance review.
Comparable Products
Before you buy the Sony Alpha SLT-A33, take a look at these other interchangeable lens cameras.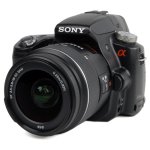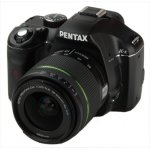 Low Light
The Sony A33 required 17 lux of light to obtain a video image bright enough to register at 50 IRE on our waveform monitor. This score is not great by any means, and it represents a significantly worse score than the Sony A55, but needing 17 lux of light to record a viable image isn't the worst low light performance we've seen. Many mid-range HD camcorders need around this amount of light to hit 50 IRE on our waveform monitor, and we've seen plenty of video-capable DSLRs (like the Pentax K-x) that did even worse than the A33 on this test. Read our full low light sensitivity performance review.
The SLT-A33 had a steep drop in color accuracy during our low light video testing (compared to bright light). In this test, the camera measured a disappointing color error of 6.32, although the saturation level was still a solid 91.26%. This color error is not as good as the Sony A55 and Canon T2i were capable of. The Pentax K-x put up similar numbers to the A33. See our full low light color performance review, including comparative images and analysis.
Color accuracy wasn't great from the A33 in low light, but the camera did do well in our low light noise video testing. The A33 measured just over 1.0% noise in this test, which is a solid score—even though it is more noise than last year's Sony A55 showed us in low light. We consider a noise level of around 1% to be good in this test, so the A33's noise numbers here are solid (and they are better than we see from most consumer camcorders). See our full low light noise performance review, including crops and comparative images.
Conclusion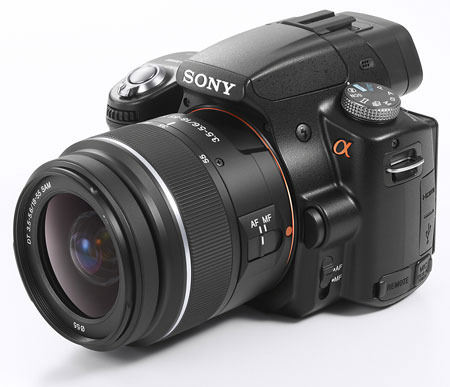 The Sony A33 is a very good choice for people who want to shoot video on a DSLR without having to break the bank. The camera has a reasonable price tag ($649 with lens) and its set of video features is impressive: Full HD recording, AVCHD and MPEG-4 compression options, 60i and 30p frame rates, live autofocus. The one thing the camera lacks is a good set of manual controls in video mode, but that seems to be a trend for Sony's video-capable DSLRs.
In our bright light testing, the A33 put up numbers that equaled what the Sony A55V did last year. In low light, the A33 took a bit of a dive in certain categories, but its overall numbers still weren't bad. Basically, the A55V offers better video performance, but not by that much. And, when you consider the $150 price difference, the A33 is probably the better buy.
To read our full conclusions for the Sony Alpha SLT-A33 including analysis of the camera's video handling and audio options, plus see sample videos and photos, visit the full review at DigitalCameraInfo.com.
Our editors review and recommend products to help you buy the stuff you need. If you make a purchase by clicking one of our links, we may earn a small share of the revenue. Our picks and opinions are independent from any business incentives.