camcorders
Sony Alpha A77 Digital Camera Review
A big, heavy interchangeable lens camera with sophisticated video controls and a variety of recording options
$1,704.69 at Amazon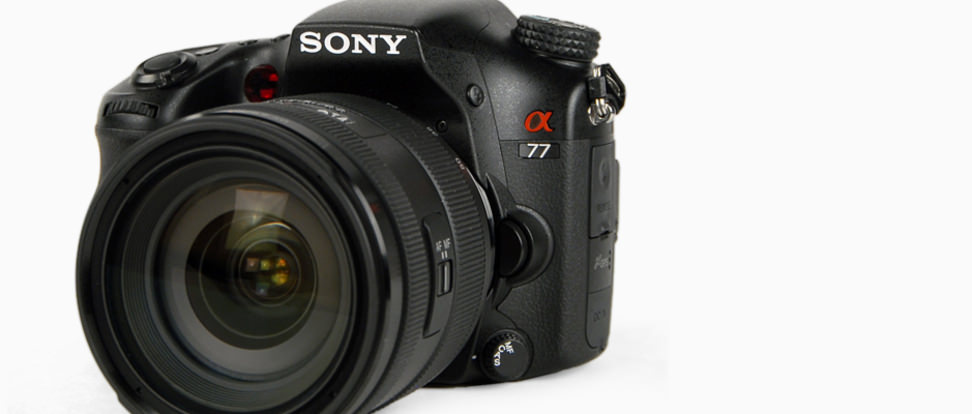 The Sony Alpha A77 is better than 70% of the interchangeable lens cameras we tested.
It is better than 74% of the interchangeable lens cameras we have tested under $2,000.
Introduction
The Sony A77 is a big, heavy interchangeable lens camera that has a sophisticated set of video controls and a variety of recording options. The camera produced video that was reminiscent of Sony's excellent NEX-7, although the A77 didn't do quite as well in our video tests. However, its quick autofocus and solid set of manual controls in video mode were more than enough to put the A77 in the upper echelon of video-capable system cameras.
Motion & Sharpness
The A77 reproduces motion very nicely for a consumer SLR. Moving objects are smooth with only very slight trailing. There's a bit of noisy artifacting especially in the blue channel, and some interference in high-contrast areas. Autofocus is very quick and accurate. Overall, motion is really quite good.
Like many cameras with large image sensors, the A77 does have some trouble with a rolling shutter. This creates what some people call a "jell-o effect" when you pan back and forth quickly. The image wobbles as you pan, which you can see in the video below. The effect isn't too bad if you pan slowly, but you definitely see it when you quickly jerk the camera from side to side.

See our full motion performance review, including video clips.
As good as the motion was, the sharpness results are weaker than we had hoped for. At rest, we spotted 600 horizontal and vertical lw/ph, dropping to 575 and 550 lw/ph respectively when in motion. That's notably worse than any cameras in our comparison group. We have a hunch that a part of it is the translucent mirror, which allows less light to the sensor than a mirrorless camera or a DSLR with a locked-up mirror.

Read our full sharpness performance review.
Low Light
Here's one area where we're sure the translucent mirror hurt the video results: The A77 crossed our sensitivity threshold at just 28 lux, in the ballpark of most point-and-shoots. The NEX-7 beat it out, but didn't perform particularly well either; it uses the same sensor as the A77, so we can assume the sensor isn't particularly geared for low-light video. Also hurting the A77 here is the fact that its kit lens uses an f/2.8 aperture, so it isn't that great for low light shooting. A faster lens should improve the camera's low light video capabilities. Read our full low light sensitivity performance review.
Comparable Products
Before you buy the Sony Alpha A77, take a look at these other interchangeable lens cameras.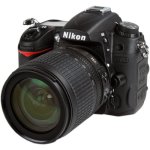 Conclusion
With its coveted NEX line of compact system cameras, Sony has built a solid foundation of cameras that are great for shooting video in addition to still images. The Alpha SLT-A77 is another good addition to Sony's family, and, while still technically a "system camera", it's not exactly compact like the Sony NEX series. The A77 uses Sony's translucent mirror technology, which means it isn't a traditional DSLR, and this sensor system also enables the camera to do things in video that DSLRs can't (like use autofocus continuously while recording).
If you're just looking for a simple camera to experiment with video recording, the Sony A77 probably shouldn't necessarily be on your list. It costs $1999 with its 16-50mm f/2.8 kit lens (or $1399 body only), which is roughly the same price as two high-end camcorders would run you. It's also not the best camera for video we've seen, although it did do a good job in our tests. The Canon 5D Mark III and the cheaper Sony NEX-7 both had an edge in video quality over the A77.
But the Alpha A77 offers a very good package all around. It's an impressive still image camera—that's for sure—and despite its bulk it handles decently for shooting video. It's tilting and rotating LCD is great for getting shots at odd angles, and its dual AVCHD and MPEG-4 recording options gives you flexibility in post production. The camera can also shoot Full HD video at multiple frame rates (60i, 60p, or 24p), and it has a wide range of manual controls in video mode.
To read our full conclusions for the Sony Alpha A77 including analysis of the camera's video handling and audio options, plus see sample videos and photos, visit the full review at DigitalCameraInfo.com.
Our editors review and recommend products to help you buy the stuff you need. If you make a purchase by clicking one of our links, we may earn a small share of the revenue. Our picks and opinions are independent from any business incentives.