camcorders
Samsung SC-DC173 Camcorder Review
The SC-DC173 ($369 MSRP), an entry-level DVD camcorder, doesn't have Sony's ease of use, Canon's performance, or Panasonic's handing, but by piecing together bits from each, it ended up with a decent camcorder. Sure, we have a lot to complain about, but what entry-level model doesn't inspire some "what were they thinking!" moments? The SC-DC173 is not a powerhouse, but it just might do the job.
Performance
Video Performance* (3.0)*
The Samsung SC-DC173 is equipped with a single 1/6-inch CCD, with a gross pixel count of 680,000. The effective pixel count is not given, though we can estimate it to be somewhere around 340,000. This is the standard chip size found in most low-end camcorders. The 1/6-inch CCDs are cheap and produce less than stellar results, although a good manufacturer can make them perform to their utmost capabilities. Let's see how Samsung did.
Casual shooting with the Samsung SC-DC173 yielded lackluster video. The images appeared noisy, as a rule, and the color balance was often slightly askew. The auto focus did well, but the dynamic range was limited. White objects in a shot with mixed tonality frequently blew out. Dark areas in the same shot often bottomed out, lost in shadow. The picture was not terrible, though. It performed like a modest camcorder in its price range– no more and no less.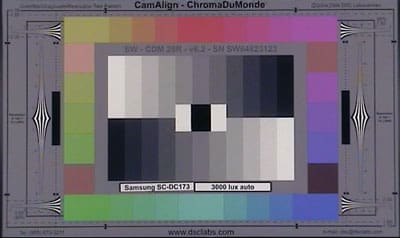 Our standardized testing takes place in the lab, shooting a DSC Labs ChromaDuMonde chart at an even 3000 lux. Under these more or less ideal conditions, the camcorder produced a grainy image with flat, though not entirely poor, color. The biggest problem with the image is the artifacting. You can see blocks of compression quite clearly. It's most apparent in areas of high contrast, even on a small monitor. In other areas, it appears more as imager noise and random bits of discoloration. Altogether, the image looks fuzzy.
The color performance was not too bad, however. It certainly won't win any awards, but the colors manage to remain distinguishable without oversaturation, which is commonly employed as a cheap fix for low-end camcorders.
Though the imager was larger in last year's SC-DC164, the results were about the same. The DC164 did not take the manual white balance as well and produced too warm an image, but the noise and artifacts were a problem then, too. When comparing camcorders, the Sony DCR-DVD108 is a perfect example of a camcorder with oversaturated colors. Some of your image may look better, but often a particular color, like red or blue, will appear almost neon. Sharpness was about the same between the Sony and Samsung. The Canon DC220 also oversaturated, but it only appeared to be a problem with greens. Noise was also a problem, as it was with all these camcorders.
The differences in color are difficult to parse. While we place a higher value on accuracy, consumers with low-end camcorders often prefer images that "pop." We recommend you check out a few models at the store first. Look for stronger colors from Sony and Canon, and a toned-down performance from Samsung. Your preference is your own, but we would be most pleased with something between the Canon and Samsung. Of course, the Canon DC220 gives you options to tweak saturation right onboard, something the Samsung sorely lacks.
Video Resolution* (4.5)*
Video resolution is determined by shooting a DSC Labs video resolution chart and viewing the recorded footage on a monitor. This test measures the resolution of the final outputted video after it has been chewed up and spit out of the processor. At best, the Samsung SC-DC173 produced a horizontal resolution of 300 line widths per picture height (lw/ph) and a vertical resolution of 300 lw/ph.
The score is on par with camcorders in its price range.
Low Light Performance* (2.46)*
The small 1/6-inch CCD does not offer much hope for low light, but each camcorder gets its fighting chance. Our lab test is a comprehensive little battery of challenges. The first is shooting the DSC Labs Chroma DuMonde chart at 60 lux. At this light level, which is dim but adequate for reading, the noise levels skyrocketed. It became quite apparent that this is not a power player in low light. Some of the colors held on strong, but color differentiation became a problem. Mostly due to the noise, fine detail took a nosedive. We also saw a fair amount of bluish noise, which is often the case with low-end Sonys. It is likely an imager aberration. Because 60 lux shooting is not far off from indoor lighting, this is the video you can expect from indoor shots.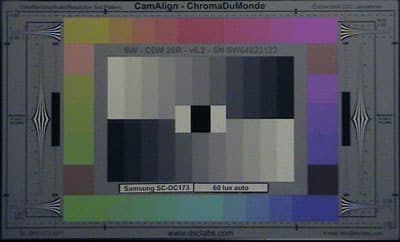 The Samsung SC-DC173 offers shutter speed control, but it does not drop below 1/60 of a second (at least not in 16:9, which is how we test) and is therefore useless in low light. You can, however, use the exposure controls. We shot the same 60 lux with the exposure extended to a maximum +29. At this setting, the exposure increased significantly, with no tangible increase in motion blur. Fine detail capture improved slightly because it was able to draw the contrast out a little better, but the noise was not diminished one bit.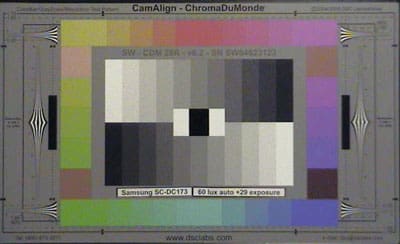 Last year's Samsung SC-DC164 produced similar results. The DC164 had a warmer image and possibly better fine detail resolution. The Sony DCR-DVD108 produced an image with seriously oversaturated blues, to the detriment of surrounding colors. Blue noise was also prevalent. Finally, the Canon DC220 produced the brightest colors in an even fashion. The noise was also the lowest amongst this group. However, making out fine details is nearly impossible.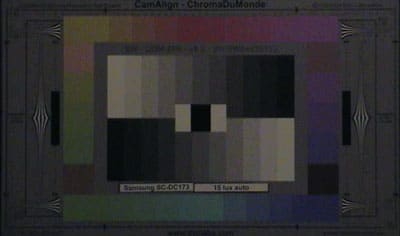 Lowering the light to 15 lux, the Samsung SC-DC173 was all noise and darkness. All fine detail was gone. Colors could still be ascertained, so Samsung gets something right, but the chip is simply too weak to perform in this light.
The next part of our test shoots the GretagMacBeth Color Checker chart at 60 lux, then exports frames from the video into Imatest imaging software to gauge color accuracy, noise, and saturation. At best, the Samsung SC-DC173 is able to produce a color error of 12.8, which is really not too bad when compared to the broad spectrum of performances we've seen this year. The noise measured 2.53 percent. Unlike the color score, the noise is much, much higher than a lot of camcorders. This did not come as a surprise after seeing the video with our own eyes. The saturation measured 70.43 percent.
The final part of the test determines the sensitivity of the camcorder. We monitor the IRE levels and lower the light until the camcorder is capable of producing a maximum brightness of 50 IRE. In the case of the Samsung SC-DC173, the light could only go as low as 19 lux. We typically see a better performance from single-chip camcorders. Even other 1/6-inch CCD camcorders like those from Sony could go down to 15 lux.
Stabilization* (7.68)*
We tested the effectiveness of the SC-DC173's DIS using our custom-built shake emulator. The camcorder was set to auto with the LCD screen flipped out and mounted to the shake emulator. We tested the SC-DC173 at two speeds. Speed one is akin to walking slowly down the sidewalk while filming. Speed two simulates a more intense shake pattern, similar to a light jog or bumpy car ride. At speed one, the SC-DC173 produced a shallow 33.3 percent shake reduction and a disappointing zero percent reduction at speed two. This is not an adequate performance for most standards.
Wide Angle* (11.2)*
We tested the SC-DC173's maximum field of view by placing the camcorder on a tripod, pulling the zoom all the way back and disabling DIS. A vertical laser was used to measure both left and right angles. After viewing the test footage on a true full frame monitor, we were able to calculate the SC-DC173's wide angle measurement by subtracting the difference of the left and right angles. The SC-DC173's maximum field of view is 56 degrees in 16:9 mode and 45 degrees in 4:3 mode—an optimal performance.
Our editors review and recommend products to help you buy the stuff you need. If you make a purchase by clicking one of our links, we may earn a small share of the revenue. Our picks and opinions are independent from any business incentives.
Sections
Our editors review and recommend products to help you buy the stuff you need. If you make a purchase by clicking one of our links, we may earn a small share of the revenue. Our picks and opinions are independent from any business incentives.
Advertisement - Continue Reading Below
Our editors review and recommend products to help you buy the stuff you need. If you make a purchase by clicking one of our links, we may earn a small share of the revenue. Our picks and opinions are independent from any business incentives.
Advertisement - Continue Reading Below
Get Our Newsletter
Real advice from real experts. Sign up for our newsletter
Thanks for signing up!