camcorders
Samsung SC-D365 Camcorder Review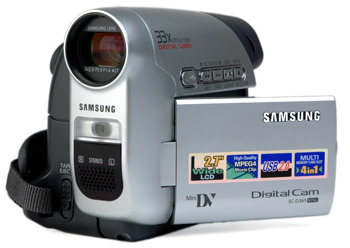 Performance
Video Performance* (4.5)*
The Samsung SC-D365 features a 1/6" CCD with 680K gross pixels (the effective pixel count is not specified). At 3000 lux, the D365 produced a wan and grainy image with a distinct lack of sharpness. The whole thing looks soft and even a little out of focus (and this was the best part of the clip). It also had a poor range for color reproduction, which was something abundantly obvious in on-the-go footage. The camcorder had a strange and terrible predilection for giving the video a hard gradient look, similar to that of the common digital effect "Art." Color transitions that should be subtle, such as those in a beige wall, appear as a mess of only a few tones, with drastic shifts from one tone to the next. The D365 also tends to blow out whites and produced some instances of a bluish-purplish noise.
The Sony DCR-HC36, by comparison, did not look much sharper, but its colors were stronger – more vibrant and differentiated. The whites were turned down a little, which helped to make a healthier grey scale. All in all, a much better image.
The Panasonic PV-GS39 also had better colors, as does virtually every camcorder in this price range. The GS39 did produce a lot of fine grain noise, but it also captured more fine detail, and did not have the Samsung's festively-colored noise.
To repeat what has become a mantra when discussing low-end MiniDV camcorders this year, the Canon Elura 100 far out-performed the D365. It produced an exceptionally sharp image for its price range, with excellent colors: saturated, but relatively accurate. Looking at the results of the Elura, everything seems to pop, but not in a bad way. Best of all, these benefits come with very little noise.
Video Performance
Samsung SC-D365
4.5
Sony DCR-HC36
5.1
Panasonic PV-GS39
5.25
Canon Elura 100
7.6
Video Resolution*(10.1)*
We tested the Samsung SC-D365's video resolution by shooting a standard ISO 12233 resolution chart and running stills from that footage through Imatest imaging software. In 4:3 mode, the D365 produced 324.4 lines of horizontal resolution and 312.7 lines of vertical resolution, resulting in an approximate resolution of 101439.88. In 16:9 aspect ratio, the camcorder yielded 441.9 lines of horizontal resolution and 306.1 lines of vertical resolution, producing an approximate resolution of 135265.59.
**Video Resolution**
Samsung SC-D365
10.1
Sony DCR-HC36
8.9
Panasonic PV-GS39
9.8
Canon Elura 100
15.5
Low Light Performance*(3.0)*
We tested the SC-D365 for its low light performance at both 60 lux and 15 lux. Low light, that tricky category, must never be overlooked, lest you end up with a completely garbled image of your 1-year old blowing out their birthday candles in a darkened room.
At 60 lux, D365 produced a surprisingly good image. Given its completely washed out colors at bright light, we expected a dreary mess. But perhaps the camcorder is just not a 3000 lux performer: at 60 lux, while it didn't give an ideal performance, its colors certainly look better. Saturation is fairly even all around, with stronger reds than you typically see in a low-end camcorder. But, unlike some Panasonics that produce decent reds and nothing else, the Samsung shoots a nicely balanced image.
There are two big problems with the Samsung's picture is noise. First, fine grain black noise is rampant and tends to obscure some of the fine details like subject borders and thin lines. Some of this noise is likely a result of the automatic gain boosts, which would also account for some of the good color performance. You can see the trade-offs pretty clearly with this camcorder. Secondly, the whites were shifting too far towards a reddish hue.
Perhaps as a result of the saturation, or due to a poor manual white balance (we do manually adjust the white balance for our tests), the grey scale took on some reddish hues – a rare and unsettling occurrence.
The Canon Elura 100, one of our favorites in the low-end MiniDV market, did not have quite so much color. However, the imager set produces a sharper picture than the Samsung in any light level, which helped to produce more fine detail. Generally, a sharper image is preferred over a colorful but blurry image. Noise levels are, unfortunately, about the same.
The Sony DCR-HC36 had similarly good color performance (without the whites shifting too far towards the red) and also looked heavily saturated. As with most Sonys, the blues appeared stronger than any other color. There was also some minor issue with blue noise, an unfortunate byproduct of many Sony camcorders.
Panasonic PV-GS39 produced similar colors, but its noise was not nearly as bad.
At 15 lux, the Samsung SC-D365 lost our good graces. In addition to a severely dark picture and overwhelming noise, the camcorder had trouble focusing. The picture here represents the best of the clip. The drop-off in performance that occurred between 60 lux and 15 lux is really something, and clearly demonstrates the limits of the imager's strengths. Most of the fine detail was lost in a wash of noise, and the grayscale discoloration only got worse.
At this light level, the Canon Elura 100 showed its ace card. While its 60 lux performance was modest (at best), the 15 lux performance is excellent, no doubt indebted to its large CCD. Colors are relatively strong, and the camcorder manages to retain excellent sharpness.
The Sony DCR-HC36 is significantly brighter than the Samsung, despite having the same size imager. If this is due to a higher gain, than the Sony must also possess a better noise suppression system to counteract the gain's undesirable byproducts. Color strength is slightly duller than the Samsung, but the picture is much better overall.
The Panasonic PV-GS39, once again, did not look all that different from the Samsung. It did not have the red noise, though.
The Samsung D365 offers a special night mode, Color Nite, which advertises itself as a slower shutter speed – either 1/30 or 1/15 of a second. This is almost certainly a digital process which mimics a slower shutter speed and detracts from image quality. We tested it to be sure we could recommend against Color Nite's use in all but the most extreme shooting circumstances. The results below help to confirm our suspicions.
**Low Light Performance**
Samsung SC-D365
3.0
Sony DCR-HC36
3.0
Panasonic PV-GS39
4.75
Canon Elura 100
4.75
Wide Angle* (9.0)*
We took Wide Angle measurements of the SC-D365 in both 4:3 and 16:9 modes. In 4:3 mode, this model's wide angle measured 45 degrees; in widescreen mode (16:9), it measured 56. This dramatic increase in wide angle is one of the benefits of shooting with the Samsung.
Comparable Products
Before you buy the Samsung SC-D365, take a look at these other camcorders.
Our editors review and recommend products to help you buy the stuff you need. If you make a purchase by clicking one of our links, we may earn a small share of the revenue. Our picks and opinions are independent from any business incentives.
Sections