camcorders
Samsung HMX-W200 Review
If you need something little, waterproof, cheap, and fairly reliable, the Samsung HMX-W200 may fit the bill.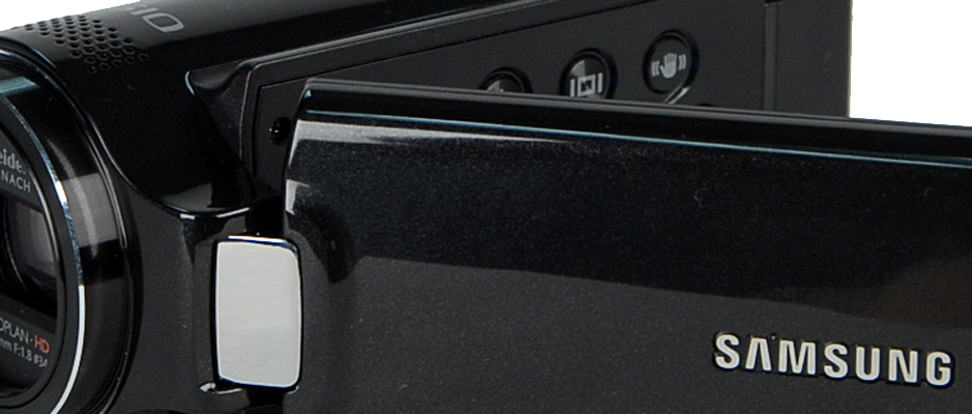 Introduction
The Samsung HMX-W200 is a compact, waterproof budget camcorder that showed off some impressive video performance skills. The camcorder retails for around $159 and it has the ability to take 5-megapixel still photos in addition to recording full HD video.
Design & Usability
The HMX-W200 is waterproof up to 10 feet and can handle a drop from 6.5 feet, but it's not the most comfortable camcorder to use.
The waterproof design of the W200 is a lovely, integral feature for the camcorder. If you're in the market for a budget model, there's really no reason you shouldn't get one that's waterproof as well—it just makes it less likely the darn thing will break. The W200 has a decent rugged feel, and its textured front provides a somewhat good grip as well. Despite these positives, the W200's less-than-ergonomic shape was a something of a concern. The ribbed siding on the left and right sides does little to benefit grip; it's strange that Samsung didn't try harder to make the W200 a more comfortable camcorder to hold. Even though the camcorder is waterproof and drop-proof (up to a certain point), the body of the W200 does scratch very easily. You'll need to be careful when bringing this little guy into the ocean, as the sand may scuff up its skin.
It's strange that Samsung didn't try harder to make the W200 more comfortable to hold.
Like many compact camcorders, the Samsung W200 comes with a built-in USB arm. This is great for on-the-go connectivity, but the design of the arm is terrible. It doesn't extend out from the camcorder more than a 1/4 inch, which means you're gonna run into some difficulty when connecting the computer to a camcorder. Samsung could have provided a solution for this issue by shipping a USB extender cable with the camcorder, but, sadly, it did not. In fact, the W200 comes with the fewest accessories of any model we've seen this year: a wrist strap, quick start guide, and instruction manual on a CD .
Features
You won't find many manual controls here, but 5-megapixel still photos and a batch of digital filters are certainly appealing perks.
The camcorder has a few "Smart Filters."
The 2.3-inch LCD on the back of the camcorder is larger than average for an ultracompact model, and that extra space does make the W200 easier to use. The menu system is slicker and easier to read, although there aren't many features to read about. The camcorder has a few "Smart Filters", which are basically digital effects that alter the look and feel of your videos. The Smart Filters include: Fish-Eye (giving your video a wide-angle view), Vignetting (dark edges added to videos), Retro (sepia tones), Classic (black and white), and Negative (inverted colors). The options are sure to wow people who have never used a camcorder before, but you can add the same effects using any basic editing software.
Focus isn't that complicated on the HMX-W200, and the camcorder has no manual focus options. When shooting at distances between one and five feet, I noticed the camcorder performing some slight autofocus adjustments. Most were so slight that they were barely noticeable during recording, but I could see the focus change during playback. The camcorder worked best when held a foot or more away from a subject, as any closer and the camcorder had trouble bringing the image into focus.
The HMX-W200 offers four different photo size options
Many ultracompact camcorders offer a limited photo mode that can take pictures at a single size option. The HMX-W200, however, offers the choice of four different photo size options: 2720 × 2040 (5.5 megapixels), 2048 × 1536 (3 megapixels), 1920 × 1080 (2 megapixels), or 640 × 480 (VGA). To take photos, you simple switch over to photo mode by pressing the video/photo mode switch located beneath the LCD.
Comparable Products
Before you buy the Samsung HMX-W200, take a look at these other camcorders.
Performance
Surprisingly good sharpness, low light, and color results for this little camcorder
This is a fantastic little camcorder.
Where do I begin? The HMX-W200 is a fantastic little camcorder, with video performance that bests every other ultracompact model that has come through our labs. Sharpness results were nearly off the charts—putting up numbers that could rival camcorders costing three times as much—and low light performance was very good for a camcorder of its class. Even colors were fairly accurate, at least compared to the competition. The camcorder's low point came in motion, where the W200 struggled to capture a crisp, blur-free image. Still, its results weren't anything worse than average for a compact, budget-cam.
Conclusion
Cheap, compact, and waterproof, the Samsung HMX-W200 performs much better than its $159 price tag suggests.
Waterproof ultracompact camcorders have been flooding the market over the past year, so it's fair to say the Samsung HMX-W200 has its good share of competitors. Surprisingly, the W200 held off the other camcorders in its price range by putting up excellent results in the majority of our video tests. Most impressive was the W200's ability to capture sharp video in bright light—sharper than any other budget camcorder we tested in the past year. The camcorder also produced accurate colors in all kinds of light, which is something that is rarely the case with ultracompact models.
The HMX-W200 does suffer from a few design flaws. Its interface is sloppy at times, and the buttons on the back of the camcorder aren't as responsive as they should be. It also has an awkward grip that, while decent underwater, wasn't as good as the rubbery texture that coats the Kodak PlaySport Zx5 camcorder. At least Samsung equipped the W200 with a simple menu and a decent Quick Start Guide that should be helpful enough to push beginners in the right direction.
The camcorder has some design and interface flaws, but its success in video performance overshadows those minor faults.
The Samsung HMX-W200 is a great example of a camcorder that wildly exceeded our expectations. We expected average results from the camcorder, but we got a video performance that rivals the best we've seen from a sub-$200 model instead. Yes, the camcorder has some design and interface flaws, but its success in video performance overshadows those minor faults.
Our editors review and recommend products to help you buy the stuff you need. If you make a purchase by clicking one of our links, we may earn a small share of the revenue. Our picks and opinions are independent from any business incentives.