camcorders
Pure Digital Flip Mino Camcorder Review

Performance
Video Performance* (1.5)*
Considering all the things the Pure Digital Flip Mino*doesn't* have - manual controls, a traditional grip, optical zoom, etc. - it had better deliver on the things it does do, namely record and upload video. You can read about the upload process in the Editing section. Let's talk about video performance for now.
The Pure Digital Flip Mino uses a 1/4-inch VGA CMOS sensor, which is a mere 640 x 480 (roughly 0.3 megapixels). This is paltry compared most camcorders, which try to boost resolution by packing in as many pixels as they can. Pure Digital's strategy, however, is to sacrifice resolution by making each pixel on the sensor larger, thereby increasing sensitivity in low light. The gambit has worked, for the most part, as you'll see in the Low Light section below.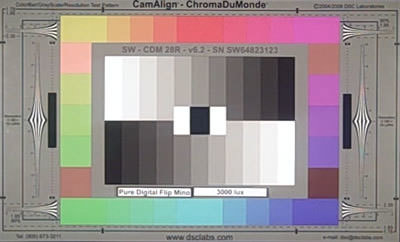 Pure Digital Flip Mino at 3000 lux
The video quality is nothing to brag about. But it's better than you might think. Pure Digital has come a long way since the CVS One-Time Use Camcorder, the video of which was virtually indecipherable. If your intention for the Mino's video goes no further than the web, you'll have nothing to worry about. As long as YouTube maintains its low standards for video quality (let's be honest, here), the Flip Mino can keep up. Sometime soon we can expect to see better online video quality, maybe even HD, from YouTube. Of course, there are other video hosting services that already allow for much better video, but none so popular.
First, let's look at the lab testing. We shot a DSC Labs Chroma DuMonde at an even 3000 lux. Under these more-or-less ideal conditions, the Pure Digital Flip Mino looks decent. The camcorder does not do a great job defining subtle changes in color tone. Note in the frame grab above how the green patches run together, as do the red patches. The same thing happens with the Flip Ultra.
The sharpness is acceptable, as long as both the camcorder and subject are at rest. When shooting our test charts, the Flip Mino produces nearly the same sharpness as any other low-end camcorder. Unfortunately, motion is usually the name of the game with camcorders, and our out-of-the-lab testing proved the Flip Mino's weaknesses.
Firstly, we noticed the terrible compression artifacting. Colors often become posterized, wherein subtle variations are squeezed by the processor into ugly chunks. The Flip Mino also shows a tendency to blow-out highlights too easily. Any white area in a shot that has both highlights and shadows blows out.
Due to the high compression, motion does not look terribly sharp. Colors are rapidly processed and come out posterized. There are definite tendencies toward motion trailing, another common artifact. In some areas of fine detail and high contrast, we occasionally noticed strange incidents of a checkerboard pattern appearing.
Be careful when shooting a scene with lots of shadows and highlights mixed together. The Flip Mino has a bad tendency to blow out whites at the slightest provocation. This often resulted in purple fringing around the white area, as well.
One final note of caution - the Flip Mino is terrible for shooting anything up close. If there's less than a foot or so of space between subject and camcorder, it will likely be out of focus. Sadly, there's no way of noticing this on the low-resolution LCD. It's not until later, after uploading, that you may notice this.
Overall, the video is better than you might expect at this price point, but it's really more on par with a webcam than a camcorder.
Video Resolution* (4.5)*
The video resolution was tested by shooting a DSC Labs video resolution chart at an even, bright light. We then watched the playback on a monitor. Ultimately, we found the Pure Digital Flip Mino produces an approximate horizontal resolution of 300 line widths per picture height (lw/ph) and an approximate vertical resolution of 300 lw/ph. This marks a major improvement over last year's Flip Ultra, and puts it on par with camcorders that, while still 'lower-end,' are more expensive than the Flip Mino. We speculate that this increase in resolution is thanks to the compression engine, upgraded since the previous generation.
It's important to note that the resolution test here has a very narrow definition of the word 'resolution.' This is measuring high contrast lines on a chart under ideal lighting, and it may not represent your real world shooting situations. Please keep in mind some of the other issues we found, like compression artifacting, which reduces the overall picture quality. On the whole, though, we were pleasantly surprised with the performance.
Low Light Performance* (9.54)*
The low light performance of the Pure Digital Flip Mino was tested in three stages. First, we shot the DSC Labs Chroma DuMonde chart at an even 60 lux and 15 lux, then compared it to other camcorders we've tested.
*
Pure Digital Flip Mino at 60 lux*
At 60 lux, the Flip Mino retains an amazing amount of light. In fact, we're tempted to say it looks better than it did at 3000 lux, as the white balance is more accurate. There is almost no loss in fine detail, which is to say there isn't a whole lot of fine detail at 3000 lux, and it doesn't lose much more. Comparatively, the Flip Ultra looked the same. This is not surprising, as the camcorders share the same sensor. Though there are relatively few pixels on the sensor, each is quite large and able to collect a lot of light. Only the compression has improved since the previous generation, which may explain some of the increase in resolution.
Camcorders in the near price range we've tested this year, including the Panasonic SDR-SW20 and JVC GZ-MS100, both fail to produce the brightness the Flip Mino is able to achieve, though each of those camcorders offer huge improvements in other areas, such as manual controls and handling.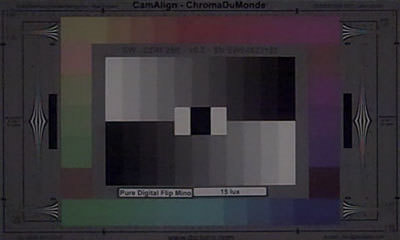 Pure Digital Flip Mino at 15 lux
At 15 lux, the Flip Mino's image is significantly darkened. This is the widowmaker test for all the camcorders in this price range. None of these perform well for color or fine detail resolution.
The second stage of the low light test measures sensitivity. It involves shooting the same DSC Labs color chart chart while slowly lowering the light. We then watch the playback footage on a waveform monitor to determine how might light the camcorder needs to produce a maximum IRE of 50 (a measurement of exposure). Testing shows it takes approximately 7 lux of light for the camcorder to produce this exposure.
The third stage of low light testing involves shooting an X-Rite Color Checker chart at an even 60 lux, then exporting frame grabs to Imatest imaging software to determine color accuracy, noise, and saturation. Imatest found the Flip Mino to produce a color error of 12.3, which is about average for a camcorder in this price range. For whatever reason, the Flip Ultra scored considerably better in this test. The noise from the Flip Mino measured 0.4525, a very low noise score indeed. This is not surprising, considering the size of the pixels on the sensor are larger than average, and that there are fewer of them. The saturation measured 69.85, an average score.
Overall, the Pure Digital Flip Ultra is quite a decent little performer in low light, as long as you don't get your hopes up for a really sharp image.
Stabilization* (0.0)*
The Flip Mino is not equipped with an image stabilization system. You'd better have a steady hand.
Wide Angle* (7.6)*
We tested the Mino's maximum wide angle capacity by placing the camcorder on a tripod and measuring the left and right angle degrees using a vertical laser. Test video was later interpreted on an external monitor to attain a true wide angle reading. The Flip Mino's maximum wide angle is 38 degrees, which is a poor performance and is 5 degrees less than the Flip Ultra's measurement.
Comparable Products
Before you buy the Pure Digital Flip Mino, take a look at these other camcorders.
Our editors review and recommend products to help you buy the stuff you need. If you make a purchase by clicking one of our links, we may earn a small share of the revenue. Our picks and opinions are independent from any business incentives.
Sections