camcorders
Pentax Q Digital Camera Review
The Pentax Q is a tiny interchangeable lens camera that can record Full HD video.
$299.99 at Amazon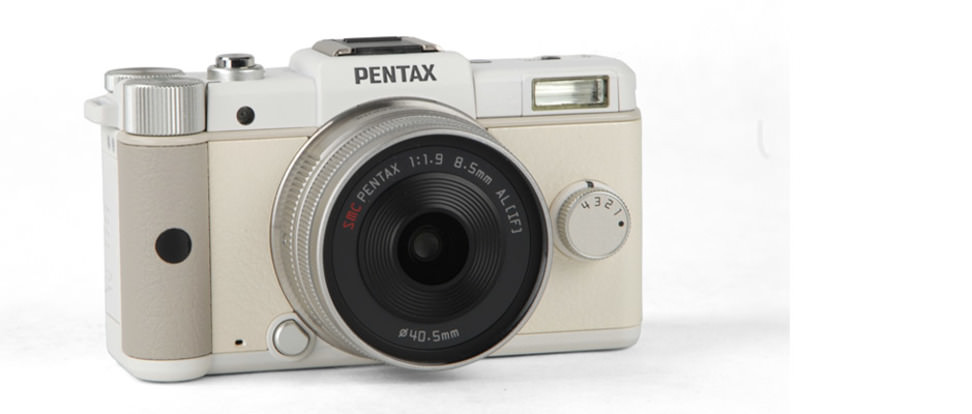 Introduction
The Pentax Q is a tiny interchangeable lens camera that can record Full HD video. The camera's variety of controls in video mode aren't bad, but its lack of good handling features, as well as sub-par performance in our color and sharpness tests, made for an underwhelming video performance overall.
Color & Noise
The Pentax Q was able to pull in video with an average color error of 4.6 in the camera's "bright" color mode, which was the most accurate in our testing. While the custom image profile "natural" was more accurate in still photography, it tended to be undersaturated, which hurt it in our video color testing as it came in with a color error of over 4.8. The bright mode was more accurately saturated, at just over 105% of the ideal. See our full color performance review, including color swatches and crops.
he Pentax Q had an average of just 0.46% noise in its video according to our tests in bright light testing. While this put it behind the Olympus E-P3 and the Panasonic GF3, it wasn't by any great margin. The Nikon J1 brought up the rear in this comparison group, but none of the camera performed particularly poorly by any means. See our full noise performance review, including crops and comparative analysis.
Motion & Sharpness
We found the Pentax Q offered decent motion rendering, as there was little in the way of interference. The automatic exposure did tend to utilize slower shutter speeds, resulting in some extra blurring in our motion test's RGB pinwheel. There was also sampling errors and aliasing present in our monochrome pinwheel that became distracting when in motion. See our full motion performance review, including video clips.
We found the Q was able to resolve detail at a frequency as high as 550 lw/ph vertically and 500 lw/ph horizontally. This is right in line with the better cameras utilizing a similar size sensor (1/2.3'', as found in most point and shoot cameras), and actually put it right alongside many of its compact system camera peers utilizing larger sensors. Read our full sharpness performance review.
Comparable Products
Before you buy the Pentax Q, take a look at these other interchangeable lens cameras.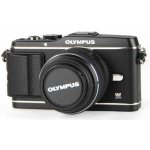 Low Light
The Pentax Q, despite its small sensor, needed just six lux of light for it to register 50 IRE on a waveform monitor. This is right in line with what we typically see out of interchangeable lens cameras with much larger sensors. Beyond that, noise did not increase appreciably, so if the camera was greatly boosting ISO sensitivity in order to achieve that result, it did not greatly detract from the image. Read our full low light sensitivity performance review.
The Pentax Q's color accuracy fell from around 3.8 during video recording in bright light to an error of greater than 4.4 when we dropped the light to just 60 lux. When utilizing the "bright" color mode, we found images were greatly oversaturated (about 125% of the ideal) and the color accuracy dropped considerably. The "natural" mode, while undersaturated in bright light testing and in still photography testing, returned nearly perfect saturation levels in low light video. See our full low light color performance review, including comparative images and analysis.
In low light testing the Pentax Q returned noise results of just 0.69% by our testing when shooting with the "natural" custom image profile. The Q could potentially get lower results with manual exposure turned on, as that mode allows users to turn the ISO sensitivity all the way to 125, but a limited aperture range will restrict the Q's usefulness at that setting in extremely low light situations. See our full low light noise performance review, including crops and comparative images.
Conclusion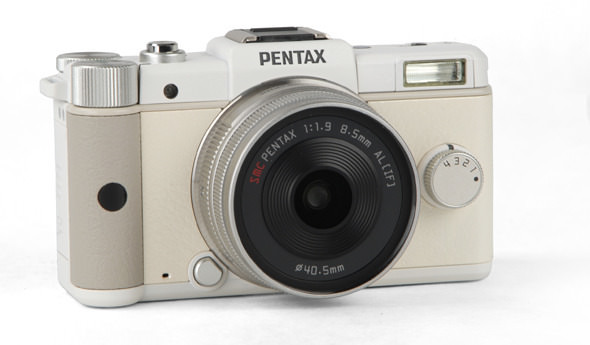 The Pentax Q performed admirably in our video tests, but its color accuracy and sharpness results were a notch lower than we normally see from a compact interchangeable lens camera. Like most cameras in this class, it's able to record decent video, but it's not something we would recommend to the professional videographer.
Impressively, the Pentax Q offers a good amount of manual controls in video mode, including the ability to set aperture, shutter speed, and ISO during recording. Many of the cameras in this class include little to no controls in video mode, so we're happy to see Pentax went in another direction. The shape and design of the little camera isn't very good for shooting video, but the compact body does make for less of a nuisance when lugging the Q around town.
The Pentax Q records Full HD 1080p video, but its image sensor isn't much larger than what you get in your normal point and shoot camera. For this reason, the Q failed to produce top-notch numbers in our sharpness test, but it still did a good job rendering motion and limiting the noise in its video clips. Overall, the Q's compact body and good set of controls make it a decent video recording device—but it's not something that would satisfy pros or serious videographers.
To read our full conclusions for the Pentax Q including analysis of the camera's video handling and audio options, plus see sample videos and photos, visit the full review at DigitalCameraInfo.com.
Our editors review and recommend products to help you buy the stuff you need. If you make a purchase by clicking one of our links, we may earn a small share of the revenue. Our picks and opinions are independent from any business incentives.