camcorders
Pentax K-5 DSLR Video Performance Review
The Pentax K-5's video performance numbers are solid, but this camera's features tell a different story.
$639.00 at Amazon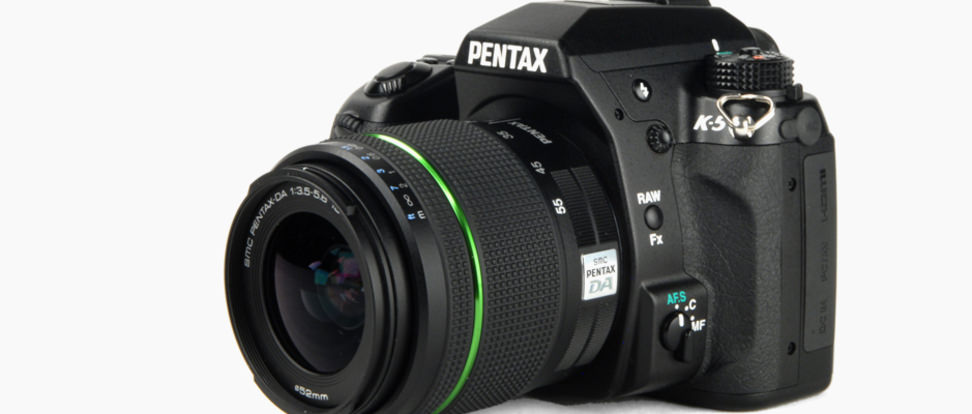 Introduction
The K-5 is a tease, at least as far as video is concerned. Like the K-7 before it, Pentax's latest SLR actually performs fairly well when given the task of shooting video. Unfortunately, this is not the only holdover from a preceding model: the K-5 retains the clumsy, simplistic video control interface of its predecessor. This is really a shame. With only a few extra features--features that the K-5 seems entirely capable of--this camera could have at least been a decent video performer. Instead, the K-5 is a primitive video device and a missed opportunity.
Color & Noise
When shooting video in normal light, the K-5 under-performs. The gamut exhibits a tendency to pull toward the magenta range, with greens especially inaccurate and flesh tones much darker. Saturation was also a problem. Under normal lighting, videos were undersaturated at only 89.65%, much worse in fact than the K-x. When combined, these scores equal a fairly dismal rating for overall video color performance at normal light levels. See our full color performance review, including color swatches and crops.
The K-5 was a very strong performer for noise levels under normal light, measuring only 0.3% noise in our test. This is an excellent score, likely thanks to the camera's huge APS-C sensor. See our full noise performance review, including crops and comparative analysis.
Motion & Sharpness
We compared the K-5 to an earlier Pentax model, the K-x, and detected a noticeable improvement in motion performance. We noticed much better smoothness this time around, as well as slightly less artifacting. Though, it should be noted neither the K-5 nor the K-x can be criticized for visible artifacts of any degree, both had stellar results. Smoothness however was a big problem for the K-x and we're happy to see this resolved in the K-5. See our full motion performance review, including video clips.
The K-5 also scored very well in our video sharpness test, outperformed only by the Sony's Alpha SLT-A55V, a very strong DSLR for video applications. Sharpness is measured in line widths / picture height. We found this camera achieved 675 lw/ph while panning both horizontally and vertically. For reference, the mighty A55 is only 25-50 lw/ph ahead, averaging 700 and 725 for horizontal and vertical panning respectively. Read our full sharpness performance review.
Comparable Products
Before you buy the Pentax K-5, take a look at these other interchangeable lens cameras.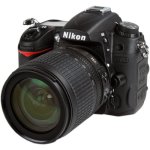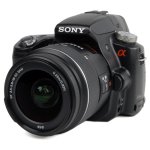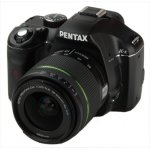 Low Light
Low light video capture is consistent with other cameras of this caliber, and color saturation remains almost identical to fully lit shooting. Only ten lux of illumination on our lab's chart was necessary for the K-5 to reproduce an image accurate enough to return 50 IRE on a waveform monitor. Such an image, while still dark, would be visible with an acceptable level of detail. Read our full low light sensitivity performance review.
In low light, the K-5 actually posted a much stronger relative color performance. Saturation remained constant compared to average light test: approximately 89%. Color accuracy did drop, as is to be expected. Again the entire spectrum is pulled toward magenta, this time with some inaccuracies in light blues and oranges, in addition to the greens which are still way off. See our full low light color performance review, including comparative images and analysis.
In low light, the K-5 produced only 0.87% noise. This is an excellent score, surpassing the K-x by almost a full 1%. Despite the improvement, the K-5 still lags behind the Sony A55, though not by much. See our full "low light noise performance review, including crops and comparative images.
Conclusion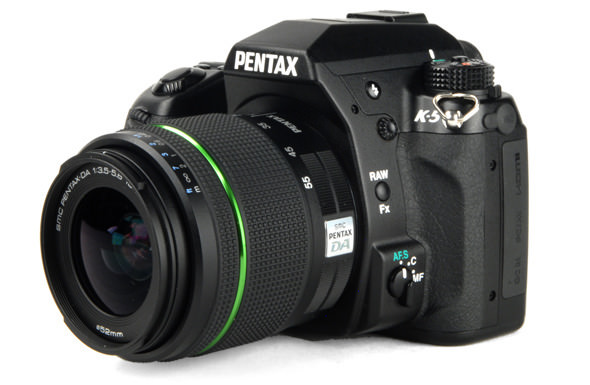 Though the K-5 posts solid scores, what we don't see in these results are factors like control and usability. It is there that the K-5's video capabilities dip into the realm of "unusable."
The K-5 does not allow control over shutter, aperture, ISO, or auto-focus while a recording is active. Focus and zoom adjustments must be made manually with the lens' rings, while the camera's metering system does its best to automatically adjust other settings for the proper exposure. What's frustrating about this is that the K-5, while in video mode, is fully capable of executing some of these commands before recording begins. 6x digital zoom with contrast detection auto-focus is available, as well as manual aperture control, but these options disappear as soon as they become...you know...actually useful.
Pulling focus manually while shooting a video isn't easy, and that's especially true for DSLRs. Again, this renders the K-5 a missed opportunity. One possible explanation for the omissions could be this camera's extremely loud autofocus motor. But even then, we say give the user the option and let them decide. A far more likely explanation is that Pentax simply failed to prioritize video when iterating on their previous model, the K-7. As a result, if video is an important consideration in your DSLR purchase, we can't recommend any other action except simply crossing the K-5 off your list.
To read our full conclusions for the Pentax K-5 including analysis of the camera's video handling and audio options, plus see sample videos and photos, visit the full review at DigitalCameraInfo.com.
Our editors review and recommend products to help you buy the stuff you need. If you make a purchase by clicking one of our links, we may earn a small share of the revenue. Our picks and opinions are independent from any business incentives.