camcorders
Pentax K-01 Digital Camera Review
The K-01's decent video performance is overshadowed by its frustrating controls and awkward handling.
$899.95 MSRP
Buy now at Amazon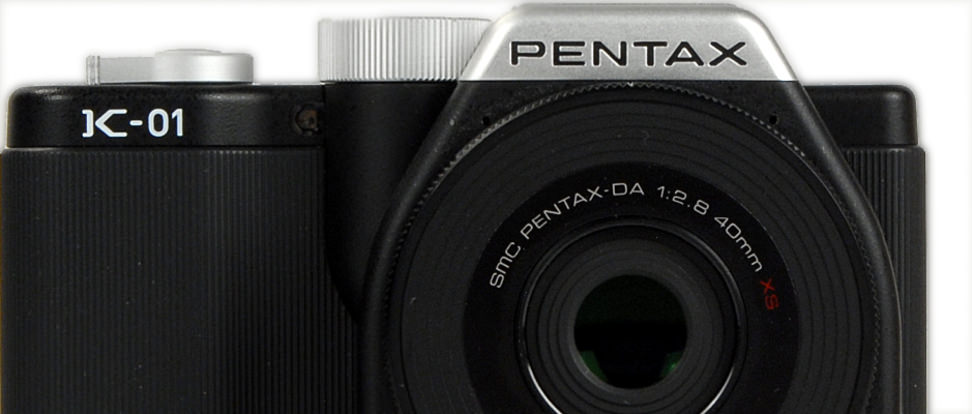 Introduction
With its thick body and unique construction of the Pentax K-01—created by industrial designer Marc Newson—clearly wasn't produced with filmmaking in mind. The camera offers no handling advantages when it comes to shooting video, and, while its video performance numbers weren't bad, there are much better video-capable DSLRs, system cameras, and camcorders in the K-01's price range ($900 with kit lens).
Motion & Sharpness
Videos are captured at 30 frames per second, so they're not quite as smooth as 60 fps content, but still free of trailing and judder. Additionally, the K-01 has options for 24p and 25p video recording, both of which produce a more film-like aesthetic than the 30p frame rate. Artifacting was barely noticeable when shooting with the K-01's highest quality setting, making the camera's motion video test very attractive overall.
See our full motion performance review, including video clips.
When panning with the K-01, the camera does produce a strong wobble in its video image. This is called a "rolling shutter" effect, and it is a result of the large image sensor not being able to "catch up" fast enough with what the camera is recording (thus the top and bottom of the frame become out of sync). You can see the rolling shutter effect in the video below.
Sharpness takes a hit during video, even though this is a Full HD 1080p device. The camera was able to resolve 525 lw/ph horizontally and 500 vertically. These results aren't anything special, and they're roughly what we'd expect to see from a mid-range HD camcorder in the $500 price range. The K-01 managed to produce a sharper image when we kept the camera perfectly still and didn't record fast-moving objects. But panning the camera or shooting subjects in motion showed off the K-01's video sharpness flaws. We also noticed the K-01 did a decent job retaining image sharpness when we lowered the lights. Read our full sharpness performance review.
Low Light
It's likely the reason low light doesn't impact sharpness too severely is because the camera is just so sensitive. In order to gather 50 IRE of image data, the sensor needed only 3 lux of ambient illumination. That's quite an amazing result, placing the K-01 on par with not only the best SLRs, but the best camcorders as well.
Read our full low light sensitivity performance review.
Conclusion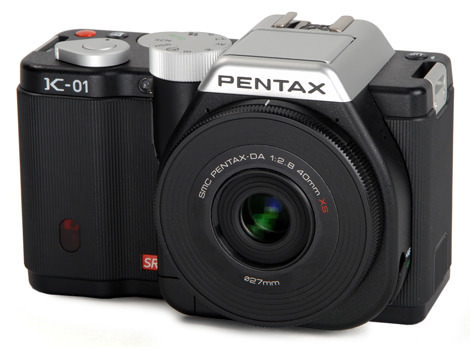 Thanks to its large image sensor and quality kit lens, it was easy to shoot good video with the Pentax K-01. But we seem to say that about nearly all video-capable DSLRs and interchangeable lens system cameras these days, so in that aspect the K-01 isn't anything special. Its decent image quality aside, the K-01 does not have the handling attributes or feature set that we like to see from a high-functioning video recording device.
For starters, the camera has a terribly loud and slow autofocus system in video mode that practically forces you to use manual focus whenever you shoot video. The manual focus ring on the kit lens is good for taking photos, but we weren't that impressed with the way it handled for video. The flat design of the pancake lens made it easy to accidentally drop your finger in front of the glass when you adjust the lens ring, and that's not something you want to see in the middle of a recording.
The camera does have a good set of exposure controls in video mode, and all three (ISO, aperture, and shutter speed) can be set while recording video. Sadly, we found the camcorder experienced something of a glitch when we shot video in modes other than its dedicated movie mode on the mode dial. Here's what happens: if you select manual exposure in the video menu the camera's aperture control will start to spasm when you try to record video in one of the manual photo modes (shutter-priority, aperture-priority, or manual mode). This problem never occurred when we shot in video mode (no matter what the exposure setting), nor did it occur when we shot in any of the photo modes on the mode dial—as long as video exposure was set to Program.
It's clear Pentax has a ways to go before its cameras will earn consideration among the best for video. The K-01, with its good video performance scores and strong low light sensitivity, is certainly a start... but the handling kinks need to be worked out to attract the attention of dedicated videographers.
To read our full conclusions for the Pentax K-01 including analysis of the camera's video handling and audio options, plus see sample videos and photos, visit the full review at DigitalCameraInfo.com.
Our editors review and recommend products to help you buy the stuff you need. If you make a purchase by clicking one of our links, we may earn a small share of the revenue. Our picks and opinions are independent from any business incentives.