camcorders
Panasonic PV-GS35 Camcorder Review
Performance
Video Performance (6.0)
The PV-GS35 features the same 1/6 inch CCD with 680K pixels, as found on last year's PV-GS15. Panasonic hasn't made any changes to last year's imagers, and video performance has by and large remained the same. The main changes to this year's Panasonics are their newly designed navigational systems.
The PV-GS35 is very similar to last year's PV-GS15 at the light level of 3000 lux. This is a light level which simulates a bright sunny day. There subtle differences between these two camcorder, but they only become pronounced at lower light levels.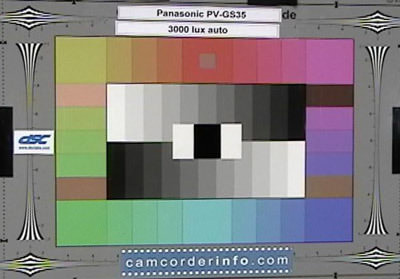 Like the PV-GS15, the PV-GS35 shows a nice balanced spectrum, and while the PV-GS15 shows slightly more distinct colors, the PV-GS35 does well with the color red. The PV-GS35 can boast a brilliant gray scale, which is pretty nice.
For a 1 chip camcorder, the PV-GS35 does okay at bright light levels. There is no washing or blending together of colors that can sometimes happen at this light level, which is nice, and the spectrum is very decent for a 1 chip camcorder. The PV-GS35 excels above average in other categories.
Video Resolution ***(7.65)***
There so many factors that go into getting good video from your camcorder that often it is hard to know whether any one factor is the reason for good or bad video performance. Generally, big CCDs, high effective pixel counts, and even higher gross pixel counts, let alone multiple CCDs, are auspicious, but not always. Often camcorder manufacturers will state CCD size, or CCD count, as sure signs of good video performance, but as we've seen in previous years, camcorders with identical CCD sizes, gross pixel counts, and effective pixel counts have performed differently.
In order to further illuminate these differences and the general subtleties between camcorders, we test each camcorder's ability to use as many pixels as possible to produce good, sharp images during video capture.
With the PV-GS35, we took some footage of a standard resolution chart at both 4:3 and 16:9 (cinema mode) and imported exported stills from this video into Imatest Imaging Software. In 4:3 mode, the PV-GS35 gave us approximately 268.9 lines of vertical resolution, with approximately 284.81 lines of horizontal resolution, yielding a real resolution of 76,582.72 (322.9 vertical lines and 263.4 horizontal lines in Cinema mode).
**Low Light Performance ***(4.0)*
The PV-GS35 has the same chip as last year's PV-GS15 and performs similarly. It suffers an increase in grain when exposed to 60 lux light levels (down from 3000 lux). With this increase in noise, however, the PV-GS35 doesn't suffer much color information loss. Yes, colors are less distinct, as noise makes everything a bit muddy, but color doesn't really start to suffer until light levels of 15 lux.
At 15 lux, the PV-GS35 shows a nosier image with less color information than at 60 lux. This is a logical progression. What distinguishes the PV-GS35 from the other camcorders which we can put it up against is the fact that at 15 lux, it produces a bright image. Comparing the PV-GS35 and last year's PV-GS15, the PV-GS35 features an incredibly brighter image, making colors and gray scale, although noisy, more distinct and distinguishable.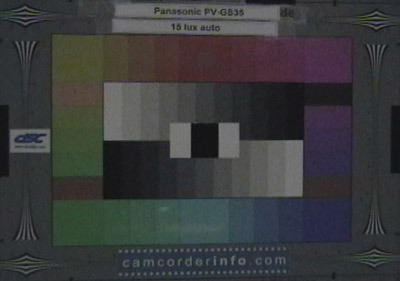 Wide Angle*(10.4)*
At the PV-GS35's widest zoom level, we used a laser level to measure the angular distance of the camcorder's widest angle of vision. Using this method we found that the PV-GS35 had a widest zoom angular measurement of 52 degrees. We then multiplied this number by 0.2 to get the wide angle score of 10.4. An angle measurement of 52 degrees is pretty good, and better than the PV-GS35's sister camcorder, the PV-GS54, which had a measurement of 44 degrees.
Comparable Products
Before you buy the Panasonic PV-GS35, take a look at these other camcorders.
Our editors review and recommend products to help you buy the stuff you need. If you make a purchase by clicking one of our links, we may earn a small share of the revenue. Our picks and opinions are independent from any business incentives.
Sections