camcorders
Panasonic PV-GS250 Camcorder Review

Performance
**Video Performance ***(8.0)*
The PV-GS250 is armed with three CCDs, each 1/6 inch (with 800K pixels total, 640K effective for video and 710 effective for still). This how the camcorder can support such a wide array of still image resolution measurements. While the PV-GS250 has less effective pixels than Panasonic's PV-GS400, it has the most of any Panasonic camcorder before it, and therefore occupies a very special position in the Panasonic line. With more effective pixels that both the PV-GS120 and PV-GS200 of last year, and the PV-GS150 of this year, we expected good things out of the PV-GS250.
And we got them, at 3000 lux anyway. We first tested the PV-GS250 at 3000 lux, equivalent to the brightness of bright sunlight, as we do all of our other camcorders. We might as well test each camcorder under optimal conditions before we submit it to low light conditions; though the low light conditions we test under presumably fall within the manufacturer's recommended shooting range, the performance of many camcorders in this area is less than optimal.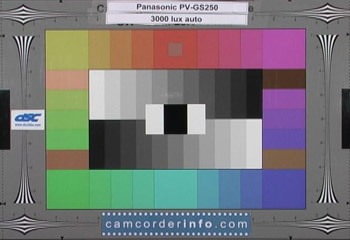 At 3000 lux, the PV-GS250 performed well, though not quite as well as I thought it would. While it had better colors and crispness than the PV-GS65 (as expected) and better crispness (barely) than the PV-GS150 and PV-GS200, it failed to outdo the PV-GS200 of last year and the PV-GS150, both of which have inferior specs, in the color department. This is an odd tendency that's only accentuated in lower light levels, but one that proves once again that specifications are not the only things that make a good camcorder.
For example, at 3000 lux, the PV-GS200 produced richer colors, as did the PV-GS150, especially in the areas of green and yellow. Many of the inferiorities (and superiorities) that the PV-GS250 exhibited at 3000 lux were subtle differences, while under low light these differences become much more apparent.
**Video Resolution ***(12.0)*
We captured still from video at both 4:3 and Wide modes on the PV-GS250. We did not bother to capture from the camcorder's Cinema mode since this does nothing but letterbox the image. From video captured in both 4:3 and wide formats on the PV-GS250, we exported stills and ran them through Imatest Imaging Software. In 4:3 mode, the PV-GS250 gave us approximately 524.1 horizontal lines of resolution and 219.9 vertical lines of resolution at its best, yielding a true resolution of 119867.49. In Wide (16:9) mode, this model gave us 545.1 horizontal lines of resolution and 256 vertical lines at its best, generating a true resolution of 139545.6. That is a very sharp image, and when paired with the PV-GS250's quality color balance it makes the imaging of this model quite strong.
Low Light Performance*(5.5)*
The PV-GS250 in low light is kind of a disappointment. We would expect this camcorder to produce less noise and better crispness and color information than many Panasonics lower in price and in specifications, but this wasn't the case. While the PV-GS250 generally produced more crisp images with less grain than other Panasonics at 60 lux (slightly below normal indoor lighting), its colors were sometimes not as good. For instance, when up against the PV-GS150, the PV-GS250 produced pretty much identical color; at 60 lux, we expected a little better. Also, when up against last year's PV-GS200, the PV-GS250 produced only slightly less noise, with yellows and greens slightly worse. Compared to the PV-GS200, the PV-GS250's blues and violets, at 60 lux, were better.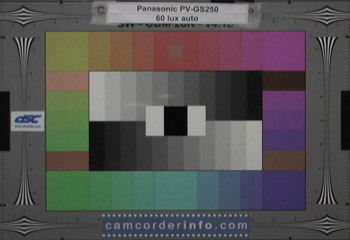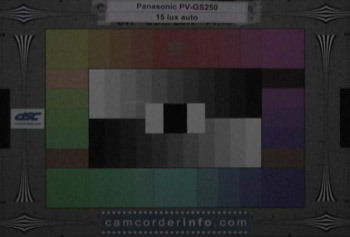 At 15 lux, the story changes yet again. For some reason, at this level of brightness a lot of the color information on the PV-GS250 drops off dramatically in some of our tests. For example, in comparing the PV-GS250 to the PV-GS200, PV-GS150, and even the PV-GS65, we see that all three of these "inferior" camcorders produce more and better color information. In our thorough testing, we have produced colors equal in scope to that of the PV-GS200, but this is the best we can do with the PV-GS250.
**Wide Angle ***(8.8)*
Under our new wide angle test, we zoom the camcorder out to its widest setting, and if it includes a wide angle adapter we put the wide angle adapter on the camcorder. We then use a laser level to measure the angular distance of the camcorder's widest angle. Using this method we found that the PV-GS250 had a widest zoom angular measure of 44 degrees. We then multiply this number by 0.2 to get the wide angle score of 8.8.
Comparable Products
Before you buy the Panasonic PV-GS250, take a look at these other camcorders.
Our editors review and recommend products to help you buy the stuff you need. If you make a purchase by clicking one of our links, we may earn a small share of the revenue. Our picks and opinions are independent from any business incentives.
Sections