camcorders
Panasonic Lumix GF2 DSLR Camera Review
The DMC-GF2, packs in Full HD video recording and an interchangeable lens system into a very compact body.
$359.99 at Amazon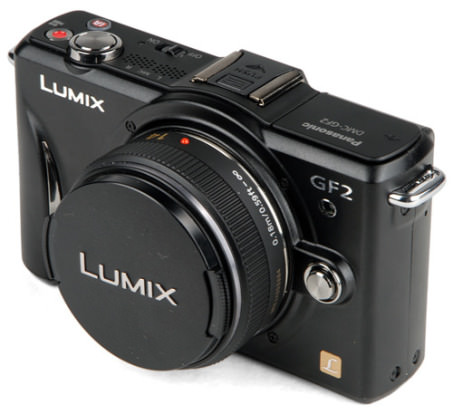 Introduction
Panasonic's newest Micro Four Thirds camera, the DMC-GF2, packs in Full HD video recording and an interchangeable lens system into a very compact body. The camera has a few more video controls and features than its predecessor, the Panasonic GF1, and it also out-dueled the older model in most of our video tests. The GF2 has a $699 MSRP with its kit lens.
Color & Noise
The GF2 produced a mean color error of 3.94 in our bright light color testing—worse than the GF1's score, but only marginally. Saturation held to about the same levels in the GF2, with our tests reading a saturation level of 83.16% and producing the somewhat muted image you see here. See our full color performance review, including color swatches and crops.
The GF2 performed very well in our bright light noise tests, with an incredibly low 0.28% noise in all channels. We typically see very low noise scores out of video capable DSLRs, but this is a great score even compared to high-end competition. The superior noise results are partially due to the 14mm f/2.5 lens that we used in testing. See our full noise performance review, including crops and comparative analysis.
Motion & Sharpness
Motion performance is not always the strong suit of system cameras with CMOS sensors, as they aren't designed for high definition video. The GF2 can record full HD at 1080/60i. Compression is achieved with now-common AVCHD codec, which can also be used to record at 720/60p. See our full motion performance review, including video clips.
The GF2 produced a horizontal sharpness of 500 lw/ph and vertical sharpness of 525 lw/ph in our testing. At times that score did improve up to 600 lw/ph, but only temporarily. This is a bit of a step down from the GF1, which recorded 575 lw/ph across the board. That's a big disappointment, considering the GF2 records a higher definition image and should be able to preserve fine differences in detail better. Read our full sharpness performance review.
Comparable Products
Before you buy the Panasonic Lumix DMC-GF2, take a look at these other interchangeable lens cameras.
Low Light
With the 14mm f/2.5 lens, we set up the Panasonic GF2 and lowered the light continuously until the video no longer registered 50 IRE (a reasonably visible image) on a waveform monitor. For the GF2, this occurred at 6 lux, which is better than even some full-size DSLRs that we have tested, including the Nikon D5000. Read our full low light sensitivity performance review.
The GF2 performed very well in sensitivity, but it sacrificed a bit of color accuracy, with its automatic mode producing a color error of 3.94 in low light. Saturation was still good at just 104.8%, better results than we saw with the GF1. See our full low light color performance review, including comparative images and analysis.
The GF2 had great noise performance in still testing and in bright light video testing, so it's no surprise that it also had superior noise performance when recording video in low light. The GF2 captured low light video with an overall noise level of 0.33%. This is a great score: better than most consumer camcorders and better than the rest of our comparison group. See our full low light noise performance review, including crops and comparative images.
Conclusion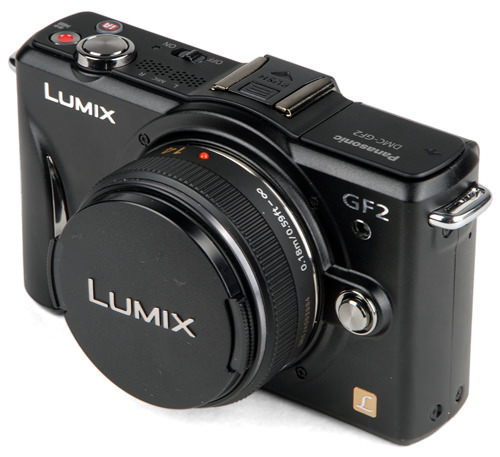 If you're looking to replace your dedicated video camcorder with the compact Panasonic GF2, you should probably think again. We like the GF2 for what it is, but the camera has a lot of the problems we commonly associate with video-capable DSLRs. Even though it can record Full HD video (1080i), the camera struggled to produce a sharp image in both bright and low light. Color accuracy and noise levels were very low, however, so there was a reasonable tradeoff.
The GF2 has some limited shutter speed and aperture adjustment options in video mode, but the controls are both confusing and unintuitive. We had hoped to see a fully-manual video mode on the GF2, much like you see on most higher-end video-capable DSLRs these days.
Our testing was performed using the GF2's 14mm f/2.5 fixed lens, which enabled the camera to do an excellent job in our low light tests. If you're planning to do a lot of low light videography, this lens is an excellent option, but the lens did not give the camera much of an assist in our sharpness or motion tests. Keep this in mind when you're looking at the various lenses that can be packaged with the GF2.
To read our full conclusions for the Panasonic Lumix DMC-GF2 including analysis of the camera's video handling and audio options, plus see sample videos and photos, visit the full review at DigitalCameraInfo.com.
Our editors review and recommend products to help you buy the stuff you need. If you make a purchase by clicking one of our links, we may earn a small share of the revenue. Our picks and opinions are independent from any business incentives.