camcorders
Panasonic Lumix DMC-GF3 Digital Camera Review
The Panasonic Lumix DMC-GF3 is one of the better Micro Four Thirds cameras we've seen for recording video.
$278.95 at Amazon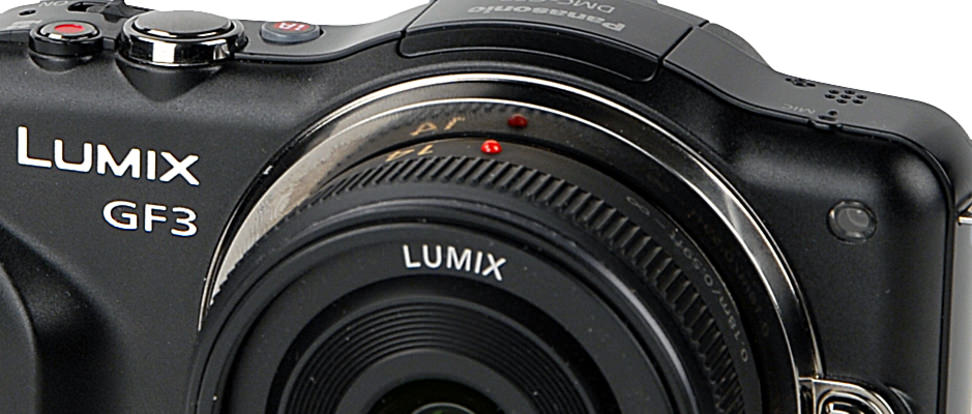 Introduction
In terms of video recording features and performance, the Panasonic GF3 wasn't much different than its predecessor, the Panasonic GF2. That said, the GF3 is still one of the better Micro Four Thirds cameras we've seen for recording video, although we wish Panasonic had included more manual controls in video mode.
Color & Noise
The Panasonic GF3 produced pleasing colors in our bright light testing, and the accuracy of these colors was on par with the other cameras we compared it to. In fact, the GF3's color error of 4.1 and saturation level of 80.3% were nearly identical to the error and saturation numbers put up by the Panasonic GF2 (its predecessor). The Olympus E-P3 and Sony NEX-5 weren't far off from those numbers as well. See our full color performance review, including color swatches and crops.
Like most cameras that record video, the Panasonic GF3 did very well in our noise test. The camera averaged 0.43% noise in this test, which is less than we usually see from traditional camcorders (as opposed to DSLR cameras). Despite this good performance, the GF3 did measure more noise than its predecessor, the GF2, in this test (the GF2 had just 0.28% noise). See our full noise performance review, including crops and comparative analysis.
Motion & Sharpness
The GF3 didn't capture motion video very well in our testing. The one positive was that its videos looked smooth, but the negatives included quite a bit of trailing, some artifacting, and lots of ghosting and blur. There was even some pixelation present in the rotating pinwheels in our test video. The 1920 × 1080 AVCHD mode produced the best looking video in terms of motion, and we saw more interference when using the other recording settings. See our full motion performance review, including video clips.
The Panasonic GF3 does record Full HD video, but, like the GF2 before it, the camera didn't do extremely well in our video sharpness test. It managed a horizontal sharpness of roughly 525 lw/ph and a vertical sharpness of 600 lw/ph. These numbers do show a bit of an improvement over the GF2, but not by a huge margin. Both the Olympus E-P3 and the Samsung NEX-5 put up much better overall numbers in this test. Read our full sharpness performance review.
Comparable Products
Before you buy the Panasonic Lumix DMC-GF3, take a look at these other interchangeable lens cameras.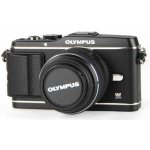 Low Light
Shooting with the 14mm kit lens with a wide aperture of f/2.5, the Panasonic GF3 was able to record a usable image with just 7 lux of light. This is a strong performance for the little Micro Four Thirds camera, and it is very similar to the result we got from last year's GF2 (it needed 6 lux of light to reach the same brightness levels). Read our full low light sensitivity performance review.
The Panasonic GF3 took a slight dip in color accuracy in our low light test, but the camera did produce very deep and vivid colors. The overall error number for the GF3 in this test was 5.15 and the saturation level was an excellent 97.21. The Panasonic GF2 had slightly better numbers overall, as did the Olympus E-P3, but the GF3's results in this test are average for a camera of its class. Again, with these tests we used the camera's standard color mode to obtain results. See our full low light color performance review, including comparative images and analysis.
The Panasonic GF3 did an excellent job in our low light noise test, but top-notch results are common for cameras in this test. The GF3 averaged 0.61% noise in its low light videos, which is more than the GF2 managed, but not by much. It's safe to say, your videos shot with the GF3 will be relatively noise-free in nearly all shooting situations (that is bright or low light). See our full low light noise performance review, including crops and comparative images.
Conclusion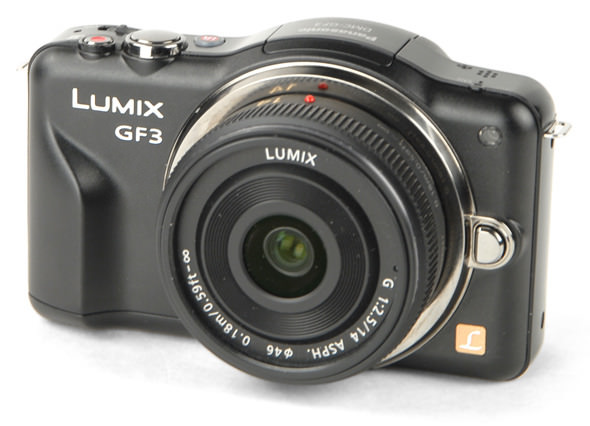 Panasonic has consistently produced some strong video-capable cameras that use the Micro Four Thirds format. The GF3 showed promise in our low light video tests—where it beat out the competition by a significant margin—and we liked the way the camcorder felt in our hand. The GF3 also had an excellent autofocus feature in video mode that worked efficiently and quietly during recording.
Our disappointment with the camera stems from the fact that it showed little to no improvement over its predecessor, the GF2, in terms of video recording features and capability. The camera has no aperture or shutter speed control options in video mode, its LCD is completely stationary, and its motion and sharpness scores were not as strong as we would have liked to see from a camera that records Full HD video. As a video recording device, the Lumix GF3 is still one of the best Micro Four Thirds cameras we've seen, but we hope Panasonic will take more steps forward the next time around.
To read our full conclusions for the Panasonic Lumix DMC-GF3 including analysis of the camera's video handling and audio options, plus see sample videos and photos, visit the full review at DigitalCameraInfo.com.
Our editors review and recommend products to help you buy the stuff you need. If you make a purchase by clicking one of our links, we may earn a small share of the revenue. Our picks and opinions are independent from any business incentives.