camcorders
Panasonic HX-WA2 Review
Panasonic is bringing back the "pistol grip" style camcorder with its new waterproof HX-WA2 camcorder.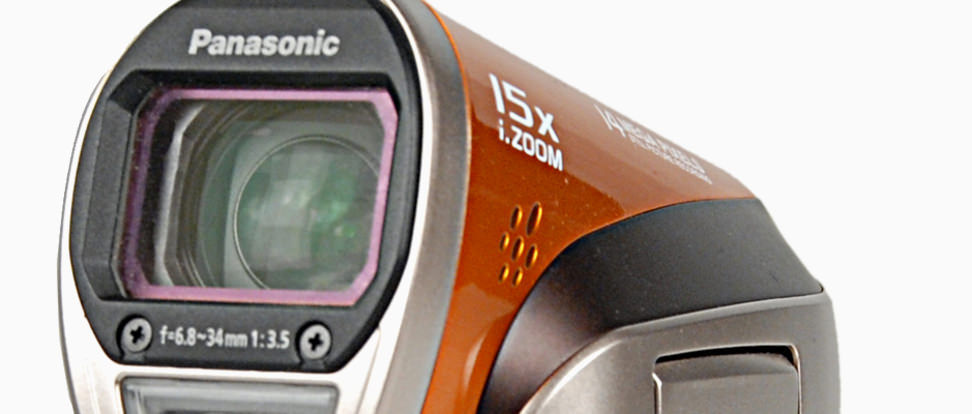 Introduction
With its funky design, strange menu, and unique features, the Panasonic HX-WA2 deserves notice. It also deserves to have its story told, and anyone who remembers those Sanyo Xacti camcorders from a few years ago—the VPC-HD2000, VPC-CS1, and the VPC-CG10, for example—should have a good idea of where the WA2 came from. Panasonic acquired Sanyo in 2010, and, in doing so, the company basically re-branded a bunch of the Xacti models with Panasonic logos… hence the arrival of the HX-WA2. The camcorder, which is waterproof up to 10 feet, is available in orange or blue, and has an MSRP of $279.
Video Review
Design & Usability
Loaded with features and options, the Panasonic HX-WA2 is too complicated to have broad appeal as a camcorder.
The HX-WA2 is an oxymoron of design. It's waterproof up to 10 feet, but it handles like one of the cheapest camcorders I've ever seen. It has tons of features, but none of them are easy to adjust. Buttons are designed terribly, the menu system is a joke, and the camcorder's strange design emulates that of a 70s-era sci-fi phaser gun, or a modern-day hose nozzle, whichever you prefer. The shape does, however, have a few benefits. The WA2 is easier to keep steady in the hand than traditional camcorders, and, while the buttons don't feel good when you press them, they are all easily accessible from the back of the camcorder. This makes one-handed operation a distinct possibility on the HX-WA2, which is something you can't always say about larger consumer camcorders.
Simply put, the user interface on this camcorder is awful.
A number of problems floated to the surface when I took the HX-WA2 out for a test drive. Simply put, the user interface on this camcorder is awful, even compared to other budget waterproof models. It feels clunky and cheap, the buttons simply don't feel right, and the controls are always a pain to work with. Yes, the WA2 has far more features than your average camcorder in this price range, but you should be certain that you're going to want access to all these features before springing for the WA2. Sometimes simpler is better with budget camcorders—take in point the Samsung W200 and Kodak PlaySport Zx5, which are two of our favorite waterproof models right now.
Comparable Products
Before you buy the Panasonic HX-WA2, take a look at these other camcorders.
Features
With its articulated LCD, multitude of recording options, and frenzy of still image controls, the HX-WA2 has far more controls than the average waterproof camcorder.
The HX-WA2 has a lot of controls for a little waterproof camcorder, but if you're a die-hard fan of manual controls and settings, you're still likely to be disappointed. Not only are controls difficult to adjust on the WA2, but the camcorder also lacks important options like aperture and shutter speed, while neglecting more obscure features like ISO controls. Even so, it can't be denied that the HX-WA2 has more features than almost any other waterproof camcorder on the market, most of which include a basic auto mode and nothing more.
The HX-WA2 has more features than almost any other waterproof camcorder on the market.
Focus and exposure can be set manually on the WA2, but the system for adjusting the controls is ridiculously imprecise. The camcorder handles everything via its joystick control, which results in adjustments that are anything but smooth. Zoom is the same story, with the camcorder's zoom buttons unable to magnify the image in a fluid manner. Of course, just the fact that the WA2 has a 5x optical zoom lens means it has more features than the competition.
Performance
Strange problems with sharpness marred otherwise positive results in our tests.
The HX-WA2's highs came in our low light tests, where the camcorder did very well limiting noise and producing accurate colors without much illumination. The camcorder also did well in our motion test, which was surprising, considering the HX-WA2's weak performance in our sharpness test. Overall, this is a decent budget model in terms of performance, but there are other ultracompact camcorders—mainly the Samsung HMX-W200—that matched it point for point in our tests.
Conclusion
Despite its good video performance, the HX-WA2 inherits too many design flaws to be taken seriously.
With the HX-WA2, I hoped Panasonic would be able to polish up the Xacti line, fit the camcorder with a better user interface, and create a semi-ultracompact model that would be attractive to a variety of users. But the HX-WA2 is ultimately a failure. Yes, it has more controls and features than the competition, but it's also bulkier, uglier, and much more complicated. The HX-WA2, with its flimsy buttons, unattractive menu, and substandard auto controls has nearly as many quirks and frustrations as the Sony Xacti camcorders that came before it. Unfortunately, Panasonic didn't do enough to improve on Sanyo's flaws.
If you are a lover of features and controls, the Panasonic WA2 will probably keep you busy for some time. Its instruction manual is as thick as a novella, and its menu is full of options not found on competing camcorders. But if you're looking for a simple waterproof camcorder to take to the beach, you should look elsewhere. The HX-WA2, like the Sanyo camcorders that came before it, is too much of a challenge for a novice videographer to work with.
Our editors review and recommend products to help you buy the stuff you need. If you make a purchase by clicking one of our links, we may earn a small share of the revenue. Our picks and opinions are independent from any business incentives.