camcorders
Panasonic HDC-SX5 Camcorder Review
The second generation of AVCHD camcorders have been rolling onto shelves in recent months, mostly offering mild upgrades or occasional downgrades. Panasonic is trying a different route. The HDC-SX5 combines the media from both of its first-generation models, DVD and hard disk drive (HDD). While the company managed to scale back from the monstrous girth of the HDC-DX1, it failed to address some of the fundamental problems with DVD load times and preposterous battery size. Even with a few new features tossed in – notably full 1920 x 1080 recording and an active accessory shoe – it still leaves us asking why we would choose this over the flash memory card-only HDC-SD5.

Performance
Video Performance* (8.75)*
The Panasonic HDC-SX5 is equipped with three 1/6-inch CCDs. Each has a 560,000 gross pixel count (520,000 effective pixels). This is a reduction in surface area from the three 1/4-inch CCDs found on both of Panasonic's first-generation AVCHD camcorders, the HDC-DX1 and HDC-SD1. All camcorders using a three-chip set, including the new HDC-SX5, have produced great looking color in bright light. Panasonic is walking the same questionable path as Sony - packing in more pixels onto a small surface area. In doing so, individual pixels shrink. As pixels shrink, noise goes up and low light sensitivity goes down.
Fortunately, it did not seem to have a big impact on bright light recording. Across the breadth of consumer high definition camcorders, Panasonic seems to have no equal for color balance and accuracy. When factoring in all parts of image quality, including noise, sharpness, and motion rendering, we find ourselves preferring Canon a lot of the time. But good color is a rightfully compelling reason to choose a camcorder, so keep Panasonic in mind.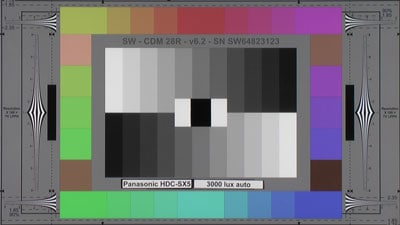 Comparatively, the Canon HG10 produced a similar color palette. However, the HG10 appeared sharper than the HDC-SX5. The Panasonic also showed more noise. The Sony HDR-UX7 had slightly different results – better sharpness but more fine-grain noise. Both the Sony and the Panasonic showed more obvious sharpening.
In shooting out of the testing room, we found some interesting results. When shooting under the most charitable conditions for a camcorder – late afternoon sun on a simple scene with rich colors and no motion – the HDC-SX5 performed as well as the Canon HG10. The colors and sharpness are excellent in both camcorders. When an object is in motion, however, you can bet the Panasonic is going to distinguish itself. Of all the AVCHD camcorders we've seen to date, Panasonic undoubtedly has the worst motion rendering. Objects blur at the slightest tremble, leaving ghostly trails behind it. We shot the HDC-SX7, Canon HG10, and Sony HDR-UX7 under a number of lighting conditions, and the story was always the same. Canon looked the best, Sony placed second, and Panasonic finished third.
Overall, the Panasonic HDC-SX5 is a decent performer. Compared to the leaders in its class, specifically Canon, the camcorder is falling short of what can be achieved. Panasonic had time between its first generation AVCHD models and now to improve the motion artifacting, and it did not.
Video Resolution* (18.0)*
The Panasonic HDC-SX5 was tested for video resolution by shooting a DSC Labs video resolution chart and looking at the playback footage on an HD monitor. This test looks at the outputted resolution of the video, which is what the consumer is actually going to see, rather than the optimistic numbers often given by the manufacturer. We found the Panasonic HDC-SX5 produced an approximate horizontal resolution of 600 line widths per picture height (lw/ph) and a vertical resolution of 600 lw/ph. This is an excellent score compared to the competition.
Low Light Performance* (2.31)*
As stated above, this second generation of Panasonic AVCHD is walking a dangerous line. The company has chosen to design chips that pack more pixels onto a smaller surface, which typically almost invariably has negative impact on low light performance. The HDC-SX5 was no exception. As you'll see, the new chips have a major impact on sensitivity and noise.
Our low light testing occurs in multiple stages. The first involves shooting our DSC Labs Chroma DuMonde color chip chart at an even 60 lux and 15 lux, then holding up the results against the competition. At 60 lux, the HDC-SX5 took on a lot of noise, despite maintaining a decent exposure and color retention. The noise had a noticeable impact on fine detail.
By comparison, the Panasonic HDC-DX1 had essentially identical brightness and color, but appeared to have less distinct noise. The Canon HG10 produced a much richer image – stronger, more saturated colors, deeper blacks, and far less noise. It was better in all regards. The Sony HDR-UX7 was not able to produce the most accurate color to the eye at this light level compared to the Panasonic and the Canon. The noise levels were even worse with the HDR-UX7 than then HDC-SX5. However, the UX7's image was sharper than the SX5, which meant the noise was less detrimental to fine detail capture.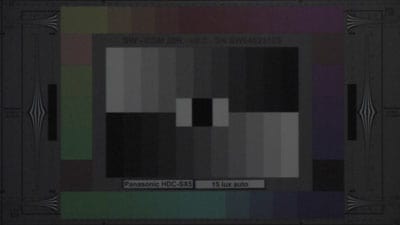 At 15 lux, the Panasonic HDC-SX5 was approaching grayscale. The noise was terrible, proper exposure was impossible, and color retention was virtually nil. The Canon HG10 was also very noisy, but managed to produce a great deal more color. The Sony HDR-UX7 was somewhere in between the Panasonic and the Canon – noisy and dark, with only a little color.
The second part of the test involves monitoring IRE levels (a measurement of exposure) and steadily lowering the light until the camcorder is outputting a peak 50 IRE. The Panasonic HDC-SX5 was able to produce 50 IRE at a light level of 23 lux. This was not nearly as good as last year's HDC-DX1 and HDC-SX1, but approximately the same as all of Panasonic's standard definition three-chip camcorders.
The final part of the test shoots a GretagMacBeth Color Checker chart at 60 lux, then imports frames into Imatest imaging software to determine color accuracy, noise, and saturation. The HDC-SX5 was able to produce a color error of 14.1. This far from the best color error score we've seen this year, and not even as good as the HDC-DX1 and HDC-SD1, which points toward the possibility that the image is being processed differently in the second-generation models. The noise level measured 0.705 percent and the saturation was 62.17 percent.
Overall, the Panasonic HDC-SX5 performed acceptably in moderate low light, but quickly fell apart in lower light. This means candlelight, birthday cakes, and nighttime backyard parties will not look good.
Stabilization* (7.72)*
We tested the effectiveness of the HDC-SX5's Optical Image Stabilization (OIS) using our custom-built camcorder shake emulator, designed specifically for CamcorderInfo.com. Two different speeds were used to attain a broader spectrum of typical shooting environments. Speed one is the slowest setting, tantamount to a casual walk down the sidewalk, HDC-SX5 in hand. Speed two involves a bit more turbulence, similar to filming during a light jog or a car ride filled with potholes.
At speed one, the HDC-SX5 produced a 71.43 percent shake reduction, while speed two yielded a commendable 94.4 percent reduction – the action came to a near still frame. Yet again, Panasonic has delivered one of the best stabilization performances to date, although the Sony HDR-UX7, Panasonic HDC-SD1, and HDC-DX1 quashed the HDC-SX5 at speed one. The overall weight and distribution of that weight certainly had a factor in these scores.
Wide Angle* (9.6)*
We tested the HDC-SX5's maximum field of view using a vertical laser at both left and right angles. The zoom was set to the widest angle, OIS was disabled, and the footage was viewed on an external monitor to attain a true 16:9 measurement. The HDC-SX5 produced a maximum field of view of 48 degrees, which is less than the HDC-DX1's 52 degrees.
Our editors review and recommend products to help you buy the stuff you need. If you make a purchase by clicking one of our links, we may earn a small share of the revenue. Our picks and opinions are independent from any business incentives.
Sections
Our editors review and recommend products to help you buy the stuff you need. If you make a purchase by clicking one of our links, we may earn a small share of the revenue. Our picks and opinions are independent from any business incentives.
Advertisement - Continue Reading Below
Compare Prices
Our editors review and recommend products to help you buy the stuff you need. If you make a purchase by clicking one of our links, we may earn a small share of the revenue. Our picks and opinions are independent from any business incentives.
Advertisement - Continue Reading Below
Get Our Newsletter
Real advice from real experts. Sign up for our newsletter
Thanks for signing up!