camcorders
Panasonic HDC-HS300 Camcorder Review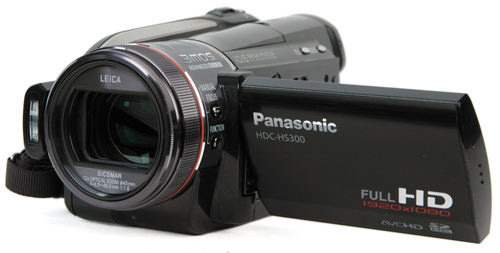 Introduction
The Panasonic HDC-HS300 (MSRP 1399.99) has just about everything you could want in a high-end consumer camcorder. It features a wide range of manual controls, Panasonic's popular lens ring for making adjustments, a retractable electronic viewfinder, and a special set of automated controls that are designed to work with Panasonic's new touchscreen LCD system. All these features, combined with a 120GB internal hard drive and excellent HD video performance, make the HDC-HS300 a first-class camcorder.
Not everything on the camcorder is perfect, however. Most of the buttons are poorly designed and some are difficult to access while you are shooting. While the touchscreen system is useful for beginners, it may frustrate more advanced users, and the LCD is likely to get covered in greasy fingerprints very quickly. The camcorder also isn't very good for intermediate users, as it implements an all-or-nothing approach to using manual controls. Still, the camcorder performs exceptionally where it counts—video performance—and its overall functionality is very strong. The total picture is very strong, making the HDC-HS300 one of the best camorders of 2009.
Update: The Panasonic HDC-TM300 (a flash memory sister model to the HS300) was ultimately selected as our 2009 Camcorder of the Year. To see why we selected it and read about our other awards, check out the 2009 CamcorderInfo.com Select Awards.
Comparable Products
Before you buy the Panasonic HDC-HS300, take a look at these other camcorders.
Sections