camcorders
Panasonic HC-X900M Review
Panasonic's HC-X900M replaces last year's HDC-TM900 flagship, but hot new features are not the name of this game.
$1,199.00 MSRP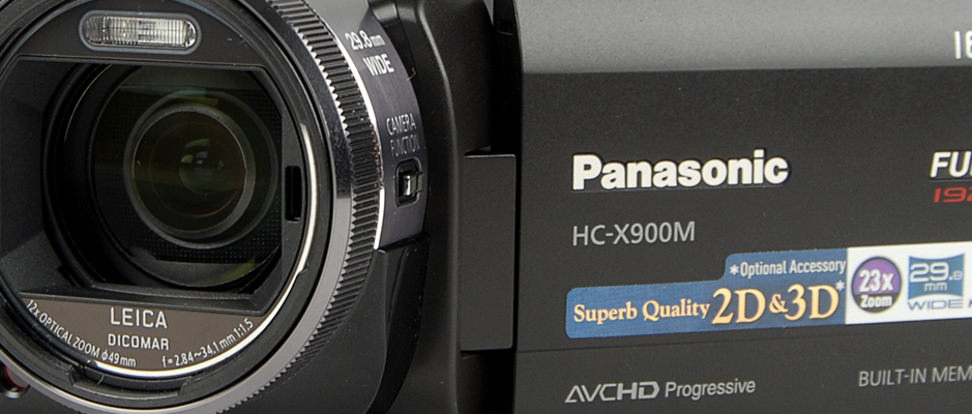 Introduction
The HC-X900M takes the place of last year's HDC-TM900 flagship HD camcorder, but if you're looking for hot new features or exciting updates, then you should prepare for disappointment. Other than a few design alterations and some slight tweaks to the lens and sensor, the HC-X900 is identical to its predecessor. According to our tests, the camcorder didn't offer a huge improvement in performance or image quality either. It's still a great camcorder, though, since it comes from an impeccable pedigree.
The HC-X900M is set to retail for around $1199 at launch, but don't be surprised if this price starts dropping as the year continues, as we've seen with previous Panasonic flagship models.
Video Review
Design & Usability
Other than a few cosmetic changes and a slightly heavier frame, the HC-X900M looks very similar to its predecessors.
Ever since the launch of the HDC-TM300 a few years ago, Panasonic has been in love with the design of its flagship camcorders. This is an unwavering love, evidently, as the new HC-X900M looks nearly identical to its predecessors, and the camcorder continues to include Panasonic's patented manual lens ring and 5.1-channel surround sound microphone. The lens ring is one of the best in the business, and it's the perfect solution for pros who want access to manual controls at their fingertips.
The lens ring is one of the best in the business.
The camcorder doesn't look all that stylish or flashy. No, this is a model that looks caught in the middle—between consumer and professional—and that's really what it is. It wears a utilitarian design that is a bit heavier and tougher than last year's TM900, and the body has a matte finish that doesn't collect fingerprints easily. The extra size of the X900M does make the camcorder a bit more uncomfortable to hold than previous Panasonic models, but it is one of the better flagship camcorders in terms of handling and comfort, all the same.
Comparable Products
Before you buy the Panasonic HC-X900M, take a look at these other camcorders.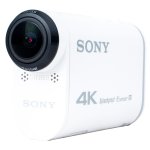 Features
The X900M's feature and control sets are much the same as last year's.
The X900M has a ton of manual controls, but it doesn't offer anything more than Panasonic's previous flagship models from 2011 and 2010 (the TM900 and TM700, respectively). This is a bit of a downer, as we were hoping Panasonic would finally offer true gain control, control that is not tied to the aperture setting on the camcorder. But the HC-X900M is still limited in this regard. Other than this snafu, the X900M is a solid camcorder with a lot of functions to play with. There's full shutter speed and aperture control, a manual white balance mode, and a number of manual assistance functions like zebra patterns and focus assist.
The camcorder has plenty of record mode options, including the coveted 1080/60p record mode.
The camcorder also has plenty of record mode options, including the coveted 1080/60p record mode, and it can even shoot 3D video... with the purchase of a lens adapter, of course. In fact, the 3D options are one of the few features Panasonic actually enhanced on the HC-X900M, with the new model offering two 3D record modes instead of one. The X900M has 32GB of internal memory, something that always comes in handy on consumer camcorders, and it has a beefy set of auto features to keep novice users satisfied until they learn the ins and outs of their new camcorder.
Performance
The HC-X900M didn't do any better than its predecessor in our extensive performance testing.
Panasonic fooled us last year by releasing a new camcorder, the HDC-TM900, that featured little, if any, improvement over its predecessor in terms of image quality. But guess what? With the HC-X900M, we refuse to be fooled again. Here we go: Panasonic released another new camcorder with no significant improvement over the last model; if offers no improved performance in sharpness, no improved low light capabilities, heck even the battery life is the same—nay, worse—than last year's TM900. Admittedly, Panasonic did claim to have improved image stabilization on the X900M, and that was one area where the camcorder did show better numbers in our test. But that's about it.
It's upsetting that Panasonic didn't innovate and improve, but it's hard to blame them when the HC-X900M is such a good product.
Maybe this lack of improvement doesn't matter, though. The HC-X900M is still a fantastic camcorder in its own right, but that's only because it's practically a direct clone of its excellent predecessor. It's upsetting that Panasonic didn't innovate and improve, but it's hard to blame them when the HC-X900M is such a good product. I simply have to assume that the mantra "if it ain't broke, don't fix it" was on the mind of Panasonic engineers this year, and it's beginning to sound like an old tune.
Conclusion
A great camcorder with a competitive price tag, but this model is no better than last year's.
Panasonic sure knows how to make a solid flagship camcorder with appeal to consumers and semi-pros alike, and, by all means, the new HC-X900M is exactly that—an excellent high-end camcorder. Unfortunately, the camcorder wasn't a rounding success, thanks to Panasonic's lack of updates and improvements over last year's HDC-TM900. I said the same thing in 2011 when Panasonic failed to innovate, and this glaring, coattail-riding trend has me worried about Panasonic's future in the market.
But we also can't really blame them. Canon didn't even release an update to its HF G10 camcorder, which was our pick for camcorder of the year in 2011. In this tough economy, if you have a model that's working great, then there's not much of a compelling reason to fix it. So, Panasonic simply took its flagship model from last year, tacked on a few cosmetic changes and a better LCD (with a lame glasses-free 3D view), and released it anew as the HC-X900M. Our performance tests confirmed this story, as the HC-X900M didn't show any significant improvement in terms of image quality. If you're looking to upgrade from the Panasonic TM900 or TM700, don't bother.
If you're looking to upgrade from the Panasonic TM900 or TM700, don't bother.
This isn't to say the HC-X900M is a bad camcorder. It has loads of manual controls, excellent image quality with its 1080/60p record mode, and the ability to record 3D video (but you have to purchase an optional lens converter to do so). I'm just tired of seeing Panasonic fail to add anything new or special to its flagship models for the past two years. In 2010, Panasonic was exceptionally innovative: it released one of the first 1080/60p camcorders, the HDC-TM700, and it showed off an unprecedented 3D camcorder, the HDC-SDT750. Since then, it's been nothing but minor updates and bland improvements for Panasonic, and it's this stagnant production that leaves me wanting more out of the HC-X900M.
Our editors review and recommend products to help you buy the stuff you need. If you make a purchase by clicking one of our links, we may earn a small share of the revenue. Our picks and opinions are independent from any business incentives.