camcorders
Panasonic HC-V720 Review
The V720 appeals to beginners, but plenty of advanced features are there when you need them.
$549.95 MSRP
Buy now at Amazon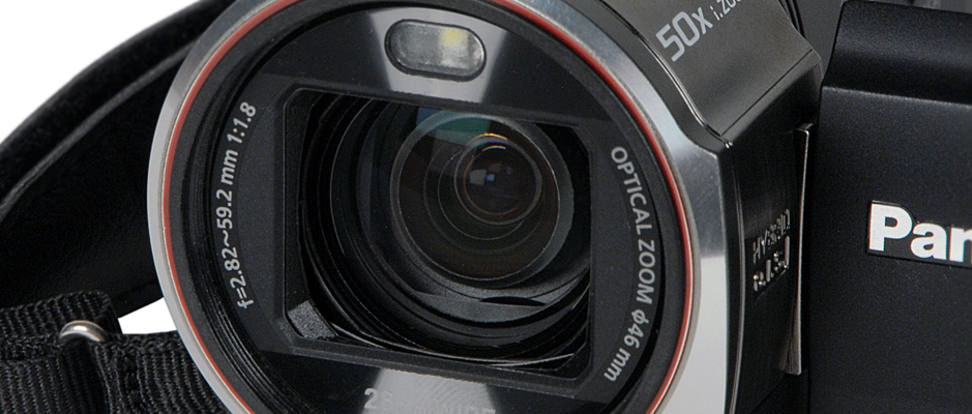 Introduction
Following up on last year's V700, Panasonic's new HC-V720 (MSRP $549.99) seems to have the same mission as its predecessor: provide a highly competitive yet highly affordable model, that's accessible to beginners, but uncompromising when it comes to image quality. Instead, those compromises are made elsewhere. The V720 is light on features compared to more expensive models, but the features that do exist, or have been added this year, are mostly very compelling. We think this is a wise trade-off, putting the V720 in an advantageous position on the market.
Unlike the V700, a V720M version with internal flash memory isn't yet available in the U.S., meaning an SD card is your only means of storing footage. If you pick up a V720M outside our territory, we do expect performance to be exactly the same. The HC-V720 is retailing now for $549.99, and is available only in black.
Video Review
Design & Usability
The V720 takes most of its design cues from Panasonic's successful V700.
As ever, the body is oriented around horizontal handholding, and it's also very light, weighing in at only 321g with the battery and media card inserted. Since this camcorder lacks the feature set of more expensive models, the body itself is relatively sparse. You'll find only the most important buttons on the top and rear of the camcorder, with little else to get in the way.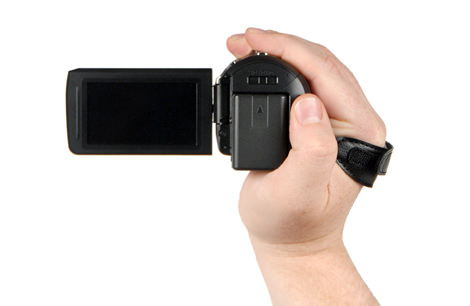 ...you're likely to notice a few major cost-cutting efforts right away.
Unfortunately, you're likely to notice a few major cost-cutting efforts right away. The right hand strap is comically bad. There are only buckles on one side of the strap, so if you've got a big hand, one of the velcro cushions will always pull awkwardly to one side. The menu system is also rather hideous and low resolution, but at least the controls are easy to figure out.
For years Panasonic's camcorders were known for complex, unintuitive manual controls, though they've made efforts to turn this around recently. Such was the case for the V700, and continues to be the case for the V720. Great beginner features like autofocus tracking and automatic Level Shot make tricky shooting scenarios easier. In fact, most situations can be handled completely automatically, thanks to modes like Intelligent Auto and Intelligent Auto Plus (which unlocks a few more manual controls).
At the same time, part of the reason this camcorder will have such broad appeal is the inclusion of deep manual controls, in addition to the automatic features. While none of these features get their own convenient physical keys, a quick visit to the function menu will reveal soft buttons for focus distance, white balance, shutter speed, and aperture iris. And if you get yourself into trouble, or simply can't figure the correct exposure, we also appreciate the V720's convenient placement of the Intelligent Auto button.
Performance
The V720 makes only small improvements to image quality over its predecessor, but improvements nonetheless.
Both color accuracy and saturation each represent such a tiny advantage over the V700 that we doubt anyone will even notice. Plus, both of those tests are highly dependent on white balance, which is no more accurate or responsive in this camera than the last. The same story applies to sharpness, which is again only marginally improved this year, yet still strong compared to most of the market.
Performance also dropped a bit in a few key tests since the V700. We docked a fraction of a point for motion performance due to some bad frequency interference, and image noise is also worse in both bright and low light. The V720 is definitely more sensitive under dim lighting though, requiring only 15 lux of ambient illumination to properly expose a scene. In other words, those school plays are sure to turn out much better.
WiFi Features
With a performance profile essentially equivalent to last year's V700, the V720 relies on new features to stand out.
Thanks to both WiFi and NFC technology, it's remarkably easy to set up your camcorder for use with a smartphone.
Brand new wireless capabilities are the most compelling upgrades to this camcorder. Thanks to both WiFi and near field communications technology, it's remarkably easy to set up your camcorder for use with a smartphone. We used this feature for extremely important applications, such as spying on co-workers from the next room, but Panasonic's free app also has the ability to remotely adjust white balance, toggle Intelligent Auto, compensate for backlighting, and of course zoom in and out.
The camcorder itself is a WiFi transceiver, so as long as your phone supports NFC, the two devices will talk to one another and establish an ad-hoc connection automatically within seconds. In fact, even if you can't use NFC, the setup process is still relatively intuitive, at least compared to the rest of the imaging market's infantile WiFi implementations. For truly remote control, the V720 and Panasonic's Image App support home monitoring. Setup is a little more difficult in this configuration, since you'll need to connect the V720 directly to a wireless network, and the interface here is slow.
Wireless broadcasting via Ustream is also supported, though it too requires the cumbersome direct WiFi setup. Finally, recorded content can be shared directly to DLNA devices like certain TVs or your smartphone.
Conclusion
A modest update, but still a lot of camcorder for the money.
It's hard to get excited about a camcorder that offers so few performance improvements, but bear with us, because the Panasonic HC-V720—like its predecessor—is a great deal.
Minus a few slight changes, both for better and worse, the V720's image quality is quite similar to the V700's. But let's not forget how strong performance was to begin with. This camcorder's color accuracy and noise reduction are both solid, and sharpness is outstanding, surpassing competitors like Canon's HF M52. The camcorder is also at home in low light, where it outperforms JVC's GZ-VX815 in almost every test. So when we say performance hasn't increased very much, consider how strong performance was to begin with.
Panasonic chose to focus on adding new features, and for the right consumer they could be highly compelling.
Instead, Panasonic chose to focus on adding new features, and for the right consumer they could be highly compelling. The V720's WiFi capabilities may be trapped inside a rather ugly interface, but they do work, and without much trouble either. We had some fun setting up Link to Cell, and controlling the camcorder with a smartphone from far away, though it was hard to imagine a legitimate application aside from our own geeky curiosity. Near field communication is another great add, but mostly serves to make WiFi interfacing more convenient. It seems to us that live broadcasting via Ustream will be the most useful new feature over the long term. We've got at least one dedicated online streamer in our office, and the V720 would simplify one important step in his process.
All this allows our recommendation to be a rather simple one: if you aren't excited by the V720's new WiFi features, you can save some cash by purchasing a used V700, which offers almost identical image quality. But if you're dying to go wireless, $549.99 is still a fair price for a camcorder of this caliber.
Our editors review and recommend products to help you buy the stuff you need. If you make a purchase by clicking one of our links, we may earn a small share of the revenue. Our picks and opinions are independent from any business incentives.