camcorders
Panasonic HC-V520 Camcorder Review
Despite its improved low-light performance, this $400 camcorder isn't quite the bargain it seems.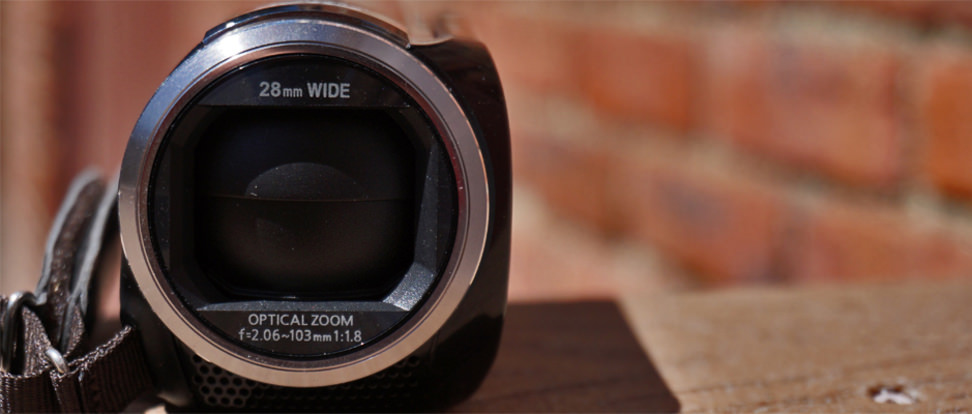 Introduction
Last year's HC-V500M from Panasonic won our award for Best Value Camcorder, so it's obvious the HC-V520 (MSRP $399.99) enjoys a solid pedigree. The changes made to this year's model—the addition of WiFi, a longer zoom lens, and improved low-light performance—aren't huge, but they're enough to make the HC-V520 a better camcorder by a hair. Panasonic's only problem is that the competition really stepped up its game this year. In particular, Canon's new budget HF R40 gives the V520 plenty of reasons to be afraid.
Unlike the V500, the HC-V520 is not available with internal memory (well, not in the US, at least). The V520 is a card-only camcorder, so you need to purchase an SD/SDHC/SDXC memory card before you can start shooting. Strangely, Panasonic also removed the flash/video light from the front of the camcorder. Maybe this was all part of Panasonic's cost-cutting plan, as the V520's current street price is veering towards a particularly cheap $359. If you're keeping tabs, that's $100 less than the V500M cost at the same time last year.
Video Review
Design & Usability
In auto mode, the V520 is a breeze, but the mediocre touchscreen makes menu-surfing a chore.
Like most budget camcorders, the HC-V520 features a simplistic design that feels compact when compared to your average high-end camcorder, but is far bulkier than your video-capable smartphone. Of course, the advantages of shooting video with a camcorder like the V520 instead of your iPhone are numerous: The V520 has more controls, better audio recording, and superior handling. Its built-in image stabilization helps keep your shots free of jitter, and the right-side hand strap offers a solid grip. The hand strap isn't ultra-plush, but at least it's adjustable to the width of your hand; getting a tight hold of the camcorder isn't much of a problem.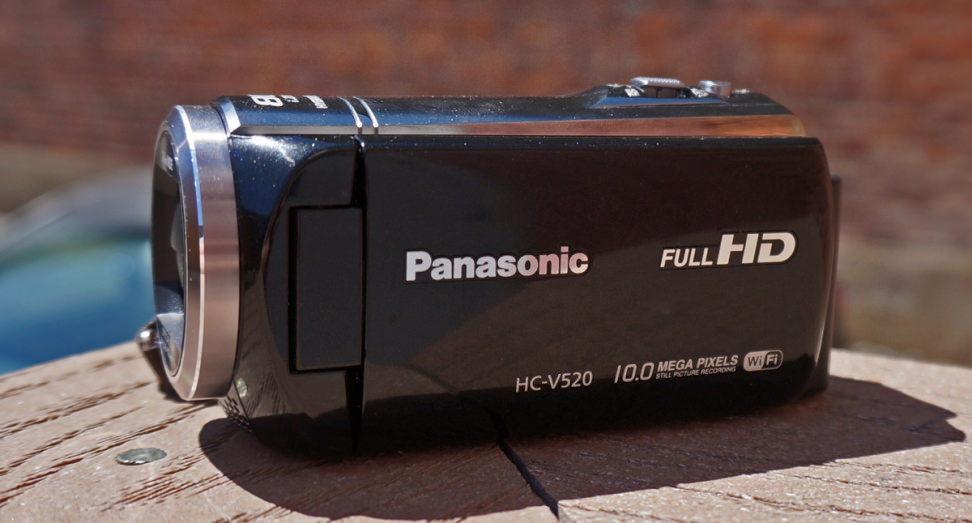 We're not impressed with Panasonic's menu system, which hasn't been updated in some time.
We're not impressed with Panasonic's stale menu system, which hasn't been updated in some time. The onscreen Function menu gives you access to manual exposure and focus controls, but it's difficult to access on the fly thanks to the horrible combination of tiny buttons and an unresponsive resistive touchscreen interface. But that's par for the course with budget camcorders: LCDs tend to be tiny, and accessing manual controls tends to be a frustrating exercise. If you're planning to mostly rely on auto mode with the HC-V520, then your time with the camcorder should be far less stress-inducing. For a more-positive LCD experience, check out the Canon HF R40 and its fancy new capacitive panel.
Performance
It's not the sharpest tool in the shed, but the V520 is still a reliable budget camcorder.
In our tests, the HC-V520's main improvement over its predecessor came in low-light conditions, where it ran circles around the V500M in our sensitivity test. That's great news for budget-conscious shoppers who plan to shoot a lot of video in dim indoor environments, or outdoors at night. In bright light, the camcorder didn't show any signs of improvement, but it still put up reasonably strong results for a budget model. As long as you wait patiently for the camcorder's automatic white balance to kick into gear, the V520 will get you accurate colors in good light, and you won't have to worry about distracting image noise unless you're out shooting in very dark locations.
Sharpness is the area where this camcorder struggles most. The HC-V520 is crippled by a relatively tiny image sensor that's simply incapable of capturing a tack-sharp image. Even in bright light, the camcorder's images lacked the clarity that we expect from the best HD video. Still, if you're not picky about having top-notch detail, then you probably won't mind the way the V520's videos look. Battery life was a solid two hours with the V520's provided battery pack—not bad at all for a camcorder these days. The V520's optical stabilization is quite effective, and the system offers a number of different settings for varied shooting conditions.
Zoom, WiFi, and Manual Controls
The HC-V520 has more manual controls than most beginners can handle, and more zoom than you'll ever need.
Panasonic is playing the zoom card with the HC-V520, so this camcorder should appeal to those looking for a ton of optical enhancement. The lens itself has optical zoom capability of 50x, which is tremendous, and this can be increased up to 80x using Panasonic's Intelligent Zoom feature. According to Panasonic, Intelligent Zoom shouldn't result in much loss of image quality, but the feature is using digital enhancement, so it's not purely optics. Either way, this camcorder has a ton of zoom.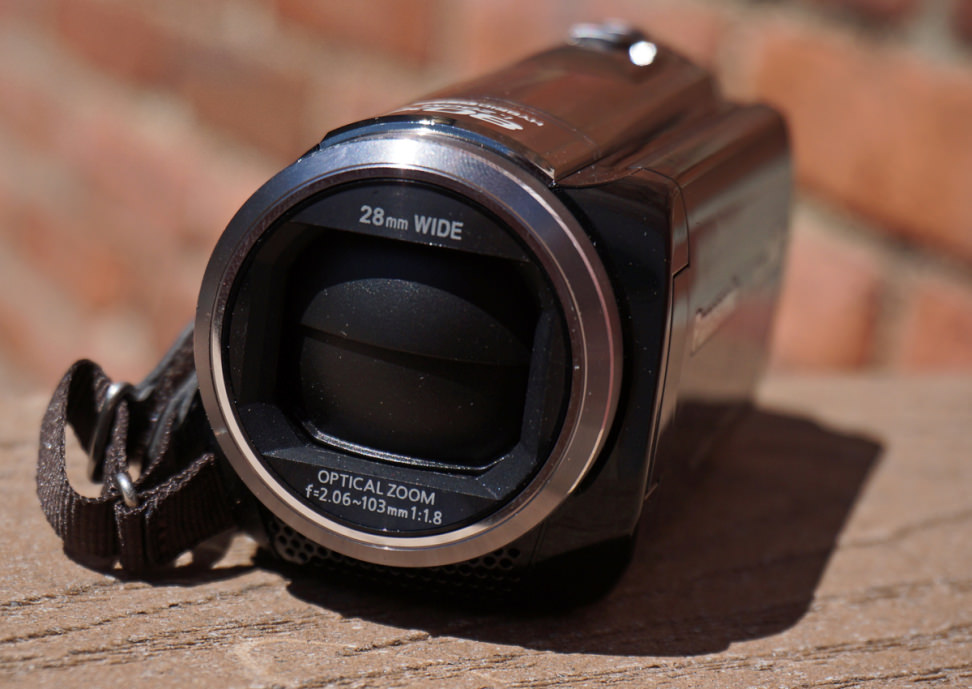 The lens itself has optical zoom capability of 50x, which is tremendous, and this can be increased up to 80x using Panasonic's Intelligent Zoom feature.
The V520's other standout attributes are its manual controls, which are far more extensive than what you normally get in this price range. Want control over aperture, gain, and shutter speed? The V520 allows for that. Need to tweak color temperature, sharpness, or saturation? The V520 is happy to oblige. The HC-V520 has automatic controls too—like its Intelligent Auto mode—but that's true of every single other camcorder. It's the manual controls that make the V520 special.
Then there's WiFi. A couple years ago, the thought of having WiFi on a camcorder was exciting and new. Today, WiFi has lost a lot of its allure—mainly because everyone is already connected to the internet via their smartphones. But the WiFi features on the V520 do let you do some cool stuff. You can control the camcorder with your smartphone (and use your phone as a remote viewfinder), you can live-stream video on the web, and you can upload videos without connecting to a computer. Also, if your phone is NFC-capable, you can use the V520's NFC chip to easily connect the two devices.
Conclusion
The V520 is a feature-packed budget camcorder, but it can't keep up with Canon's latest.
The HC-V520 would benefit greatly from a larger, more responsive touchscreen, and it wouldn't hurt to offer a 24p recording mode to please cinephiles.
People love cheap gadgets, and, while the HC-V520 isn't a dirt-cheap device, it's still a lot of camcorder for the money. Thanks to improved low-light performance, the addition of built-in WiFi, and a new and improved zoom lens, the HC-V520 is a better camcorder than its predecessor—but not by much. There are still plenty of areas where Panasonic could have made further improvements. The HC-V520 would benefit greatly from a larger, more responsive touchscreen, and it wouldn't hurt to offer a 24p recording mode to please cinephiles. It's also time that Panasonic included an MPEG-4 recording option in addition to AVCHD, if only to make videos easier for the average consumer to work with.
Panasonic put forth a valiant effort here, and it's hard to be disappointed with the HC-V520. Like we said, it's a good camcorder with a low price tag. But Canon's HF R40 is a more impressive model thanks to a few key features that the HC-V520 lacks: built-in memory, MPEG-4 recording, a superior touchscreen, and a multitude of frame rate options (including 24p). Canon's redesigned touch interface and updated menu also makes the HF R40 a better camcorder for beginners, while Panasonic is stuck with stale menus that haven't been updated in years. Best of all, Canon's HF R camcorders are available in three different pricing options: the HF R40 (8GB internal memory) is the same price as the HC-V520 ($399), the HF R42 (32GB internal memory) will run you $499, and the HF R400 (no internal memory, no WiFi) is the bargain of the bunch at $299.
The benefits of the HC-V520 are clear. It has more manual controls than the Canon and its zoom lens is ridiculously long. It's a stronger camcorder in low light and it comes with a better battery. But the Canon is easier to use and it comes in a slicker, fancier package, which, in a way, makes it more fun to handle. Both are good options for low-end camcorders, but the Canon HF R40 is the better bang for your buck.
Our editors review and recommend products to help you buy the stuff you need. If you make a purchase by clicking one of our links, we may earn a small share of the revenue. Our picks and opinions are independent from any business incentives.