camcorders
Panasonic HC-V500M Review
Best Value Camcorder for 2012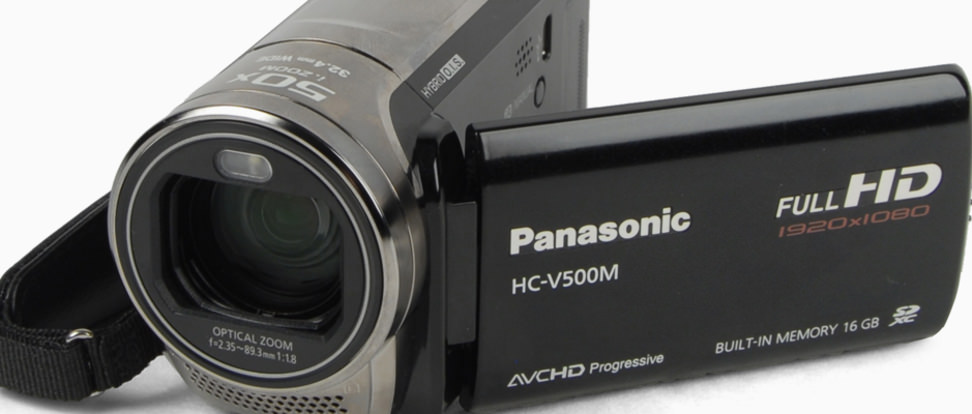 Introduction
For an entry-level camcorder, the V500M has a wide range of manual controls, as well as the ability to record full HD video using a 60p (or 60i frame rate). The HC-V500M comes with 16GB of internal memory (that's what the "M" stands for at the end of the model name) and it includes an SD-type memory card slot. As with all budget camcorders, the V500M can't deliver exceptional video images, but the camcorder does a very good job for the price.
Design & Usability
New touchscreen LCD simplifies the user experience, but it's not something that everyone will love.
The HC-V500M is a bit larger and heavier than its predecessor (the HDC-TM40), but the new model does feel better in the hand. Its larger body means less clutter with buttons and controls, as well as more space for a larger LCD (3-inch instead of 2.7-inches on the TM40). Panasonic eliminated the d-pad that appeared on the TM40 last year and replaced it with a touchscreen interface, which contributes to the V500M's stylish, streamlined looks. Panasonic also rearranged some of the button and connector layouts, primarily moving the SD card slot to the bottom of the camcorder.
The HC-V500M's larger body means less clutter and a larger LCD.
Incorporating a touchscreen interface on the V500M is certainly the camcorders biggest change from a design and usability perspective. Most entry-level users should enjoy working with the touchscreen, as it is an interface people are generally comfortable with these days. But the screen isn't perfectly responsive—it's nowhere near as good as an iPhone screen—and that may bother those who get frustrated easily. As long as you lower your expectations a bit, and don't expect the V500M to be a top-notch handler, then your experience with the camcorder should be adequate.
Features
The V500M offers nearly as many controls as a high-end camcorder. There's just no good way to adjust them.
The Panasonic HC-V500M has a lot of features, both of the manual and advanced variety. It's an impressive set for a budget camcorder, and the suite of controls is eerily similar to Panasonic's flagship HC-X900M. One of the strongest new features is the inclusion of a 1080/60p record mode—a feature that was previously limited to Panasonic's top-line models. The camcorder also has aperture, shutter speed, white balance, and manual focus control, just like its big-brother, the HC-X900M. The main difference, however, is that the V500M doesn't have a great way to set all these controls. You have to use the touchscreen interface instead of a dial or ring like you get on flagship models.
Performance
It's not the best low light camcorder in this price range, but the V500M put up better-than-average numbers in motion, color, and sharpness.
The HC-V500M isn't going to blow you away with its video performance, but for a budget camcorder, it did quite well in our tests. The colors were vibrant and accurate in bright light, the motion performance was decent, and even the sharpness results weren't too bad. In low light, the color rendering was still fairly good, although the camcorder's sensitivity was not up to snuff.
You can't do much better than this for under 500 bucks.
This means you may have trouble getting a decent image when shooting at dusk or indoors without much artificial light. If you want the best in image quality, the V500M will disappoint, but its performance-to-price ratio is very good. You can't do much better than this for under 500 bucks.
Conclusion
The Panasonic HC-V500M builds its reputation from its extensive set of controls and features.
The Panasonic HC-V500M is a fine entry-level camcorder, and it has plenty of updates over the previous HDC-TM40. But Panasonic failed to improve the V500M's low light capabilities, and that marks the camcorder's biggest weakness. Still, if you're looking for a sub-$500 camcorder with a lot of controls and decent image quality, then you've come to the right place. The HC-V500M has more full-fledged manual settings than the competition from Canon, Sony, and JVC in this price range.
Of course, the HC-V500M isn't dirt cheap. You still have to spend between $300 – $500 to own this model, which is a lot when you consider last year's HDC-TM40 from Panasonic is still available online for less than $200. The new V500M does have many design improvements, though, including a 3-inch touchscreen and a 1080/60p record mode. This new record mode helps the V500M capture sharper images and better motion than its predecessor.
If performance is of utmost importance, then this is not a good option.
If performance is of utmost importance to you, then the V500M is not a good option. Sony and Canon's entry-level models are better, and for just a bit more cash you can upgrade to a mid-range camcorder (like Panasonic's own HC-V700M) that will surely outdo the HC-V500M in terms of image quality. The real benefit of the HC-V500M is its controls—few other entry-level models give you full access to shutter speed, aperture, gain, focus, and white balance like Panasonic does, and the camcorders image stabilization mode was one of the best we've seen all year.
Our editors review and recommend products to help you buy the stuff you need. If you make a purchase by clicking one of our links, we may earn a small share of the revenue. Our picks and opinions are independent from any business incentives.