camcorders
Panasonic GX1 DSLR Camera Review
The Panasonic GX1 has a variety of manual controls in movie mode, but it features no new video functions.
$397.99 at Amazon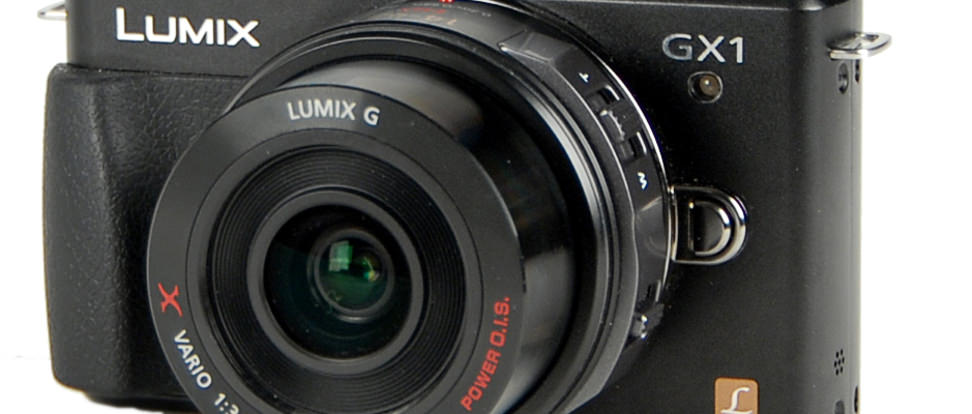 Introduction
The Panasonic GX1 can record Full HD 1080p video and has a variety of manual controls in movie mode, but it features no new video functions that Panasonic didn't already include on previous Lumix interchangeable lens cameras.
Motion & Sharpness
The GX1 earned a respectable score in our motion test, thanks in large part to its 1080/60p resolution. Still we did spot some trailing and a bit of stuttering on the train in our test scene, and some artifacting in the spinning color wheels. See our full motion performance review, including video clips.
Despite the 1080/60p resolution, the GX1's video sharpness isn't great. We measured a maximum of 500 horizontal lw/ph and 450 vertical lw/ph in our bright-light sharpness test, well behind all of the cameras in the comparison group except for the G3. Read our full sharpness performance review.
Low Light
Low-light sensitivity was another weak point. We reached the minimum acceptable threshold at an unimpressive 35 lux—barely enough to earn any points at all in this test.
The G3, E-P3, and NX200 didn't earn particularly impressive scores, but they still beat the GX1. The NEX-5N earned by far the best score. Read our full low light sensitivity performance review.
Comparable Products
Before you buy the Panasonic Lumix DMC-GX1, take a look at these other interchangeable lens cameras.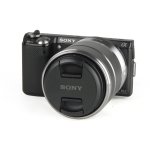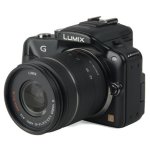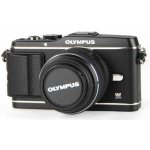 Conclusion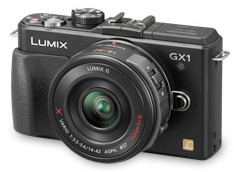 If you were pleased with the video performance of the Panasonic G3, then you'll likely be fine with the capabilities of the Panasonic GX1. The GX1 had similar performance to its predecessor, which is to say it didn't do all that well in certain tests. Despite the camera's ability to record 1080/60p video, the GX1 didn't record a very sharp image, and the camera also flunked our low light sensitivity test, which doesn't bode well for those who want to shoot video under less-than-ideal lighting conditions.
The GX1's compact size and durable body is appealing for those who want to shoot lots of video with an interchangeable lens camera. The GX1 is small enough to fit in your coat pocket, and its light weight (compared to a traditional DSLR) should make for less of a burden when shooting long scenes. Unfortunately, the grip on the GX1 isn't the best, so it will take some concentration—or a tripod—to record videos that are completely shake-free.
To read our full conclusions for the Panasonic Lumix DMC-GX1 including analysis of the camera's video handling and audio options, plus see sample videos and photos, visit the full review at DigitalCameraInfo.com.
Our editors review and recommend products to help you buy the stuff you need. If you make a purchase by clicking one of our links, we may earn a small share of the revenue. Our picks and opinions are independent from any business incentives.