camcorders
Panasonic AG-AF100 First Impression Review
The AG-AF100 has plenty of limitations, but it's still a loaded camcorder for pros.
$2,999.00 at Amazon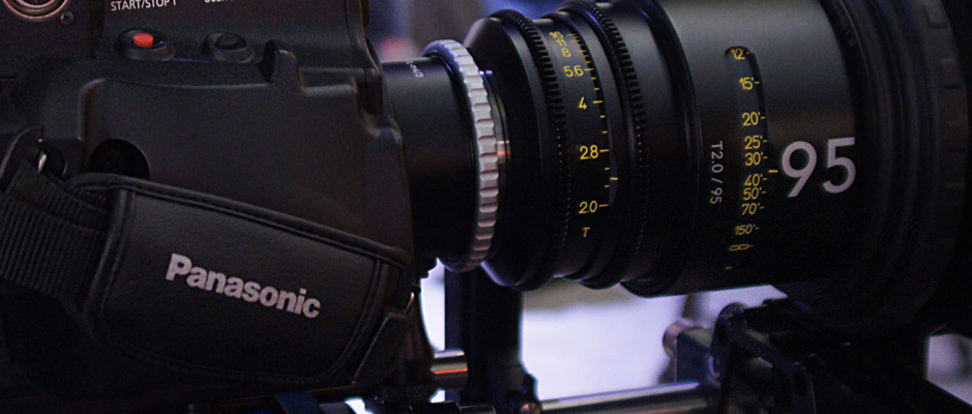 Introduction
The AG-AF100 is Panasonic's version of a compact, interchangeable lens camcorder with professional-grade controls and features. The camcorder uses a Micro Four Thirds sensor and lens mount system, which is the same system in place on Panasonic's line of Lumix interchangeable lens cameras.
The AF100 isn't as exciting or as impressive as the new 4K camcorders on display this year at NAB—like the Canon C500 and the Sony NEX-FS700—but its $4995 price tag makes it a much cheaper option. The AF100's most direct competition comes from the Sony NEX-FS100, which, like the AF100, made its debut at last year's NAB show.
Design & Usability
The body of the AG-AF100 is quite small, making the camcorder one of the better pro models for handheld recording.
Its light design makes it simpler for handheld shooting than much of the competition.
Just like any pro model, it would be silly to call the AG-AF100 "easy to use", but its light design does make it simpler for handheld shooting than much of the competition. Using a fully-compatible Micro Four Thirds lens with the camcorder also makes for a much simpler shooting experience, as that's the only way to get full use out of the camcorders autofocus and face detection features. Instead of using an expensive media system, the AG-AF100 offers dual SD memory card slots that can handle SDXC cards up to 64GB capacity. According to Panasonic the camcorder can record up to 12 hours of video at its highest quality setting when using two 64GB memory cards. Both card slots are located on the back of the camcorder, behind a protective cover that locks in place and releases via a small switch.
The stubby size of the Panasonic's body felt very strange when I first slipped my hand into its right-side grip. The hand strap was similar to what you'd find on a large prosumer or professional camcorder that is meant for handheld shooting, but the bulging grip was a bit bigger than normal for a camcorder of this size. The grip simply took a bit of getting used to, and it became more comfortable over time after I discovered the best areas to apply pressure in order to keep the AF100 steady. There are a few finger guides above the hand strap that keep your fingers in place and the substantial grip area seems to be designed to accommodate those with larger hands or people who like to wear gloves while shooting.
Features
The AF100 uses the AVCHD compression system—the same recording format used on Panasonic's consumer camcorders.
If you're familiar with consumer HD camcorders, then the jump up to the AG-AF100 shouldn't be that difficult for you… at least in terms of record modes. The camcorder uses an AVCHD-compliant MPEG-4 recording format to compress full HD, just like Panasonic's consumer models. Shockingly, the AF100 does not offer a 1080/60p record mode, which is something Panasonic does include on its high-end consumer camcorders. Also surprising: the AF100 tops out with a 21Mbps bitrate, and that's a bit shy of the 24Mbps maximum bitrate possible for 1080/60i AVCHD recording.
Unfortunately, the camcorder is not equipped with any high-speed frame rates, so there's no slow-motion modes built into model.
But wait! At NAB this year, Panasonic announced a software upgrade for the AF100 that enables the camcorder to shoot 1080/60p video with a 28Mbps bitrate. This shooting mode, called PS, is the same 1080/60p mode Panasonic offers on its consumer camcorders. Sadly, the upgrade isn't free—it is set to be available this May for $250. Without the upgrade, the AG-AF100 can record using the following frame rates and resolutions: 1080/59.94i (60i), 1080/29.97p (30p), 1080/23.98p (24p), 720/59.94 (60p), 720/29.97p (30p), and 720/23.98 (24p). The camcorder can also be set to record with the PAL standard frame rates of 50i, 25p, and 720/50p.
One of the coolest features on the AG-AF100 is its variable frame rate control that allows you to undercrank to the specific frame rate of your choice when the camcorder is set to its 1080/24p, 25p or 30p record mode. You can select from frame rates as low as 12fps to as high as 60fps with at least 20 different frame rate options in between. Unfortunately, the camcorder is not equipped with any high-speed frame rates, so there's no slow-motion modes built into model.
Performance
Just like Panasonic's line of Lumix cameras, the AG-AF100 is equipped with a Micro Four Thirds lens and sensor system.
The AG-AF100 uses Panasonic's Micro Four Thirds lens and sensor format. This makes for a sensor that is quite a bit smaller than the "Super 35" CMOS chips featured on new models from Sony (NEX-FS100 and NEX-700) and Canon (EOS C300 and C500). It's also the same lens system that you'll find on Panasonic's Lumix interchangeable lens camcorders, and, as a result, the AF100 is compatible with any of those Micro Four Thirds lenses.
The AF100 is compatible with any Panasonic Lumix Micro Four Thirds lenses.
With adapters, you can use the AF100 with a variety of lenses beyond the Micro Four Thirds collection, but those lenses probably won't work with the AF100's auto features. Even though there's no "official" kit lens for the AF100, you can find the camcorder bundled with a Micro Four Thirds lens at some retailers.
Conclusion
The AG-AF100 has plenty of limitations, but it's still a loaded camcorder for pros.
Compared to some of the new professional camcorders announced at NAB, the Panasonic AG-AF100 already seems dated even though it's only a year old. Panasonic's move to create an interchangeable-lens camcorder was smart and sensible, but many will balk at the AF100's Micro Four Thirds lens system and 4/3-inch image sensor. There have also been plenty of doubts surrounding the camcorder's lack of a native 1080/60p record mode and its limited max bitrate of 21Mbps AVCHD recording—although Panasonic claims a $250 firmware update will add 1080/60p recording capability to the AF100 later this year.
That being said, the AG-AF100 does offer some impressive specs for a camcorder that lists for less than $5000 dollars. It has a light and portable frame that is conducive for handheld videography, it has an HD-SDI port for uncompressed video output, and it has all the controls and settings you need to make a professional-grade video (including dual XLR inputs for pro audio).
Let's be clear, the AG-AF100 pales in comparison to the new Sony NEX-FS700 ($10k) and Canon C300 ($15k) and C500 ($30k), but the AF100 costs a whole lot less. If you have no need for recording 4K video, and working with a Micro Four Thirds lens mount doesn't bother you, then the AG-AF100 is a camcorder to consider. Its $4995 list price and sub-$4000 street price (body only) makes it one of the cheapest interchangeable-lens camcorders for pros.
Our editors review and recommend products to help you buy the stuff you need. If you make a purchase by clicking one of our links, we may earn a small share of the revenue. Our picks and opinions are independent from any business incentives.