camcorders
Olympus E-PL2 DSLR Camera Review
The successor to last year's E-PL1, and nearly identical to its predecessor in our video testing
$599.99 MSRP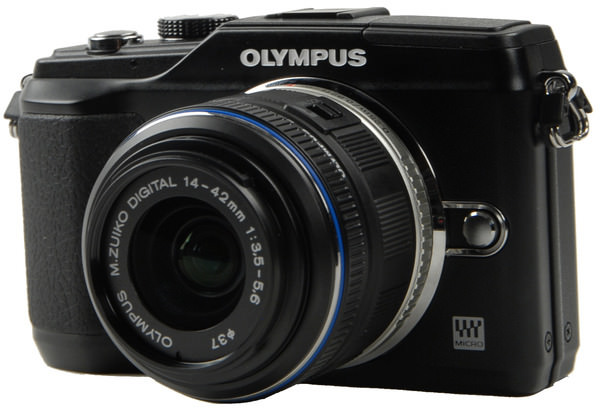 Introduction
The Olympus E-PL2 is the aptly named successor to last year's E-PL1. As a video recording device Olympus didn't make many updates to the E-PL2, and the cameras were nearly identical in our video testing.
Color & Noise
Color results weren't great on the E-PL2, but that's kind of what we expected based on how Olympus cameras have performed in our video testing in the past. The E-PL2 managed a color error of 5.9 and a saturation level of 78.37% when using its Natural color setting. These are marginally better than the numbers put up by the E-PL1. See our full color performance review, including color swatches and crops.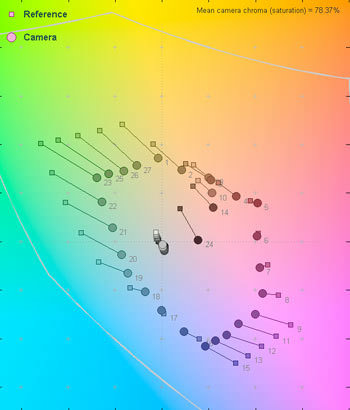 The E-PL2 managed 0.56% noise in this test. While this number isn't bad, it is quite a bit higher than the competition. Specifically, it is more than double the amount of noise measured on the E-PL1 in this same test. The E-PL2 does have a variety of noise filters and a noise reduction feature, but we turned these options off for our bright light test. See our full noise performance review, including crops and comparative analysis.
Motion & Sharpness
Overall, the Olympus E-PL2's motion scores were similar to what we saw from the E-PL1, but the two cameras performed differently in individual categories. The E-PL2 had less artifacting, but its motion image was not as smooth and had more trailing than its predecessor. Overall, we wouldn't call its motion capturing impressive, but it performed on par with most Micro Four Thirds cameras. See our full motion performance review, including video clips.
The E-PL2 records at a maximum resolution of 1280 × 720, which, while still HD, is not as high resolution as most consumer HD camcorders (most record Full HD at a 1920 × 1080 resolution). Still, the camera managed a respectable sharpness value of 600 lw/ph vertical and 600 lw/ph horizontal. These numbers are a slight edge over last year's E-PL1 and the Samsung NX100—both of which also record 720p video. Read our full sharpness performance review.
Comparable Products
Before you buy the Olympus PEN E-PL2, take a look at these other interchangeable lens cameras.
Low Light
Low light sensitivity was disappointing on the E-PL2 as the camera required 22 lux of light to hit 50 IRE on our waveform monitor. This is just a tad less light than the E-PL1 needed, so at least Olympus showed a bit of an improvement here. Remember, though, with these interchangeable lens cameras it entirely depends on what lens you have attached when determining low light sensitivity. All of our testing was done with the E-PL2's kit lens, which is an f/3.5 lens. Read our full low light sensitivity performance review.
Low light color accuracy on the E-PL2 was better than the camera's results in our bright light test. It earned a color error of 4.29 and a saturation level of 90.58%—both of which are better numbers than the Olympus E-PL1 managed in this same test. See our full low light color performance review, including comparative images and analysis.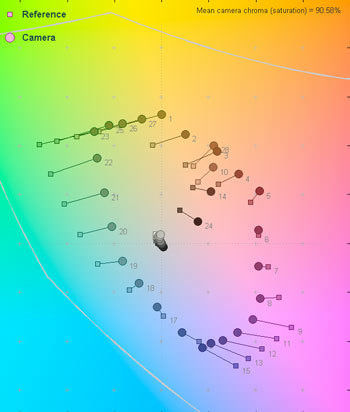 We measured the average noise for the E-PL2 at 0.68%, which isn't all that much higher than the camera managed in our bright light noise test. This score is very good, although we often see top-notch scores in this category with video-capable DSLR cameras. As you can see from the images below, however, the E-PL2 still had some trouble with noise and grain in its low light image (particularly when compared to the E-PL1). See our full low light noise performance review, including crops and comparative images.
Conclusion
In terms of video recording the Olympus E-PL2 was a disappointment. Its results in our bright light color and noise testing were subpar, its motion videos were not smooth, and the camera didn't handle very well in video mode. The bright spots for the E-PL2 were its wide range of manual controls in video mode, and some good numbers in our low light color tests.
In terms of video, the E-PL2 doesn't have much to offer that Olympus didn't already include on its predecessor, the E-PL1. The only brand new feature worth noting is the E-PL2's silent autofocus feature, which is a helpful addition to video recording. Unfortunately, the focus system, while quieter, is still very slow compared to what you get from a traditional camcorder.
Hopefully Olympus will roll out some new features on the next iteration of the E-PL series, as we have high hopes for these cameras. They are compact, include lots of manual controls in video mode, and they do a decent job in our testing. We simply wish Olympus had included more new features on the E-PL2. Like its predecessor, it still has no Full HD record mode and its menu system is clunky and difficult to use in video mode. It also has a stationary LCD, which makes things very tough for videographers who shoot on a tripod.
To read our full conclusions for the Olympus PEN E-PL2 including analysis of the camera's video handling and audio options, plus see sample videos and photos, visit the full review at DigitalCameraInfo.com.
Our editors review and recommend products to help you buy the stuff you need. If you make a purchase by clicking one of our links, we may earn a small share of the revenue. Our picks and opinions are independent from any business incentives.