camcorders
Nikon V1 Camera Review with Sample Video
The V1 camera is Nikon's update to last year's J1 mirrorless interchangeable lens model.
$899.95 MSRP
Buy now at Amazon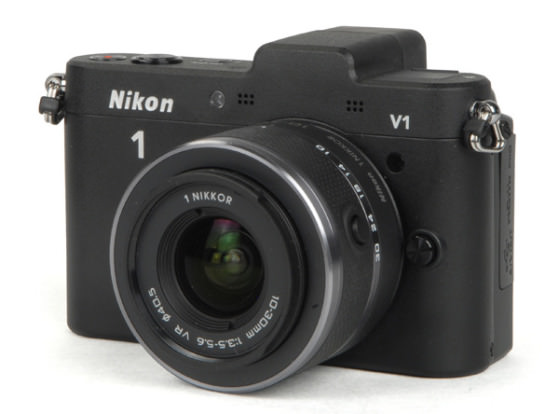 Introduction
The V1 camera is Nikon's update to last year's J1 mirrorless interchangeable lens model, which was Nikon's first release of that kind. Not much has changed this time around in terms of video: the camera managed to capture a solid video image in bright light, but struggled mightily in low light situations. The V1 also still has Nikon's low-quality slow motion modes that let you shoot video at 400 or 1200 frames per second.
Motion & Sharpness
In testing we found that the Nikon V1's 1080/60i video mode suffered from a slight bit of artifacting, with some hitchy motion and ghosting and trailing. In our motion rig, this was easiest to see around the RGB and monochrome pinwheels, with some slight motion blurring around the moving train. The 1080/30p mode, however, was much smoother, with greatly reduced trailing and motion blur. The 30p mode did also have the same artifacting issues that we saw in 1080/60i mode.
See our full motion performance review, including video clips.
Thankfully, the V1 didn't suffer from that much of a rolling shutter effect when we panned quickly with the camera. You can see what we're talking about in action by watching the video above. Many DSLR cameras will have a strong wobble when we pan or jerk the camera during video recording, but the V1 only showed a minor amount of this "jell-o" effect in our test.
Read our full sharpness performance review.
The Nikon V1 was able to produce acceptable sharpness in our video test, on par with the Nikon J1. We saw up to 750 LPPH of horizontal sharpness in bright light, with that dropping to right around 600 LPPH in our vertical sharpness test. These are good numbers and are a substantial jump over the low light sharpness results. We found better sharpness results in the 1080/60i mode; both that and the 1080/30p mode were sharp, but the 60i had the added benefit of reducing moire. The interpolation in the 60i mode seemed to function as an extra anti-alias filter, as most of the finer lines on our chart were rendered as flat gray.
Low Light
We found the Nikon V1 was able to produce an acceptably bright image (which we define as reaching 50 IRE on a waveform monitor) with 20 lux of light at its maximum ISO speed with the 10-30mm kit lens. That's a very dim lighting setup, so the V1 should be able to ably capture video in a dark bar, but that's still quite a bit worse than what we're used to seeing from DSLRs (most of which only need 7-15 lux to produce the same image brightness.) Read our full low light sensitivity performance review.
Conclusion
The V1 has a light and compact design that does put less pressure on your wrist during long video shots, but its lack of an articulated LCD and focus ring don't make for a very fun video recording experience. The camera does have a responsive and silent autofocus system in video mode, however, although we still wouldn't consider it to be quite as good as the AF features on traditional camcorders (see our sample autofocus videos for some visual evidence).
Motion and sharpness were both fairly strong for the little V1, but the camera suffered greatly in low light with its f/3.5 10-30mm kit lens. We also saw some interference, color bleeding, and blur in certain shooting situations (even in bright light), and there were some distinct differences in video image quality depending on what frame rate we used to record. The 1080/30p mode had less blur in our motion test, but the 60i setting produced sharper imagery.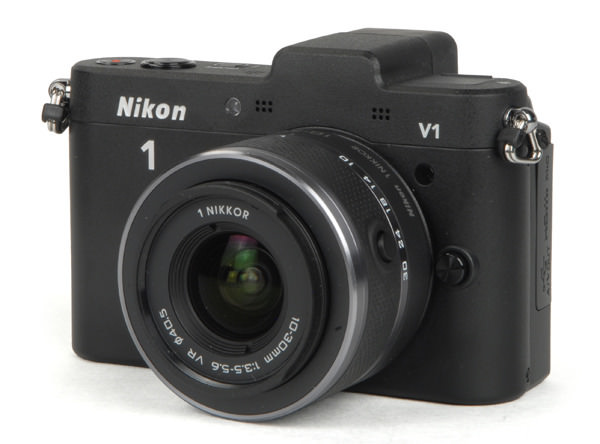 If you're looking to shoot b-roll clips for professional video productions, you'll probably feel limited by the Nikon V1. However, if you just want to capture the occasional "moving image" in between your general photography sessions, then the V1 should be fine. By the way, that's the same thing we said about the Nikon J1 back in October.
To read our full conclusions for the Nikon V1 including analysis of the camera's video handling and audio options, plus see sample videos and photos, visit the full review at DigitalCameraInfo.com.
Our editors review and recommend products to help you buy the stuff you need. If you make a purchase by clicking one of our links, we may earn a small share of the revenue. Our picks and opinions are independent from any business incentives.