camcorders
Nikon D3100 Digital Camera Review
The Nikon D3100 offers a much better video mode than previous Nikons, but the overall video performance was still a notch below the best cameras from Canon.
$699.00 MSRP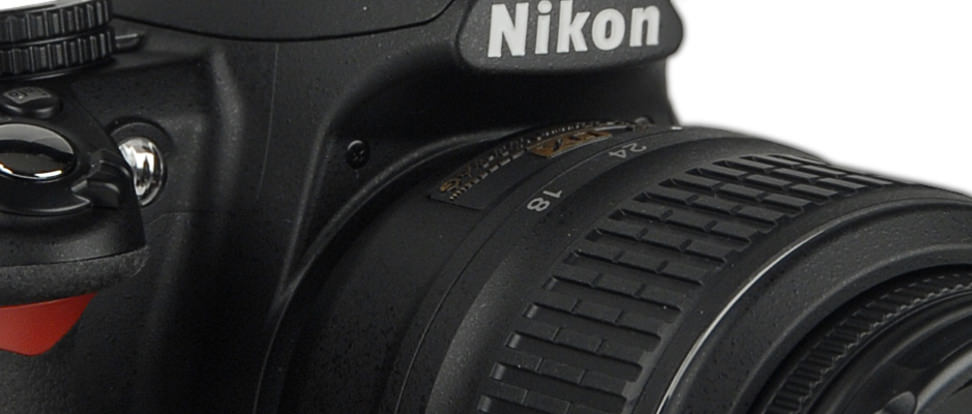 Introduction
Nikon gained significant traction with this years crop of video-capable DSLRs—the Nikon D3100 included. The 1080p video performance was better than previous models, and the features were solid in video mode, but the camera was still not on the same level as the competition from Canon.
Color & Noise
The D3100's colors looked good when recording video, although the camera had some trouble reproducing greens and certain reds faithfully. The overall color error came to 3.44 in bright light, with a saturation level of 90.6% Many DSLRs struggle to replicate their excellent still color accuracy in video, but the D3100 put forth a valiant effort. Its colors in its video recordings weren't quite as accurate as its still image colors, but they were close. See our full color performance review, including color swatches and crops.
Noise was kept to a minimum on the Nikon D3100, though ISO is controlled entirely automatically (as is shutter speed). Noise was kept at under 0.71% in our test videos shot under bright light conditions. In low light conditions, this number jumped to , but this is to be expected given the camera's lack of manual ISO control. See our full noise performance review, including crops and comparative analysis.
Motion & Sharpness
The D3100's 1080/24p video mode presented sharp images that rendered motion well with good smoothness and little in the way of trailing. The main issue is the use of a more "filmic" 24p frame rate, that renders motion in blurs during playback. When pausing, this ghosting and trailing is practically nonexistent, but anytime two objects of contrasting brightness move near each other (such as our motion test's monochrome pinwheel), the result is a blurred mess. Overall, the video quality is comparable to other DSLRs, though not as good as we've seen from Canon and the Nikon D5100. See our full motion performance review, including video clips.
The Nikon D3100's sharpness results were dragged down by some significant aliasing issues that specifically stuck between 600 and 800 lw/ph patterns. This resulted in some purple and green blobs showing up on the video, with image detail beyond that somewhat sharp (straight lines became angled slightly, but lines didn't bleed into one another much), though we could not give the camera credit for this because of the aliasing issues. Read our full sharpness performance review.
Comparable Products
Before you buy the Nikon D3100, take a look at these other interchangeable lens cameras.
Low Light
The Nikon D3100 wasn't the most sensitive camera in low light that we've ever seen, but it posted a respectable result. The camera needed just 16 lux of light to hit 50 IRE on a waveform monitor, a standard measurement that we use to determine a reasonably visible image recorded by the camera. Read our full low light sensitivity performance review.
The D3100 produced a color error of just 3.82 in our low light testing at the camera's 1080/24p frame rate. This puts the camera's low light color score in the same ballpark as the camera's score in our bright light color test. The saturation level in low light was higher, however, with the D3100 managing a 101.3% saturation level in this test. See our full low light color performance review, including comparative images and analysis.
The Nikon D3100's noise in low light spiked to just under 1%, which is still quite good. It became noticeable compared to the bright light testing, but most DSLRs do well in this category and the Nikon D3100 was no exception. This is impressive given that Nikon does not have much of a video pedigree and the D3000 the previous year did not feature video capture at all. See our full low light noise performance review, including crops and comparative images.
Conclusion
2011 was an impressive year for Nikon's video-capable DSLRs, as the company went to great lengths to improve both video performance and features on its new cameras. For this reason, the D3100 is much better than Nikon's older DSLRs that shot video—particularly the Nikon D90, which was the first video-capable DSLR to hit the market. The 1080p video mode on the D3100 captured sharp video and the 24p frame rate helped give everything shot with the camera a cinematic look and feel.
The D3100 allows for manual aperture and focus adjustment in video mode, which is good, but we were left wanting more controls for shooting video. No ISO or shutter speed options were available, and the fact that you had to set aperture controls prior to beginning recording bothered us as well. The camera's multiple recording modes (including 720p HD modes and a standard definition mode) were plentiful, but we did want to see at least one mode that allowed for a 60p frame rate (everything is recorded at 24p, 30p, or 35p on the camera).
As long as video recording isn't your primary objective, the Nikon D3100 will suit your needs. The video mode is solid enough to capture good clips and it is great for experimenting with video, but it's not the camera we'd recommend for pros looking to shoot b-roll or high-end content. Canon's collection of video-DSLRs, like the Rebel T3, did better in our suite of video tests, and they're the better models to go with if the video quality of your DSLR is of utmost importance to you.
To read our full conclusions for the Nikon D3100 including analysis of the camera's video handling and audio options, plus see sample videos and photos, visit the full review at DigitalCameraInfo.com.
Our editors review and recommend products to help you buy the stuff you need. If you make a purchase by clicking one of our links, we may earn a small share of the revenue. Our picks and opinions are independent from any business incentives.