camcorders
JVC GZ-MG555 Camcorder Review

Performance
Video Performance* (5.35)*
JVC switched gears from last year, opting for a large single CCD, rather than the three 1/4.5" CCDs in the GZ-MG505. This year's top-end model offers one 1/2.5" CCD, the largest imager in a consumer camcorder. This resulted in an increased pixel count (good for resolution) as well as expectations for a better low light. Last year's MG505 has a total gross pixel count of 2,322,540. The MG555 has a gross pixel count of 5,370,000 – a significant increase. The effective pixel count is not specified anywhere by JVC, but we can expect it to be about 3/4 of the gross. Any way you cut it, JVC has set some high expectations.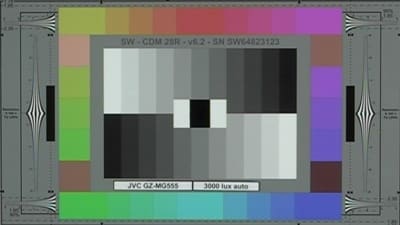 At 3000 lux, the GZ-MG555 produced a far, far more natural image than last year's electric kool-aid MG505. Yes, the colors are saturated, but what a turn around. Last year's version overexposed the whites and amped up the colors to an incredible degree. The MG555 had a normal exposure – dark by comparison, really – but better looking.
The DCR-SR100 of last year was one of our favorites. Compared to the MG555, the SR100 was much sharper. Color performance was quite different, and which is better is debatable. The MG555 pushed the greens a little too heavily, but had a decent color balance. The DCR-SR300 warmed the image, as many camcorders are wont to do. It's less accurate, but manufacturers skew it because people generally look better in warmer colors.
This year's DCR-SR300, Sony's 2007 top-of-the-line standard definition HDD camcorder, was very much the same story. Despite the smaller imager and lower pixel count, the image looks so much crisper. Again, the image is warmer, but it does look very good.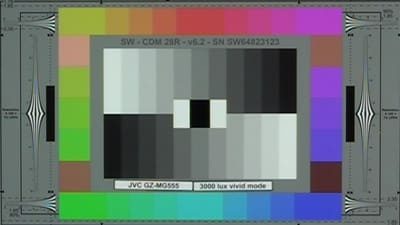 The JVC GZ-MG555 offers, deep in the menu, the option for "natural" or "vivid" colors. The vivid option, seen here, is not recommended. Once activated, the colors suddenly look like they did last year in the MG505 – blazing neon.
Overall, the JVC GZ-MG555 produces a good image. The improvements over last year are marked and appreciated. Yet again, however, it's not holding its own against the competition. Sony's competing model, the DCR-SR300, produces a better looking image. Thankfully for JVC, Sony cannot hope to compete on manual controls, which gives the MG555 a fighting chance.
Video Resolution* (3.66)*
In order to evaluate video resolution, we shot a DSC labs video resolution chart and viewed the playback footage on an HD monitor. What we're looking for here is final resolution of the entire camera system, not the reported resolution that manufacturers claim. At best, the JVC GZ-MG555 was able to produce an approximate horizontal resolution of 325 line widths per picture height (lw/ph) and an approximate vertical resolution of 225 lw/ph. We double-checked this on several monitors in order to make sure of our conclusions. This was a truly disappointing result, particularly the vertical, though not surprising considering what we saw in our standardized and ad hoc shooting. The imager promises big things, but camcorder as a whole does not appear able to pull it off.
Low Light Performance* (4.86)*
The large 1/2.5" CCD creates some high expectations for low light performance. At 60 lux, the JVC GZ-MG555 did not lose much information at all. There is a significant fall-off in the brightness of the whites, but rest of the image looks like a slightly dulled version of the 3000 lux image. That is about as good as you can expect on a consumer camcorder.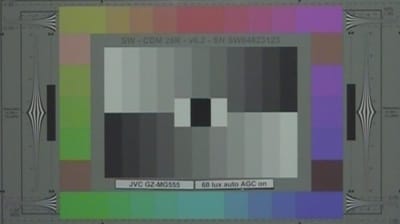 Again, last year's GZ-MG505 looked far more saturated. It is in this way, however, that some people may prefer the MG505. In low light, those unhealthy neon colors and high gain made the colors really pop. Of course, they're pretty far from accurate.
Sony topped the JVC's low light performance with both the DCR-SR100 and DCR-SR300. The SR100 looked best, with very little difference in overall image quality between 3000 lux and 60 lux. With the SR300, the quality gap between bright light and low light was about the same as the JVC MG555. But both SR300 images looked better than their MG555 equivalents, offering a sharper picture with better color performance.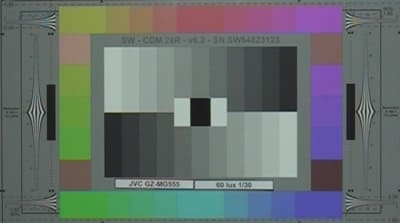 JVC offers a shutter priority mode, which can be quite convenient in low light. When we dropped the shutter down to 1/30th, a strange effect took place. The overall image did not brighten up much, as you would expect. Instead, the whites brightened and the color saturation increased. The middle greys were not affected much. Overall, the auto shutter looked better.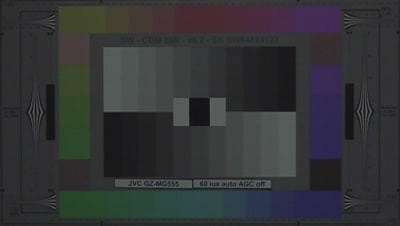 As in all JVCs, the GZ-MG555 offers the option to turn off the auto gain control (AGC). This is not recommended, as you can see from this image. Very little color information was retained.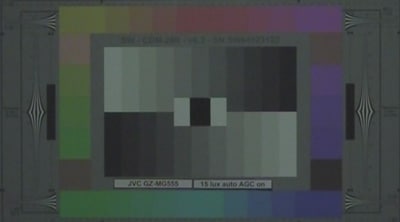 At 15 lux with AGC on, the MG555 lost a lot of detail and color. However, the large imager did manage to retain quite a bit. It performed much better than last year's GZ-MG505, which was nearly black. Once more, Sony's DCR-SR100 and DCR-SR300 looked a great deal better: a sharper image, better color, and more detail. The SR100 had very little noise. The SR300 had a great deal of noise, but a fine grain noise that did not obscure much detail.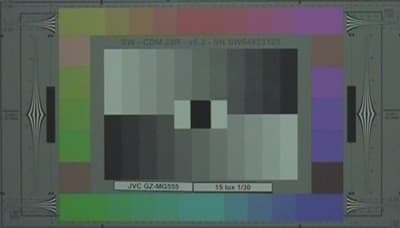 At 15 lux with a 1/30th shutter speed (and AGC on), the image looked a good deal better, almost as good as 60 lux in auto mode. If you can live with the motion blur from the slow shutter speed, this could prove very beneficial for very low light.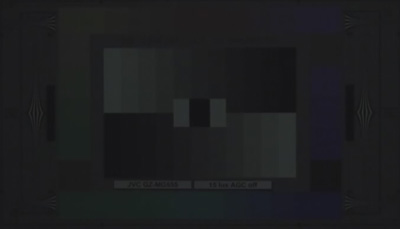 With AGC off, the image is more or less devoid of information.
The GZ-MG555 was able to produce 50 IRE at a light level of 15 lux, not a particularly impressive sensitivity, given the CCD size. However, the colors were produced with relative accuracy. According to Imatest, at 60 lux, the camcorder had a color error 8.7. (Comparatively, the Sony DCR-SR300 had an error of only 6.3, but the Canon DC50 had a much larger error of 13.5) At 60 lux, the MG555 produced a noise level of 0.77% and a 83.68% saturation.
Overall, the JVC GZ-MG555 is a solid low light performer. The elements that we felt were lacking – sharpness, first and foremost – was also lacking in bright light, so we can't very well blame it as a low light weakness. JVC has improved their performance from last year, but Sony's comparably priced HDD camcorders both had superior image quality.
Stabilization* (2.34)*
The JVC GZ-MG555 features a DIS (digital image stabilization, commonly called EIS, or electronic image stabilization) system that, while effective, results in a noticeable loss of image resolution when engaged.
Image stabilization systems reduce the effects of camcorder shake on the recorded image, and systems that achieve this digitally do so by creating a buffer around the margins of the sensor so that the entire sensor is not used for recording. OIS systems are superior because they physically isolate the lens element from vibration, and do not reduce the resolution.
We tested the GZ-MG555 using our custom-built shake emulator machine at two speeds, and derived our score by measuring the motion difference between footage shot with DIS off and DIS on, taking into account resolution loss. At Speed 1, roughly equivalent to the shake produced while hand holding the camera and standing still, the MG555's DIS system reduced motion by 33%. At the more aggressive Speed 2, the reduction in motion dropped to 25%.
Wide Angle* (9.6)

*We tested the GZ-MG555 in 16:9 recording mode to obtain its maximum field of view. The camcorder was manually focused, OIS was turned off, and the zoom was pulled back to its widest setting. The GZ-MG555 produced a maximum field of view of 48 degrees, which is relatively average compared to most consumer camcorders.
Our editors review and recommend products to help you buy the stuff you need. If you make a purchase by clicking one of our links, we may earn a small share of the revenue. Our picks and opinions are independent from any business incentives.
Sections
Our editors review and recommend products to help you buy the stuff you need. If you make a purchase by clicking one of our links, we may earn a small share of the revenue. Our picks and opinions are independent from any business incentives.
Advertisement - Continue Reading Below
Compare Prices
Our editors review and recommend products to help you buy the stuff you need. If you make a purchase by clicking one of our links, we may earn a small share of the revenue. Our picks and opinions are independent from any business incentives.
Advertisement - Continue Reading Below
Get Our Newsletter
Real advice from real experts. Sign up for our newsletter
Thanks for signing up!