camcorders
JVC GZ-HM960 Review
Don't be fooled by misleading text on the side of the JVC Everio GZ-HM960: This camcorder does not record 3D video.
$859.09 at Walmart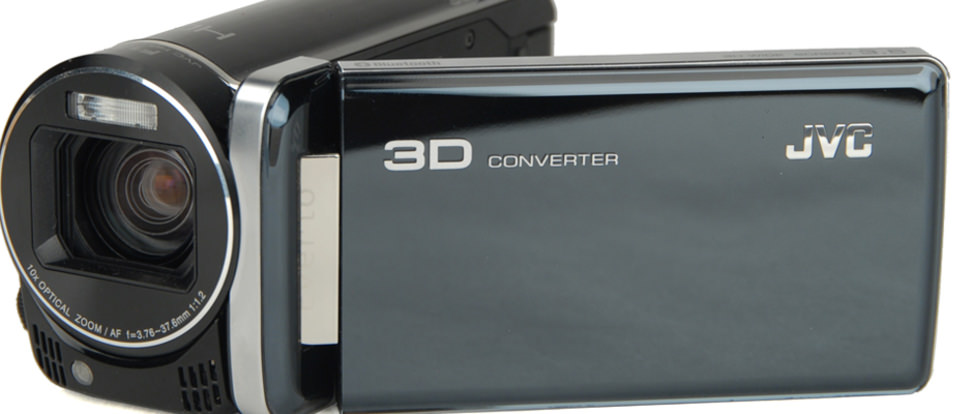 Introduction
This is a regular HD camcorder with a 3D conversion feature and a glasses-free 3D LCD. The camcorder also has a low-quality slow motion record mode, a time-lapse record function, and a host of still image features. It's certainly not the best HD model we've reviewed all year, and at $950, the camcorder seems way overpriced, yet the HM960 did produce crystal-clear video in bright light. To be clear, though, this camcorder does not take 3D video.
Design & Usability
The LCD has a glasses-free 3D mode, but it isn't pretty, and the camcorder isn't the most comfortable to hold either.
The GZ-HM960 is smaller and lighter than most high-end camcorders from other manufacturers. It also has less features, however, as it lacks a lens ring or adjustment dial, has no accessory shoe, and is missing audio connectivity ports. Still, the HM960 does have a large LCD (3.5-inches), a wide-angle lens, and a decent set of manual controls to choose from.
The touchscreen is not a solution for making quick adjustments on the fly.
What bothers us about the HM960's design are the following: its uncomfortable hand strap, the slow response time for the touchscreen LCD, and its aforementioned lack of a tool or dial for setting manual controls with precision. The touchscreen is not a solution for making quick adjustments on the fly, and the fact that the response from the screen is often sluggish makes things even worse. Yes, we love its large size, but we'd gladly sacrifice 1/2 an inch of screen for more speed and processing power. Also, the screen's glasses-free 3D view mode is terrible, and it's not something we recommend using. Maybe it's a cool gimmick to glance at once or twice, but it is not a feature that makes a lasting impression.
The GZ-HM960 is best used in auto mode, as the camcorder's manual controls can be a challenge to work with thanks to its slow processor and unresponsive LCD. In contrast, the auto controls worked better than expected, with focus and exposure adjustments adapting quickly to new scenes and lighting conditions. The auto white balance feature wasn't always perfect, but the camcorder usually calibrated properly within 10 – 15 seconds of recording under a new lighting setup.
Features
The 3D conversion feature isn't that special, but the HM960 does have a few other noteworthy functions.
When you first hear about it, the ability to convert 2D video to 3D with the JVC GZ-HM960 sounds kinda cool. When you really get into the feature, however, you'll see that it's more of a disappointment than anything else. All the camcorder does when you press the large, blue "3D" button is produce a fake 3D effect. The ending result isn't nearly as pronounced, nor as crisp as what you'd get from a camcorder that actually records 3D, and the real kicker is that most 3D televisions already have some kind of 3D conversion feature built-in.
An Auto Record function starts recording whenever the HM960 detects a subject moving within the frame.
Let's forget about the silly 3D conversion feature for a moment. The GZ-HM960 has a bunch of other interesting features worth talking about, including one of the better slow motion modes found on a consumer camcorder. The slow motion setting shoots at 300fps, which creates video that is five times slower than regular footage captured by the camcorder. There's no time limitation for how long you can record, and, while the image quality isn't very good, it's passable. The camcorder also has an extensive time lapse record mode, a built-in video light, and an Auto Record function that starts recording whenever the HM960 detects a subject moving within the frame.
Comparable Products
Before you buy the JVC Everio GZ-HM960, take a look at these other camcorders.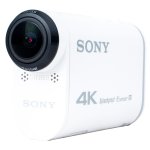 Performance
Videos handled motion well and captured a ton of detail, but noise and color accuracy were problems.
JVC hasn't made a great all-around camcorder in a while, but it continues to infuse its high-end models with excellent sharpness and motion capabilities. The GZ-HM960 captured video in bright light that looked fantastic, with tons of detail and very smooth motion. The camcorder has no alternate frame rate options (other than the low-res slow motion setting), but its regular 1080i HD record mode looked great in our tests. Still, this is one of the stark contrasts between the HM960 and other flagship camcorders, most of which offer 24p, 30p, or 60p frame rates in addition to the ordinary 60i option.
Regular 1080i HD record mode looked great.
The camcorder's performance weaknesses come in the form of imperfect color accuracy (in both bright and low light), as well as some issues with noise in low light. We're not sure why the HM960 struggled so much in our color accuracy tests, as previous JVC models ruled this test with flying colors. At least the HM960 continued to deliver vivid tones—even in low light—meaning those colors may not be all that accurate, but at least they're still strong and deep.
Conclusion
Overpriced for what it offers and overmatched by the competition.
With the GZ-HM960, JVC put too much effort into marketing the camcorder's 3D conversion feature. If you have a 3D TV with a conversion feature, then this function on the camcorder is essentially useless. We wish JVC had talked this feature up as a minor asset, rather than plastering the side of the camcorder with a giant 3D logo. It's clear the 3D conversion option is part of the reason the HM960 is priced so high, as its performance and capabilities aren't worthy of a $1000 camcorder.
Unless the fact that the HM960 can convert content to 3D really intrigues you for some reason, we recommend spending your money elsewhere.
In the HM960's defense, the camcorder did do a great job with bright light video, particularly when it came to motion in sharpness. The camcorder's awful user interface, especially when setting manual controls, were our biggest frustration with the model, and there was also too much noise in its low light videos. Overall, the HM960 is not a better camcorder from the similarly-priced competition from Canon, Panasonic, or Sony. Since $1000 is a lot to spend on a camcorder, you should be looking for an all-around great product at that price. Unless the fact that the HM960 can convert content to 3D really intrigues you for some reason, we recommend spending your money elsewhere.
Our editors review and recommend products to help you buy the stuff you need. If you make a purchase by clicking one of our links, we may earn a small share of the revenue. Our picks and opinions are independent from any business incentives.