camcorders
JVC GZ-GX1 Review
The WiFi works surprisingly well, but the JVC GZ-GX1 is a letdown in numerous other categories.
$899.00 MSRP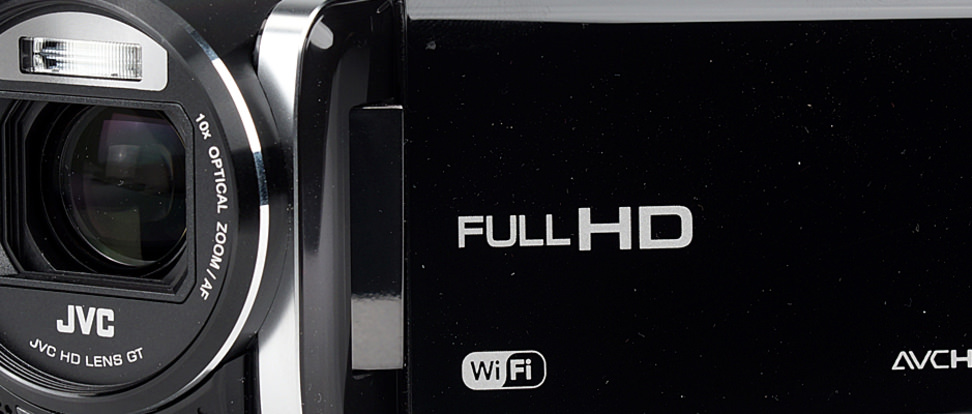 Introduction
Loaded with a fresh new WiFi feature, the GZ-GX1 is JVC's 2012 flagship model in the company's Everio line of consumer camcorders. The WiFi works surprisingly well, but the camcorder is a letdown in numerous other categories: it handles poorly, offers a limited battery life, and its touchscreen is plagued with a terribly slow response time.
The GZ-GX1 lacks any kind of internal memory, so you need to purchase an SD-type memory card before you can go out and shoot with the camcorder. JVC currently lists the GX1 with an $899 MSRP, which is a bit lower than the flagship models from Canon, Panasonic, and Sony—but all of those come with some amount of internal memory to offset their higher price tags.
Design & Usability
Slow response times and a finicky touchscreen interface make the GZ-GX1 a frustrating product to work with.
Most Everio camcorders from JVC have traditional, horizontal body designs that look like your everyday consumer camcorders. The GZ-GX1 fits this description for the most part, although its large 3.5-inch LCD panel gives the camcorder a bit of a strange look on the left side. Instead of a round shape on the left, the GX1 is almost perfectly flat, and the LCD panel extends a tad higher than the rest of the camcorder body. It's not to the point that the camcorder looks freakish, but the appearance is slightly off.
The camcorder's usability gets bogged down by the sluggish performance of its processor.
The GZ-GX1 has a good mix of automatic features and manual controls, but the camcorder's usability gets bogged down by the sluggish performance of its processor. The menus are slow to load, which makes accessing any control—be it manual or automatic—a frustrating process (especially during recording). The touchscreen interface is equally at fault here, as it often refused to respond to the selections of our tapping fingers. If the GX1 didn't have these faults, it would be a great camcorder for beginners, but with these faults it becomes borderline-unusable.
Features
Despite its terrible interface, the GX1 has a wide range of features and controls—including a new WiFi function.
The wireless capabilities on the GZ-GX1 may steal the headlines, but the camcorder is equipped with a number of other less attention-grabbing features that are just as (if not more) useful. The camcorder has a 300fps high-speed recording option, a time-lapse function, a variety of still image modes, aperture and shutter-priority modes (but no full manual mode), auto record, scene modes, and a few different focus/exposure tracking features. With all these controls, it's also interesting to see what JVC left off of the camcorder. There's no full manual mode that lets you adjust aperture or shutter speed independently from one another, and there's no lens ring or dial to help you adjust controls and features. This puts the GX1 on that strange island in between mid-range and high-end models. It's got a number of pro-level controls, but it's missing key features that would attract the camcorder to prosumers and manual control freaks.
The list of WiFi features on the camcorder are fairly extensive.
The list of WiFi features on the camcorder are fairly extensive, and all of the WiFi features require at least a bit of setup and tinkering before they work properly. Expect to read the instruction manual very carefully before taking a stab at the GX1's WiFi capabilities, but once you do you will open up a whole slew of possibilities. There's direct monitoring of video via your Smartphone, as well as direct monitoring from a remote location over the internet (in case you want to use the GX1 as a security camera). You can even have the camcorder email you photos that it snaps automatically when a subject moves within the frame. Another security feature? Maybe. But it could also work for wildlife enthusiasts who have the GX1 focused on their bird feeder.
Performance
The GZ-GX1 is a flagship camcorder that performed more like a mid-range model in our low light tests.
Like numerous Everio models that came before it, the JVC GX1 did an impeccable job in our bright light testing. Colors were accurate and vivid, motion looked smooth and crisp, and noise simply wasn't an issue. In low light, the GZ-GX1 had some trouble, despite the camcorder's fast f/1.2 lens. Colors were still strong and accurate, but the camcorder had some trouble with sensitivity and noise in low light shooting. If these scores were just a bit better, the GZ-GX1 would be a top performer across the board.
Conclusion
The JVC GZ-GX1 isn't not even close to being the best flagship camcorder on the market, but it's $899 price tag is a bit lower than your average high-end model.
JVC cut corners by infusing the GX1 with a cheap body design, poor handling, and a frustratingly-slow internal processor that makes menu navigation a downright chore. The camcorder also lacks any kind of internal memory, so you have to account for the cost of a memory card in with the total package. Still, the camcorder did succeed in some areas: bright light video looked sharp and vivid, motion was captured smoothly without much interference, and its low light videos looked adequate for the most part.
The Everio GZ-GX1 also has a fun trick up its sleeve: WiFi. I was pleasantly surprised by how well some of JVC's new built-in WiFi functions worked on the camcorder, and the set of wireless features on the GX1 are far more robust and versatile than the WiFI capabilities on Canon's new line of Vixia camcorders. Let's be clear: JVC's WiFi feature isn't perfect, but it's certainly a step in the right direction. The GZ-GX1's WiFi lets you do such things as remotely control the camcorder with an iPhone or even monitor what the camcorder sees from a remote location—perfect for home surveillance or keeping tabs on your pets while you're off at work. Canon's WiFi feature on the HF M52 camcorder only lets you transfer and view videos on your smartphone or tablet (something the GZ-GX1 also allows). If you're simply interested in having a WiFi-connected camcorder, JVC's new Everio GZ-GX1 is the best option we've seen so far.
Of course, $899 is a lot to pay for something just because you can wirelessly sync it with your phone or computer, and the GZ-GX1's deficiencies as a camcorder are notable and significant. Canon and Panasonic both offer better low light performance for the money, and Sony's Handycams are far easier for beginners. This leaves the GX1 in a strange middle-land. It's got a few fun, innovative features, but it's not the best model for capturing video. And that's still the main reason we buy camcorders, right?
Our editors review and recommend products to help you buy the stuff you need. If you make a purchase by clicking one of our links, we may earn a small share of the revenue. Our picks and opinions are independent from any business incentives.