camcorders
JVC GY-HMQ10 First Impression Review
HD isn't sharp enough for you? Say hello to the GY-HMQ10 and the world of 4K video.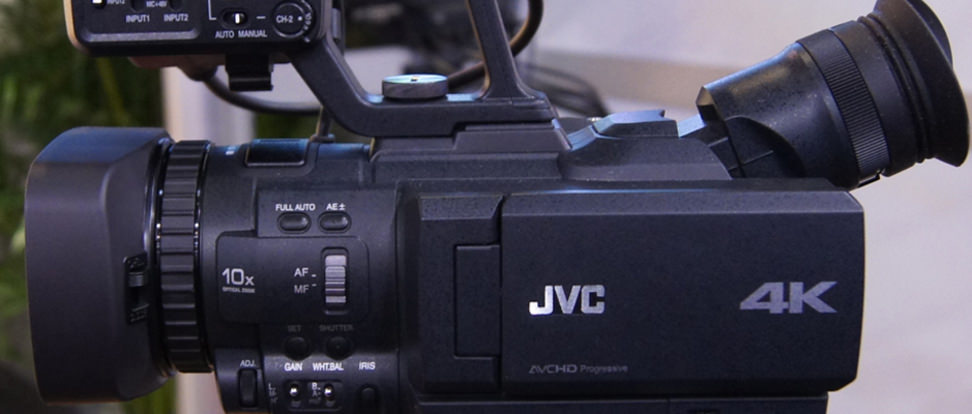 Introduction
JVC is known for unveiling lots of "firsts" at CES, and for releasing plenty of products that are ahead of the curve. In 2004, JVC showed off the first consumer HD camcorder. Last year they had one of the few 3D camcorders at CES on the show floor, and this year JVC revealed its long-anticipated 4K camcorder—the GY-HMQ10.
In order to make its 4K camcorder happen, JVC built upon its powerful Falconbird processor that the company introduced its GS-TD1 3D camcorder last year at CES. The camcorder also makes use of four SD memory card slots in order to record four individual streams of video content that, together, create a unified 4K video. It's certainly an unusual process that is more power-intensive and complex than anything we've seen in the industry for quite some time. But JVC is banking on the idea that 4K video is just a few years away from taking off, otherwise the GY-HMQ10 will end up as a novelty camcorder with little use to anyone in the industry.
The JVC GY-HMQ10 will retail for around $4995, with the first deliveries scheduled for March, 2012.
Design & Usability
The camcorder's compact design gives it the look and feel of a prosumer model.
JVC is banking on the idea that 4K video is just a few years away from taking off.
The HMQ10 is definitely not the most challenging pro camcorder ever made. The way the controls are organized and displayed make the camcorder feel more like a bridge model between consumer and professional, so if you feel comfortable being somewhere in between those two categories, then the HMQ10 will definitely be easy enough for you to handle. The only control on the camcorder that really bothered me was the tiny adjustment dial that is used to set aperture and shutter speed control (please, just give the camcorder a second lens ring!). Other than that cop-out, the GY-HMQ10 offers a good user experience, and settings can be adjusted on the fly with ease. Yes, the camcorder does make use of a touchscreen interface, which may be a turn-off to some pros, but the screen really isn't that bad when you get used to it.
Features
Professional audio capabilities should satisfy most users.
The GY-HMQ10 has two XLR inputs and a boatload of manual audio controls. When shooting 4K video, the camcorder records audio using the AAC format, while regular HD footage is tied to Dolby Digital AC3 audio encoding. There's an audio level display, phantom power for each XLR input, and basically everything you need to capture professional-grade audio. If you don't want to hook up an external mic to the camcorder, the on-board built-in stereo mic can suffice on-the-fly recording. Other than the audio ports mentioned above, the HMQ10 is equipped with four HDMI outputs, which are necessary to send a full 4K signal to a 4K television. The camcorder also has a DC-input and a USB port, but it lacks professional ports such as BNC and TimeCode.
The 3.5-inch touchscreen with a 920k pixel display doesn't even come close to having a 4K resolution. Of course, it would be asking a lot from JVC to include a 4K LCD on its camcorder, especially since there are only a handful of 4K monitors on the market today. The screen has a glossy coating, which helps it attract plenty of greasy fingerprints, although that's kind of hard to avoid with touchscreens. You can avoid the screen altogether (except when you have to access the menu system) by using the electronic viewfinder on the back of the camcorder instead. The viewfinder extends and pivots, has a decent eye cup, and carries a 260k resolution.
Comparable Products
Before you buy the JVC GY-HMQ10, take a look at these other camcorders.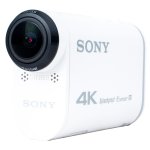 Performance
JVC's solution for recording 4K video requires the use of four SD memory cards simultaneously.
Since 4K video has four times the resolution of regular 1080p HD video, the HMQ10 has to go through a roundabout process in order to save these gigantic video files. The camcorder captures four different video streams (or quadrants), each recorded to a separate SD card loaded in the HMQ10. These individual streams record at a max bitrate of 36Mbps, which totals to 144Mbps when you put the four files together. According to JVC, the HMQ10 can record a full two hours of 4K video, which may sound impressive until you realize that's with four 32GB SD cards inserted in the camcorder at the same time. In the end, these four individual video streams combine together to form a 2840 x 2160 video image that can be output to a 4K display.
The HMQ10 can record a full two hours of 4K video, which may sound impressive until you realize that's with four 32GB SD cards inserted in the camcorder at the same time.
Once you've shot this glorious 4K footage, the next challenge is figuring out how to playback that content at a 4K resolution. Televisions that display 4K are few and far between, and even this year at CES—where 4K was one of the most popular buzzwords being thrown around on the show floor—only a handful of 4K screens were on display. JVC punts on this issue by saying 4K monitors and televisions will become more and more common every year, and they're probably right. But for now, getting a 4K television is extremely difficult and extremely expensive. If you do have access to one, however, you'll need to connect the HMQ10's four (yes, four) HDMI outputs to the screen at once. Each HDMI output directs a separate video stream from the four individual streams captured by the camcorder that enable 4K recording. It's unclear at this point what 4K televisions will even work with this connection system, although I saw JVC using Toshiba TVs to show off the HMQ10's 4K capability at CES
If you don't have a 4K television on hand, you can hook the camcorder up to a regular HDTV and the HMQ10 will automatically down-convert the footage. It'll probably look really good, but it won't be a 4K resolution. There is a playback function on the camcorder that allows you to look at a chunk of full HD video taken from a larger 4K video clip. JVC calls this HD Trimming, and it's essentially a digital zoom function that takes a small crop from the 4K recorded video. This "small crop" just happens to be a full HD 1920 x 1080 image.
Conclusion
As a first-generation product, the HMQ10 has plenty of kinks involving 4K recording.
The GY-HMQ10 isn't the first 4K camcorder to hit the market, but JVC conveniently avoids this issue by calling the HMQ10 the world's first "handheld 4K camcorder" instead. It's also the first 4K model to be released by a major camcorder manufacturer, which means the competition is definitely watching. With its $4995 price tag, the HMQ10 is aggressively priced for the prosumer market, especially since the camcorder is outfitted with professional-grade manual controls and features.
But the thought of recording and working with 4K video at this point is somewhat outrageous. Sure, the camcorder may not be wildly overpriced, but think about everything else you'll need to purchase just to shoot, view, and edit the 4K video content. Televisions that can display 4K resolutions are extremely rare and are bound to cost a lot of money, at least at first, and it's not even a certainty that all future 4K screens will be compatible with the GY-HMQ10's 4K video output system. You also have to consider the costs of multiple SD cards, as the HMQ10 requires four of them to be used at once to record 4K video. And there's the fact that editing solutions for 4K video are still in their infancy, especially in a time when editors are still trying to work out the kinks of 3D and progressive AVCHD content.
In its defense, the GY-HMQ10 looks to be a pretty good camcorder even without the 4K recording options. So, you could get the HMQ10, use it to shoot regular HD video now, and hang onto it until 4K becomes more mainstream. Maybe that's the plan JVC is going for, and it makes sense in a way. If you can make a camcorder with a 4K shooting option, why not do it? It can't hurt, right?
Our editors review and recommend products to help you buy the stuff you need. If you make a purchase by clicking one of our links, we may earn a small share of the revenue. Our picks and opinions are independent from any business incentives.