camcorders
JVC GC-XA1 Adixxion Camcorder Review
JVC's first attempt at an adventure cam is no match for the GoPro Hero3.
$125.00 at Amazon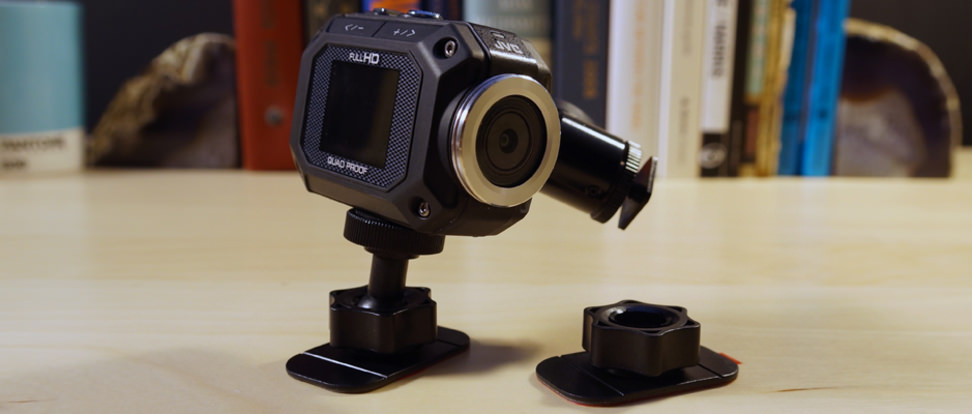 Introduction
It's not a rule that adventure cams require a silly name, but it's certainly a trend. The GC-XA1 (MSRP $299) from JVC comes with the moniker Adixxion, which may sound clever at first, but you can only refer to a camcorder as your "addiction" so many times before your friends will hate you.
It's no secret the wearable-camcorder market is saturated with products. After you get beyond the heavy hitters, namely the market-leader GoPro and its feisty rival Contour, you find yourself wading in a sea of relatively new and untested camcorders. This is exactly where the JVC Adixxion enters the picture.
If you shop around you shouldn't have trouble finding the Adixxion at a steep discount, sometimes at more than $100 less than its initial list price. At that price, the Adixxion isn't a bad deal, but the camcorder isn't strong enough to command a price tag on par with the GoPro Hero3: Black Edition or Contour+2.
Design & Usability
The Adixxion doesn't need a special case to take a swim. It's waterproof right out of the box.
It's a perfect option for snorkeling, but a terrible choice for deep-sea diving.
One of the most interesting benefits of the GC-XA1 is the camcorder's waterproof shell, which enables it to withstand depths of up to 16.4 feet (5m) without the need for an additional waterproof case. This makes it a perfect option for snorkeling, but a terrible choice for deep-sea diving. GoPro's Hero camcorders, as well as the Sony Action Cam, require bulky waterproof cases before they can take a dip. These cases do have a benefit, as they protect the camcorders to much deeper levels (nearly 200 feet underwater). Like the JVC Adixxion, Contour does make some camcorders with built-in waterproof capability as well.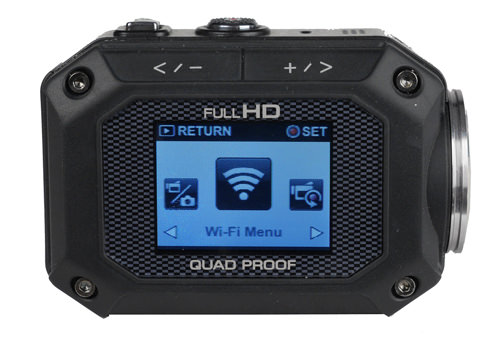 The other unique design element on the XA1 is the 1.5-inch LCD slapped on its right side. None of the top adventure cam manufacturers include a built-in screen like this, although some of them offer screens as an optional accessory. The screen is tiny, and it won't be much help when the Adixxion is mounted to a helmet, but it does help greatly for navigating menus and video playback. If you can't bear to use a camcorder without an LCD, then the Adixxion is your ideal adventure cam.
Performance
Battery life was terrible, and the camcorder struggled in low light, but the Adixxion can still wow you under the right conditions.
In bright light, the JVC Adixxion captured rich colors—if you're into green green grass and blue blue skies, this camcorder won't disappoint. Take this camcorder to any old beach and your friends may think you traveled to paradise. If you want more natural recordings, with accurate colors and less supersaturated images, then you should look into the competition from GoPro, Contour, and Sony.
Video looked bland and desaturated in extreme low light, and the battery lasted just 80 minutes on a charge.
The Adixxion's weakness comes in low light, where the camcorder struggled to produce a detailed image and had problems with artifacting and sharpness. In extreme low-light situations, video looked bland and desaturated—the exact opposite of its bright-light shots. Battery life was also a disappointment, with the camcorder lasting for just 80 minutes of continual recording. That's not going to cut it if you're dead-set on shooting a full day of snowboarding.
Comparable Products
Before you buy the JVC GC-XA1 Adixxion, take a look at these other camcorders.
WiFi
WiFi let's you do some fun stuff, but JVC's WiVideo app leaves a lot to be desired.
The XA1 has the ability to live-stream video or upload clips to the internet right from the camcorder, provided you're connected to a WiFi hotspot.
Just like most adventure cams, JVC loaded the Adixxion with built-in WiFi that enables you to connect the camcorder to your smartphone. In addition to using your smartphone as a remote viewfinder, the XA1 has the ability to live-stream video (via Ustream) or upload clips to the internet right from the camcorder, provided you're connected to a WiFi hotspot.
I had to upgrade the camcorder's firmware before I could successfully pair it with my iPhone, but after I did that the system worked adequately. You need to download JVC's WiVideo app to use your phone as a remote viewfinder with the camcorder, and you can also get the WiVideo program for your computer (PC only, though).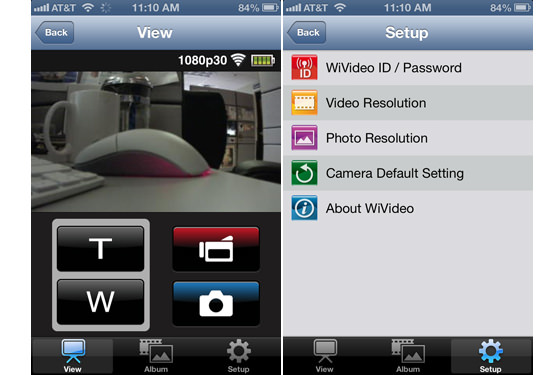 When paired to your phone, the WiVideo program shows you what the GC-XA1 sees, you can start and stop video recording, control digital zoom, take photos, and change a few settings. Response time for the remote viewfinder is fantastic, so you don't have to worry about there being a delay when you move the camcorder, but the digital zoom control is terribly slow and we wish more menu options were available within the WiVideo program.
The only setup options you can change via the app are video resolution, photo resolution (even though there's only one option), and restore defaults. Why can't we switch to time lapse mode or change white balance settings through the WiVideo app?
Mounts & Other Features
This "mountable" camcorder could use a whole lot more mounts and accessories.
Compared to rivals from Contour, GoPro, and even Sony, the JVC Adixxion is very limited in its mount and accessory offerings. The camcorder comes with only a few supplies: one adhesive mount with two bases and a ball joint unit, a goggle mount that requires the use of a tiny screwdriver to assemble, two removable lens protectors, and a thin piece film that is meant to protect the LCD (we can't imagine anyone actually using this). If you want to go beyond the basics, JVC only lists two additional mounts on its website—a handlebar mount for attaching to a bike and a roll bar mount designed for off-road vechicles.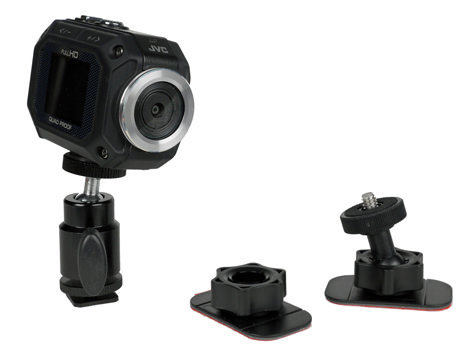 The provided goggle mount is ridiculous. Requiring the use of screws to assemble means you have to take apart the entire mount if you want to switch it to a different pair of goggles. (This also means you have to carry the tiny screwdriver with you wherever you go.) The mount is far larger than it needs to be, too, and we wish JVC would just make a simpler mount that could snap together with ease. On the camcorder itself, JVC cleverly includes two tripod mounts: one on the base and one on the left side. GoPro should be taking notes here, as its Hero camcorders don't have any built-in tripod mounts (you have to buy one for an extra $15).
On the camcorder itself JVC cleverly includes two tripod mounts, one on the base of the Adixxion and one on the left side.
The Adixxion doesn't have many additional video and still image features. There's a simple time lapse record mode that is very easy to use and has only two shooting options (one photo per second or one photo every five seconds). There's also an Endless Record feature that overwrites old files with new ones if the inserted SD card starts running out of space. Video recording is limited to one 1080p full HD option, two 720p HD modes, one tall HD setting that shoots 1280 x 960 video, and one standard definition record mode. The camcorder has only one still image setting that takes 5-megapixel photos.
Conclusion
It's not one of the top adventure cams on the market, but the Adixxion is a reasonable choice if you can get it for under $200.
If you're in the market for an adventure cam, there are three reasons to consider the JVC Adixxion over the competition: its on-board LCD, the waterproof core, and its simple interface. The Adixxion won't get you video that looks as good as what the GoPro, Contour+2, or Sony Action Cam are capable of, and it doesn't have nearly as many features or controls, but it should fulfill the basic needs required by adventure-cam seekers. If JVC had launched the GC-XA1 with a cheaper price tag, then we'd certainly be lauding the Adixxion as an excellent budget alternative. But the $299 MSRP is too expensive for what you get, and we can only recommend the camcorder if you can find one for around $200 or less.
If JVC had launched the GC-XA1 with a cheaper price tag, then we'd currently be lauding the Adixxion as an excellent budget alternative to GoPro.
For serious videographers, the JVC Adixxion will surely feel limited. The camcorder doesn't come with many mounts, and the list of available accessories is far smaller than the competition. While video performance in bright light was often great, the camcorder usually ran into problems in low light. The camcorder has a few WiFi features that aren't found in many other adventure cams (like the live stream feature), but its WiFi capabilities as a whole aren't that much different than the competition—and nearly every adventure cam has WiFi now.
Our editors review and recommend products to help you buy the stuff you need. If you make a purchase by clicking one of our links, we may earn a small share of the revenue. Our picks and opinions are independent from any business incentives.