camcorders
JVC GC-PX10 Review
The GC-PX10 represents JVC's latest attempt at making a true photo/video "hybrid" device.
$899.95 MSRP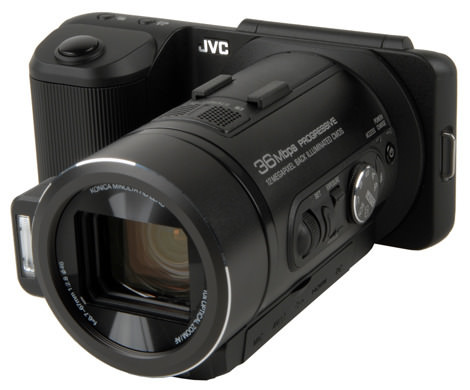 Introduction
The GC-PX10 represents JVC's latest attempt at making a true photo/video "hybrid" device, which is something the company has been toying with over the last couple of years. The camcorder looks excellent on paper, combining 12-megapixel still image capability with full HD 1080p recording capability, but our testing told a different story. The camcorder has a terribly awkward design, and, while it shot great video in bright light, the PX10 was not ideal for taking still photos.
The GC-PX10 has an MSRP of around $800, which makes it one of the more expensive models in JVC's lineup. Being that this is CamcorderInfo.com, this review of the PX10 focuses on the video capabilities of the camcorder. For a full review of the PX10's still features and performance check out our review at DigitalCameraInfo.com.
Design & Usability
The odd photo/video hybrid design of the GC-PX10 ends up making the camcorder a hassle to work with.
You'll quickly see that this isn't a normal camcorder.
Just looking at the GC-PX10 for a few seconds, and you'll quickly see that this isn't a normal camcorder. With its long, cylindrical lens barrel, the PX10 resembles a camcorder from the front, but the hackneyed grip on the back is where JVC decided to take cues from the world of digital photography. The grip looks identical to what you'd find on a cheap DSLR camera, and it is not conducive for shooting video. The camcorder has no right-side handstrap to slip your fingers through, nor is there a top-mounted zoom toggle that you can control with your index finger.
The GC-PX10 has a good set of automatic controls, but the overall design and interface of the camcorder do not make it one of the easiest products to wield. It is awkwardly constructed and its controls are a strange hodgepodge of video and photo functions. By trying to make a true hybrid device that is good for both photography and videography, JVC failed to make a product that is easy to figure out.
Features
The unique record modes on the camcorder make us wonder why JVC doesn't include these options on other models.
Admittedly, the GC-PX10 has an interesting set of video features, as well as a bunch of photo options not found on most camcorders. Most intriguing is the camcorder's record options, which includes a high-bitrate mode that captures video at 36Mbps. Recording clips with this setting will result in very large files, but a bitrate of this level does mean videos will have more detail and less compression artifacting. This high-quality option is at least one of the reasons the GC-PX10 did so well on our video sharpness test. The camcorder also has a 300fps slow motion mode, although the quality of this setting wasn't that great.
The camcorder is outfitted with your traditional set of manual controls, including control over focus and exposure. Strangely, JVC didn't include a lens ring on the PX10, instead opting for two flimsy control dials, neither of which are a pleasure to work with. The camcorder also has a couple of extraneous video controls that aren't usually found on consumer models: overexposure zebra patterns, a 3.5mm mic jack and manual audio options, and a time lapse record function. The 10x optical zoom lens isn't anything special, but it is flanked by a built-in flash that is just one of the PX10's many still image features.
Performance
Excellent sharpness and motion results were overshadowed by a below-average low light performance.
The GC-PX10 is a better camcorder than it is a camera, but as a camcorder it still has flaws. In bright light, the PX10's videos look great. The full HD record mode creates sharp video with the kind of smoothness and clarity that you expect to see from a camcorder that shoots 60p video. Low light performance was not nearly as good, but it was still passable despite the fact that images appeared faded and dull.
The GC-PX10 is a better camcorder than it is a camera, but as a camcorder it still has flaws.
Color accuracy was good in bright light and decent in low light, but the camcorder's real struggle came in our sensitivity test that determines how much light a camcorder needs to produce a usable image. Simply put, the PX10 needs a lot of light to record a strong image, and it was quite more than the competition required.
Conclusion
Solely for recording video, the JVC GC-PX10 is not a complete waste of time—but it is still seriously overpriced for what you get.
What really brings the PX10 down is the camcorder's terrible handling. The shape of the camcorder is not conducive for shooting video, and the interface for adjusting controls and settings is one of the most frustrating setups I've ever encountered. The problem stems from JVC's attempt to infuse the PX10 with equal appeal to both videographers and photographers. By attempting to do so, however, JVC ended up with a product with little appeal to either.
Thanks to our friends over at DigitalCameraInfo, we know the PX10 offers next to nothing in the still image department. Based on the camcorder's performance in a battery of photographic tests, DigitalCameraInfo determined the PX10 to be worth the equivalent of an $80 camera. That leaves a whopping $720 bucks left for the PX10's capabilities as a camcorder, and it's not worth that much.
With the GC-PX10's current incarnation, we can't recommend the camcorder to anyone, even if you're dead-set on buying an "all-in-one" video/photo device. You'd be better off buying a good HD camcorder for around $500 (the Panasonic HDC-TM90 or Canon HF M40, for example), and then spending another $100 – $200 on a solid, compact, point-and-shoot camera (like the Canon PowerShot 100 HS).
Our editors review and recommend products to help you buy the stuff you need. If you make a purchase by clicking one of our links, we may earn a small share of the revenue. Our picks and opinions are independent from any business incentives.