camcorders
Canon XH A1 Camcorder Review
The Canon XH A1 is poised to win over a host of videographers looking to make the switch to HD. Billed by Canon as the XL H1 in miniature, we can tell you that the statement is hardly exaggeration.
Performance
Video Performance*(12.0)*The Canon XH A1 is equipped with three 1/3" CCDs. Each chip offers 1.67 gross MP (breaking down to an HDV effective pixel count of 1.56MP, a 16:9 DV effective pixel count of 1.56MP, and a 4:3 DV effective pixel count of 1.17MP). HDV is recorded in 1080/60i, along with frame rates of 30F and 24F, with the "F" standing for "frame." For a full explanation of the distinctions between "F" and "P" (as in the AG-HVX200's 24P), scroll all the way down to the Scan Rate/24P section. DV video is recorded in 480/60i, and can also take advantage of the 30F and 24F frame rates. Canon promises that the XH A1 and XH G1 have exactly the same video performance as the XL H1, which retails for more than twice the price of the XH A1. Of course, the XH H1 has an interchangeable lens, and different lenses can seriously affect video performance. Their claim seems to be based on the performance with the 20x kit lens, which is what we used in testing for our review of XL H1. Let's see if the XH A1 can uphold its claim. *HDV*At 3000 lux 1080/60i in auto mode, the Canon XH A1's video performance is excellent. From a consumer standpoint (and let's face it, this is going to tempt a lot of consumers) the colors appear flat. This is only because most consumer camcorders, even those approaching $2000, tend to oversaturate. This camcorder gives a steady, even-tone in auto mode. This is ideal for professionals, of course, because the XH A1's extensive color control settings in the Custom Preset menu (see the Other Manual Controls section below) allows you to dial in pretty much any color tone you could want. A relatively flat saturation also gives you more freedom in post-production for color correction.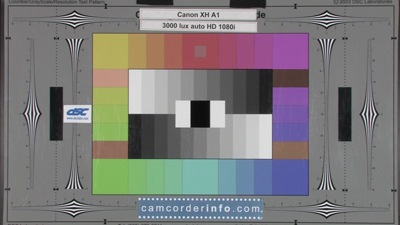 Click here to view complete color charts in full resolution (new window). The Canon XH A1's image is not noise free, but it certainly won't be too noticeable in bright light. Even in low light, the noise is kept in check. Only at very low levels will the tell-tale flicker of too much grain appear (more in Low Light Performance below). Compared to the Canon XL H1, the XH A1's performance is very similar. Certainly, the noise and apparent sharpness were identical. The XL H1, however, appears to have a slightly boosted contrast, evident in the colors and high-contrast areas like the black/white borders of the resolution trumpets. We were surprised to see this discrepancy, given that both camcorders were in full auto mode (except for a manual white balance setting). Differences in this area are insignificant, given the plethora of color control options. They did show an apparently identical sharpness.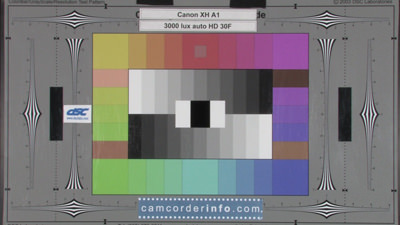 At 3000 lux in 1080/30F, the picture seemed to acquire a softer look to it, even with the camcorder stationary in a tripod shooting a still object like the chart. The hard edges of high contrast areas softened a little. Color performance was identical.
At 1080/24F, the picture looked slightly darker than 60i and 30F. Once might think that the image would be brighter due to the slower shutter speed, but because the camcorder is in full auto mode, the auto exposure is likely correcting for that. Colors appeared more saturated than in the other frame rates. When shooting 30F and 24F, you'll definitely notice a stutter in moving objects. Despite what camcorder manufacturers may want you to believe, and despite what you may want to believe yourself, progressive video does not look like film. It probably never will. It looks like progressive video – a look that is all over cable TV. Some people like it; some hate it. The stutter is less noticeable in 30F. Both of them are likely to look better on a progressive monitor, which are entering the home in increasing numbers.
*Standard Definition DV*In standard definition 16:9 (480/60i), the colors are identical to the 1080/60i. The image, of course, has far less resolution, but still looks great. In DV mode, you can also shoot 30F and 24F with similar results in motion. **Video Resolution***(36.7)*The Canon XH A1 was tested for its video resolution by shooting a standard ISO 12233 resolution chart and running stills from that footage through Imatest imaging software. In HDV 1080/60i, the camcorder produced approximately 603.5 lines of horizontal resolution and 609.2 lines of vertical resolution, creating an approximate resolution of 367652.2. This is a statistically identical resolution to the XL H1, which seems to make good on Canon's promise of identical performance between the models. **Low Light Performance (10.0)***HDV*In order to evaluate the XH A1's low light performance, we tested the camcorder at 60 lux and 15 lux under multiple frame rates, shutter speeds, and gain settings. For the sake of saving space here, we'll only look at a few settings. The full extent of our testing can be seen here.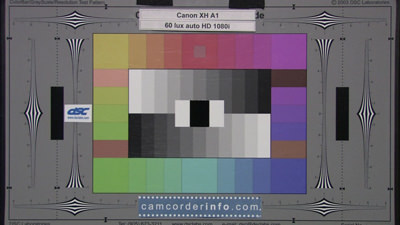 At 60 lux in a fully automatic 1080/60i, the XH A1 proved to be a superior low light performer. The image looked so similar to the 3000 lux bright light image it's hard to believe. Color performance takes a hit, of course, but not that much. The color definition – the distinction between colors – flattened a little, but it flattened evenly; no particular part of the spectrum suffered more. The auto exposure and gain managed to produce a picture that was just about as bright as 3000 lux. Noise increased, as a result, but it's very low, and of such a fine grain that you probably won't see it "dancing" on the screen. Fine detail remained excellent. The picture was virtually indistinguishable from the XL H1 – same colors, same noise, and same exposure. This will no doubt be welcome news for people lusting after the XL H1's lowlight performance but strapped by a budget.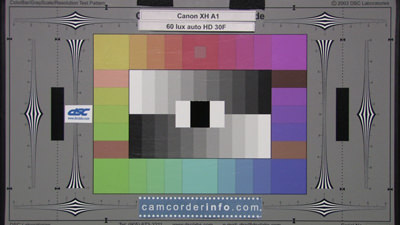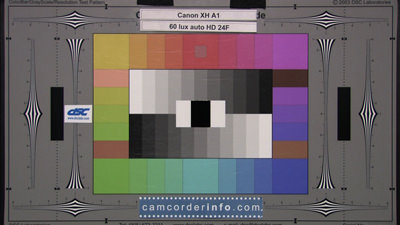 At 60 lux in 30F auto mode, the image proved to be a little brighter than 1080/60i. Consequently, all the colors brightened a little, improving their look. At 60 lux in 24F auto mode, the colors saturated even more, a trend that we saw in bright light which became more pronounced in low light. As in 1080/60i, both of these frame rates looked virtually identical to XL H1. For a full resolution shots of the camcorder's performance at 60 lux in 1/60th, 1/30th, 1/48th, and 1/24th shutter speeds at various gain settings, click here.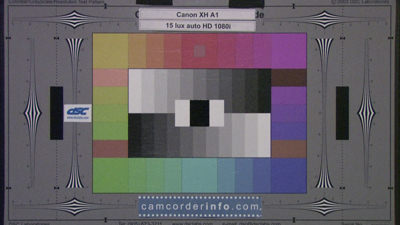 At 15 lux in 1080/60i, the colors still managed to look outstanding. It came at the cost of noise, however, which some shooters may find too steep. At this point, you l definitely see some dancing, grainy flecks. But most shooters would never leave it in auto at this dim a light level, anyway. Dropping the shutter speed down to 1/30th would solve some of this problem. The Noise Reduction settings in the Custom Preset menu can also help. We have to confess once again, however, that in straight auto mode these colors still looked great, with just enough saturation for a healthy "pop." Compared to the XL H1, there was the slightest difference in overall hue, with a little more blue in the XH A1. Seeing as though you can correct for color tone six ways from Sunday in the Custom Preset menu, we don't consider this too much of an issue.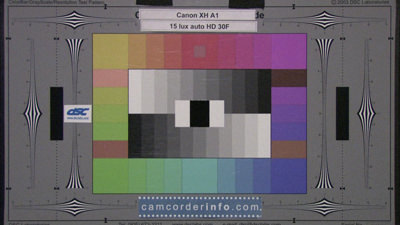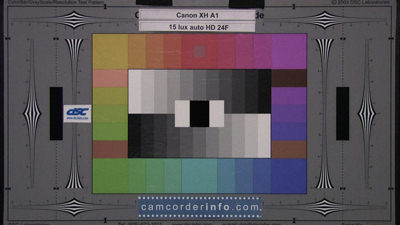 At 15 lux in 30F auto mode, the picture once again looked better than in 60i. The altered frame rate produced a healthier color spectrum. Noise levels did not show an appreciable difference. At 15 lux in 24F auto mode looked best of all, in terms of color. Noise was more noticeable in this frame rate, however. For a full resolution shots of the camcorder's performance at 15 lux in 1/60th, 1/30th, 1/48th, and 1/24th shutter speeds at various gain settings, click here. Overall, this is one dynamite low light performer, and people already using the XH A1 seem to agree. Videos have been popping up all over the internet. We encourage readers to post links in the comments section below to footage they've shot with the camcorder. Positions to the contrary are, of course, also encouraged. *Standard Definition DV*The Canon XH A1's standard definition performance lacks the detail of the HDV, of course, but color performance was essentially the same. At 60 lux, noise was more apparent in the DV image, but it showed no tangible lack of detail compared to the image at 3000 lux. Even with the grain, this is a very impressive performance in low light. At 15 lux, the colors still managed to look sensational. You can't miss the noise, but it's a worthwhile trade-off for the amount of color information that the camcorder retains. **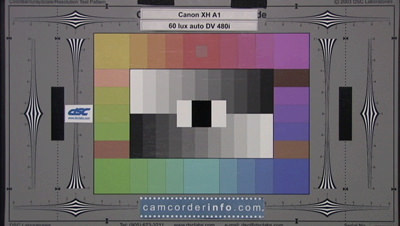 **** ****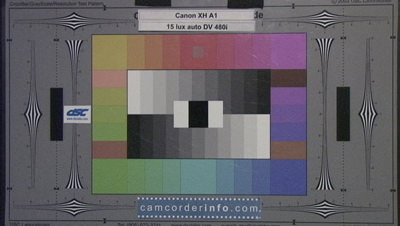 Wide Angle***(12.0)*We tested the wide angle measurement of the Canon XH A1 lens in HDV (16:9) mode. Our tests showed a wide angle of 60 degrees in 16:9, surpassing the XL H1 by about 8 degrees. In 4:3 DV mode, this camcorder adopts pillarboxing, omitting information from the left and right edges of the frame.
Comparable Products
Before you buy the Canon XH A1, take a look at these other camcorders.
Our editors review and recommend products to help you buy the stuff you need. If you make a purchase by clicking one of our links, we may earn a small share of the revenue. Our picks and opinions are independent from any business incentives.
Sections