camcorders
Canon XF300 First Impression Review
The XF300 (and XF305) is the newest pro model to feature flash memory from Canon.
$3,499.00 at Amazon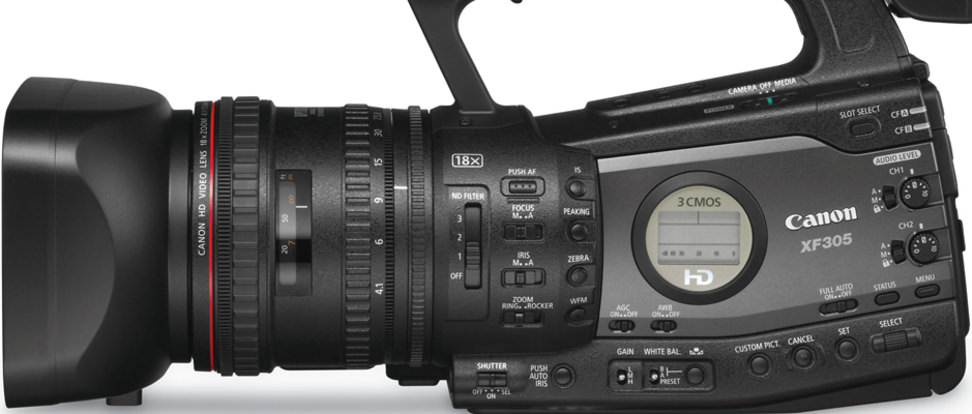 Introduction
The camcorder has many of the same manual controls and features as Canon's HDV line of pro camcorders, but the company also packed in a number of exciting updates and design improvements. The XF300 will be available in late June with an MSRP of $6799 and it will be on display next week at the National Association of Broadcasters (NAB) Convention in Las Vegas.
If you want professional connectivity options like an HD-SDI terminal, Canon also announced the XF305. The XF305 is identical to the XF300, except for the fact that it has this extra set of ports, increasing its price to $7999.
Design & Usability
Switching over the flash memory recording may strike fear in the hearts of tape-lovers, but Canon is simply following the trend of the industry.
Some users may be wary of switching from tape over to flash memory recording.
Our first impression of the XF300 is that it is easier to use than Canon's previous pro models. Its design is more streamlined and the buttons are easier to access. Canon did away with the large mode dial that you'll find on models like the XH A1S, and this gives the camcorder a simpler appearance. The dedicated auto mode is also a splendid sight to see, although the switch is a bit small, so it may be difficult to find at first. The presence of three distinct lens rings make features like focus, aperture, and shutter speed very easy to adjust on the fly. We applaud Canon for including simple things like easy-access switches, and features like the LCD panel that can be positioned on either side of the camcorder. The handlebar on the XF300 felt strong and durable, as did most of the camcorder's construction. Perhaps our biggest objection—though a small one—was the flimsy port covers.
Some users may be wary of switching from tape over to flash memory recording. This is a concern with all new camcorder equipment, however, and since flash memory is clearly the direction the industry is heading, this will have to be something most professional videographers get used to at some point in their career.
Features
Manual controls are extensive, but the camcorder does not have an interchangeable lens mount.
In addition to your traditional aperture, shutter speed, white balance, gain, and focus controls, the XF300 also has a variety of advanced manual controls that are prized by pros. You can set gamma control with six different options, black level adjustment, knee point, sharpness, noise reduction, color correction, and more. The camcorder even has a multitude of variable frame rate options ranging from 12 to 30fps for full HD recording, or up to 60fps in when shooting 720p. There's a waveform monitor and a vectorscope built into the camcorder, as well as an interval record and frame record feature. The only thing the camcorder can't do very well is take still photos, but that makes sense—it's a professional camcorder, not a photo camera.
The XF300 has a variety of advanced manual controls that are prized by pros.
The lens on the XF300 has an 18x optical zoom and a wide angle adapter can be purchased as an accessory from Canon. The lens is a bit larger than what was featured on Canon's tape-based pro models, but its zoom is a bit smaller (Canon's HDV pro models all have 20x zoom lenses). The camcorder also includes three CMOS chips, each sized at 1/3 of an inch, which is the same setup found on Canon's earlier pro models.
Comparable Products
Before you buy the Canon XF300, take a look at these other camcorders.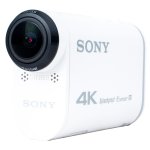 Performance
Dual XLR inputs allow for professional audio recording.
The XF300 has similar audio features to Canon's pro HDV camcorders, but the company did make one significant alteration—these new models don't include a 3.5mm external microphone jack. Canon includes this port on all of its consumer camcorders, but its new pro models must rely on the dual XLR inputs for audio connection. This lack of a 3.5mm mic jack probably won't bother most professional users, as you can always purchase 3.5mm to XLR conversion cables if you need to.
The onboard audio adjustment dials are near the back of the camcorder. Two separate dials exist (one for each channel) and audio level control can be set to auto, manual, or locked at a specific level. The XF300 has additional audio switches near the front of the camcorder that allows you to specify mic or line levels for the XLR inputs. A headphone jack is located in the rear collection of ports and two headphone volume adjustment buttons are on the top of the camcorder (under the handlebar).
The video connectivity options on the XF300 are fairly basic for a pro camcorder.
The video connectivity options on the XF300 are fairly basic for a pro camcorder. Near the back is a large collection of ports including: AV-out, USB, Headphone, LANC (wired remote), HDMI, and Component-out. Moving around to the side from these ports you'll find the video-out BNC connector and a DC-input. If you want more professional connectivity options you can go with the Canon XF350, which offers a TC connector, GENLOCK, and HD-SDI terminal for an extra $1000 or so.
Conclusion
After years of speculation, the XF300 will be available in late June of this year with an MSRP of $6799.
The XF300 has been a long time coming for Canon. It's the last of the major professional camcorder manufacturers to release a tapeless model, but the XF300 is finally here. Even though it's late to the game, the XF300 is an interesting piece of technology from a design perspective. The camcorder has a wonderful LCD and viewfinder setup, excellent manual controls, and many quick-access dials and switches to make settings as easy to adjust as possible.
Whether or not the XF300 succeeds as far as image quality is concerned is another matter entirely. The camcorder's MPEG-2 compression system has some users worried, but that concern may be entirely baseless. Many aspects go into determining video quality, and compression systems and codecs are just a small part of the formula. The quality of the camcorder's lens, the type of processing, and the design of the image sensor are all just as integral as bitrates and recording codecs.
For now, we are excited about the XF300, and the camcorder appears to be a strong addition to Canon's professional lineup. The 4-inch LCD, comfortable handling, and the fact that the camcorder records to easy-to-find Compact Flash memory cards can all be considered strong points. Canon's dedication to manual controls also remains very impressive, as the XF300 has an endless amount of customizable settings and features.
Our editors review and recommend products to help you buy the stuff you need. If you make a purchase by clicking one of our links, we may earn a small share of the revenue. Our picks and opinions are independent from any business incentives.