camcorders
Canon XF105 First Impression Review
The lack of the three-chip system found in previous Canon pro models causes us to doubt the XF105's capabilities.
$2,499.00 at Amazon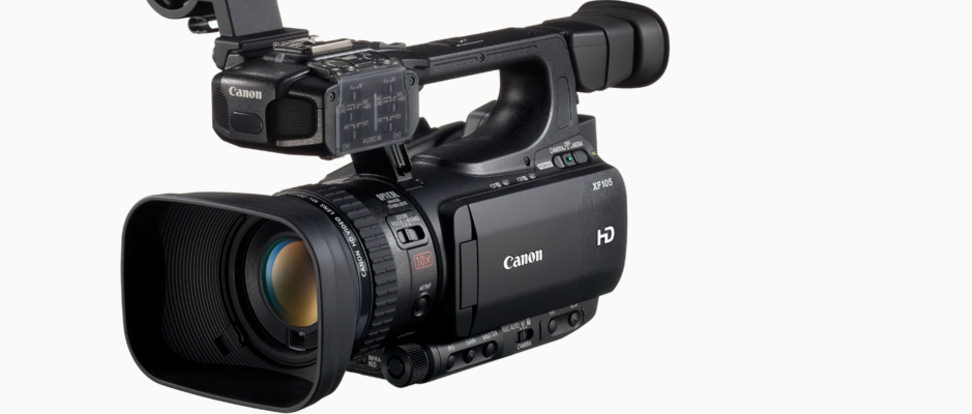 Introduction
At the Canon Expo in New York City, I got a chance to check out the XF105—a new compact professional camcorder that is loaded with manual controls. Unfortunately, the camcorder is stuck with a single CMOS sensor instead of the three-chip system found on Canon's previous pro models (like the XF300 and XF305). It's unclear how much this change will affect overall image quality, but it places some serious doubt on the XF105's performance capabilities.
The XF105 has a slightly cheaper sister model, the XF100, that is essentially identical to the XF105, except it lacks the professional Genlock/Timecode and HD/SD-SDI BNC terminals. Both camcorders are expected to ship in mid-January 2011, with the XF105 retailing for around $5000 and the XF100 selling for roughly $4000.
Design & Usability
The XF105 feels a bit more cluttered than other pro models, and a second lens ring would have been appreciated.
In my time with the XF105 at the Canon Expo in New York, I was frustrated by the camcorder's cluttered design and confusing layout. The lens ring wasn't great for making certain adjustments and the control dial didn't allow me to adjust the kind of controls I wanted to have access to. I also wasn't impressed by the camcorder's electronic viewfinder or its extensive menus.
I was frustrated by the camcorder's cluttered design and confusing layout.
Don't be fooled into thinking the XF105 is simpler than your average pro model just because it's got a smaller design. It's not. In fact, the camcorder may actually be more difficult to use because of its small size. The lack of extra space means buttons are more cluttered and certain controls aren't at your fingertips. Obviously, having a compact pro model has huge benefits too: it's easier to take with you on the road, and it isn't going to be as tiring on your arms during hand-held shoots.
The lens ring on the XF105 is great for adjusting focus, but felt too responsive when switching it over to iris control. Here's the real kicker, though, when setting zoom the lens ring wasn't responsive enough. Canon could've solved these problems entirely by just incorporating a second (or third) lens ring on the XF105. The camcorder does have a small dial that is used as a secondary controller, but it doesn't offer quite the same feel as a large, precise lens ring.
Features
The only difference between the XF105 and its cheaper brother is the inclusion of two BNC terminals.
The XF105 comes with two professional BNC terminals, with one acting as a Timecode/Genlock port, and the other as an HD/SD-SDI output for uncompressed video. If you have no need for these jacks, then you should save some cash and buy the XF100 over the XF105. One thing we should note, however, is that the XF105's 3D assistance feature does make use of the Genlock port when you connect two XF105's together. This means it is more difficult to calibrate two XF100s together to shoot 3D than two XF105s, but only a select number of users will ever require the use of this feature.
Canon definitely didn't skimp on the audio features with the XF105.
Canon definitely didn't skimp on the audio features with the XF105. The camcorder is loaded with controls, has two XLR inputs, a 3.5mm mic jack, and a built-in stereo mic up front that should be good enough for most on-location shooting where audio isn't a top priority. Many of the cheaper, compact pro camcorders similar to the XF105 avoid having XLR ports in an attempt to save space, but Canon realized they were necessary terminals for pro users and made a full-on effort to include them here. The XLR ports may add to the XF105's cramped design, but they're totally worth it.
Like the other members of Canon's XF pro lineup, the XF105 records to Compact Flash (CF) memory cards. There are two card slots on the camcorder, both of which are found inside the cluttered LCD cavity. The card slots are well protected and they pop open with the flick of a small switch, but they are surrounded by a variety of buttons and controls, so you do have to be careful not to accidentally press other buttons when you're trying to reach the memory card slots.
Comparable Products
Before you buy the Canon XF105, take a look at these other camcorders.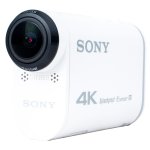 Performance
The XF105 has most of your professional manual controls covered, and the camcorder makes use of high-bitrate record modes to capture HD video.
The XF105 records HD video using Canon's own XF codec, which is based on the MPEG-2 compression system. The XF codec is a file-based recording system that uses an MXF file wrapper, which, according to Canon, gives the video clips wider compatibility with non-linear editing systems. The XF codec also allows for a very high recording bitrate (50Mbps maximum) and 4:2:2 color sampling. There are no standard definition recording options on the XF105, but you can record using a variety of bitrates and resolutions (including 720p). The 50Mbps and 25Mbps record settings utilize a continual bitrate system, while the 35Mbps option is a variable bitrate.
There are no standard definition recording options on the XF105, but you can record using a variety of bitrates and resolutions.
As for controls, let's start with the basics. You can manually control shutter speed, aperture (iris), gain, and white balance on the camcorder with many different adjustment intervals. Our only complaint is that there are too many places on the camcorder where you have to switch the controls over to manual before you can actually adjust them. For example, you must press the shutter speed button on the side of the camcorder and set the shutter control to 'speed' in the menu before you can manually select a shutter speed. Same thing goes with iris—you have to press the iris button and set the lens ring or control dial to manual iris control to actually make adjustments. This makes it difficult to quickly switch between controls while your shooting, and it is a confusing setup that takes some getting used to.
Digging deeper into the XF105's menu you'll find the Custom Preset options, which have been a staple of Canon's pro camcorders for years. The XF105's collection includes 6 gamma settings, black level adjustment, knee controls, sharpness, noise reduction, skin detail, color matrix, color correction, and setup level (among others). The problem, however, isn't with the amount of controls—that's fantastic—but it is with the way these controls are adjusted. The menu is basically one long list of options, which means you have to scroll through everything to find what you're looking for. We like the one-screen Custom Preset display on Canon's HDV camcorders a whole lot better.
Other manual controls include variable frame rate recording, which is a fun feature to play around with. In 1080i recording you can speed up the film to 2.5x the normal rate or as slow as 1/2.5 times. 720p record mode allows you to increase the speed by 5x or go as slow as 1/1.25 times.There's also an interval recording option and a frame-by-frame setting that's great for stop-motion videography.
Conclusion
The compact design of the XF105 is certainly impressive, but the camcorder is a bit too late to the party for it to really be considered noteworthy. JVC and Panasonic (with the GY-HM100 and AG-HMC40, respectively) both released compact pro models last year, so why has it taken so long for Canon to take its turn?
We'd be more considerate to the XF105 if it had loads of new features that we haven't seen before. Yes, the camcorder has built-in 3D assistance and an infrared record setting, but those two features don't qualify as "game-changing". Perhaps if the XF105 had an actual 3D recording option with an attachable lens, then we could at least be rejoicing about something relatively cutting-edge.
Our editors review and recommend products to help you buy the stuff you need. If you make a purchase by clicking one of our links, we may earn a small share of the revenue. Our picks and opinions are independent from any business incentives.