camcorders
Canon Rebel T3 DSLR Camera Review
The EOS Rebel T3 is a budget DSLR from Canon that offers a 720p HD video record mode.
$428.99 at Amazon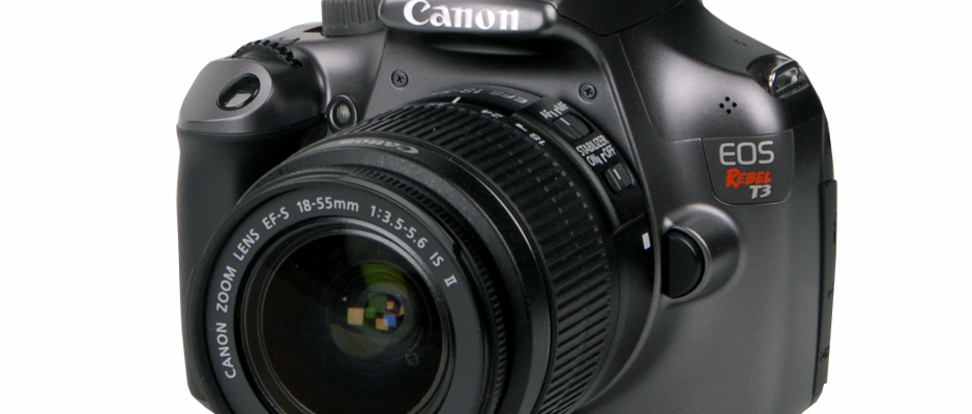 Introduction
The EOS Rebel T3 is a budget DSLR from Canon that offers a 720p HD video record mode. The camera certainly doesn't have the same video features or performance as Canon's more-expensive Rebel T3i, but the quality of its video mode wasn't bad for a camera with a sub-$600 price tag (including kit lens).
Color & Noise
The T3 had slightly more accurate colors than the rest of the cameras in our comparison group in bright light video testing. It didn't quite match up to how stellar it performed in our low light video testing, but it bettered the Pentax K-r and Nikon D5100, which both had a color error over 4. The T3i was only slightly better with a color error of approximately 3.9 compared to 3.52 on the T3. See our full color performance review, including color swatches and crops.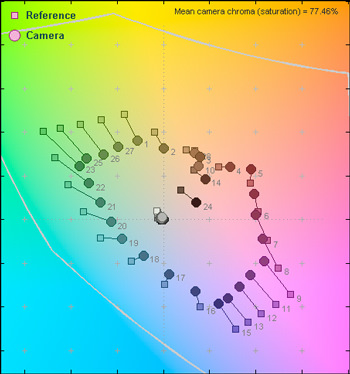 The T3 suffered from less than 0.6% noise in bright light video testing, which is basically identical to what we saw on the T3i. The major issue was color noise, especially in the red channel. This is very common in DSLRs, and it's right in line with what we saw with the T3i. See our full noise performance review, including crops and comparative analysis.
Motion & Sharpness
The T3 rendered motion fairly well, with its major issue being trailing across the frame. In our motion test this is most visible in the train's face and the monochrome pinwheel. There is little signal interference or aberration visible in the rest of the motion, however, despite the video being just 720/30p. Given that this is Canon's first sub-$600 DSLR with HD video, it's not a bad effort. See our full motion performance review, including video clips.
The 18-55mm f/3.5-5.6 kit lens on the T3 proved to be very soft in our still resolution testing and that holds true here. The camera and kit lens could manage just 450 lw/ph of horizontal sharpness, and 500 lw/ph vertically. The combination also created a pronounced moire effect with pretty obvious chromatic aberration at the highest spatial frequencies. Read our full sharpness performance review.
Comparable Products
Before you buy the Canon EOS Rebel T3, take a look at these other interchangeable lens cameras.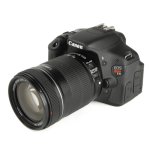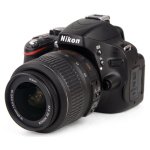 Low Light
The Canon T3 required 12 lux of light to record an image that registered 50 IRE on a waveform monitor. This isn't particularly sensitive, but it's a low enough amount of light that in most practical situations that don't involve the inside of a dark bar, you'll be able to record usable images. Read our full low light sensitivity performance review.
Our low light video testing found a color error of just 2.39 with the T3, which is extremely accurate. The camera also had saturation that was nearly perfect. Considering the T3 produced a much greater color error both in still photography as well as in bright light video testing, we can only chalk this up to a bit of luck on the T3's part. Still, it's a very good result and the camera earns points because of it. See our full low light color performance review, including comparative images and analysis.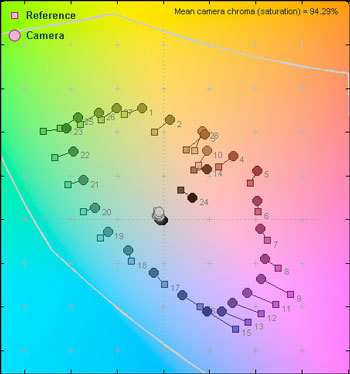 The Canon T3 had less than 0.9% noise in low light, which was slightly worse than we saw in bright light color testing. That is to be expected, as the camera ramps up sensitivity automatically in video testing, with no manual control allowed. Still, this is a very good result and lags only slightly behind what the Canon T3i was capable of. See our full "low light noise performance review":http://www.digitalcamerainfo.com/content/Canon-T3-Digital-Camera-Review/Video.htm, including crops and comparative images.
Conclusion
The biggest disappointment we had with the Canon T3's video mode was the camera's lack of essential manual controls when shooting video. Unlike it's more expensive sibling, the Canon T3i, the T3 does not allow you to adjust aperture, shutter speed, or ISO in video mode, which doesn't bode well for those who were hoping to use this reasonably-priced DSLR as a professional video recording device.
The quality of the video produced by the camera was very good, particularly for a model that tops out with 720p HD recording, but we were dismayed by the lack of video record modes and frame rate options on the camera in addition to its lack of manual controls. When you look at the T3's overall video specs, it seems that Canon set out to make a DSLR with minimal video functionality. By doing this, Canon essentially forces any true video enthusiasts to spring for the higher-priced Canon T3i instead. It can do everything the T3 can with video, plus a whole lot more—1080p HD recording, multiple frame rate options, and access to plenty of manual controls.
To read our full conclusions for the Canon EOS Rebel T3 including analysis of the camera's video handling and audio options, plus see sample videos and photos, visit the full review at DigitalCameraInfo.com.
Our editors review and recommend products to help you buy the stuff you need. If you make a purchase by clicking one of our links, we may earn a small share of the revenue. Our picks and opinions are independent from any business incentives.