camcorders
Canon HF M52 Review
The HF M52 delivers fantastic video performance, but Canon's main new feature, built-in WiFi, doesn't impress.
$439.99 at Walmart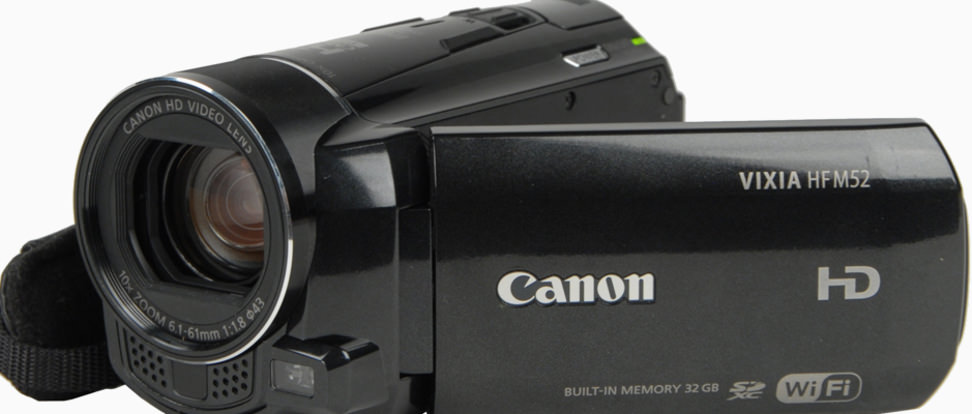 Introduction
With excellent low light performance and a decent amount of manual controls, the Canon HF M52 is one of the best mid-range camcorders on the market. It does come with a steep $750 price tag, however, and the new features—which include WiFi capability and a new 720p MPEG-4 record mode—certainly aren't groundbreaking. If you already own a Canon HF M41 or M40 from last year, then there isn't much of a reason to upgrade.
Design & Usability
The HF M52 is a very traditional camcorder with a touchscreen LCD and a 10x zoom lens.
Canon excels at making handheld camcorders that are both stylish and traditional. The HF M52 doesn't look special; it looks like a normal camcorder that is too big to fit in your pocket, but will slip into your medium-sized purse or bag with ease. Canon's hand strap is one of the better straps found on a mid-range camcorder, and the overall shape of the M52 allows the camcorder to fit nicely in your palm. The HF M52 does use a touchscreen LCD, as is the case with almost all consumer models these days.
Canon included too many controls and features for the HF M52 to get slapped with an "easy-to-use" label.
I wouldn't recommend the HF M52 for someone who is looking for a simple, idiot-proof camcorder. Canon included too many controls and features, as well as a complicated menu system, for the HF M52 to get slapped with an "easy-to-use" label. The M52's lack of a control ring or dial also means it won't satisfy pros who are looking for top-notch control adjustment. The camcorder does have lots of features, though, so as long as you don't mind adjusting these controls via the touchscreen interface then you should be satisfied.
Features
In addition to built-in WiFi, Canon added a few other new features to the HF M52, including extra audio controls and a 720p record mode.
The addition of WiFi capability, the 720p MPEG-4 record mode, and extra audio controls make the HF M52 one of the most loaded mid-range camcorders of 2012. It's a great choice for audiophiles who want a compact camcorder with prosumer-grade audio controls (and an external mic jack!), and the inclusion of Canon's PF24 frame rate and Cinema Modes makes the M52 a solid choice for artists or student filmmakers, as well.
The WiFi capabilities weren't that impressive.
Despite its plethora of features, though, this isn't a professional camcorder. Nearly all the controls rely on the imprecise touchscreen interface for adjustments. Also, the M52's WiFi capabilities weren't that impressive; this new feature seemed more complicated than useful.
Performance
If you want great low light video from a mid-range camcorder, the HF M52 is the model for you.
The HF M52 excelled in our low light testing and put up better-than-average scores in the rest of our performance tests, too. Surprisingly, the camcorder didn't show a huge improvement over last year's HF M40, so the HF M52 isn't much of an upgrade in the performance department. Still, this is a top-notch camcorder that captures video as good as, or better than, numerous high-end models. Its low light performance was exceptional, sharpness numbers were great, and motion was excellent in all frame rate options.
Conclusion
This excellent mid-range camcorder isn't much better than its predecessor, especially since the WiFi features aren't that cool.
If you're looking for a first-rate low light camcorder that won't break the bank, then the Canon HF M52 is right up your alley. It's a fantastic product in terms of video performance, and it ranked near the top of its class in all of our video tests (with the exception of image stabilization). The Vixia HF M52's $750 MSRP is steep for a mid-range model, but its exceptional video performance makes its high price understandable.
You may want to search for an old Canon HF M41, HF M40, or HF M400 while you still can, instead of shelling out the extra cash for a new HF M52.
Unfortunately, the HF M52's new features for 2012 aren't that noteworthy, so if you're looking to upgrade from last year's HF M41 (or HF M40), then you're gonna want to sit tight. The big new additions include some extra audio features, a new MPEG-4 720p record mode, and built-in WiFi. Of these features, the 720p record mode is what excited us most, and it is a useful option for those who want a video format that's easier to share with friends. The new WiFi capabilities, on the other hand, are a bust. They were too frustrating to setup, too limited in their functions, and far too complicated for the average user.
Canon also reduced the size and weight of the HF M52 by a hair, but the reduction wasn't significant enough to make the HF M52 any more portable than its predecessor. In fact, we'd go so far as saying you may want to search for an old Canon HF M41, HF M40, or HF M400 while you still can, instead of shelling out the extra cash for a new HF M52. The differences really aren't great enough to warrant the HF M52's extra cost—despite the fact that it is a great camcorder. Other than a tiny improvement in low light performance, there was no change in the way the HF M52 recorded video as compared to the HF M40 we tested last year. Going with the HF M41 instead of the HF M52 could save you $50 – $100, but it is likely that last year's models won't be around for much longer.
The HF M52, which comes with 32GB of internal memory, has an MSRP of $749. The HF M50, which has the same features as the M52, but with half the internal memory (16GB), has an MSRP of $649. There's also the card-only Canon HF M500, which is also missing the WiFi functions and a few other features, that is available for $549.
Our editors review and recommend products to help you buy the stuff you need. If you make a purchase by clicking one of our links, we may earn a small share of the revenue. Our picks and opinions are independent from any business incentives.