camcorders
Canon HF G10 Review
Canon's flagship, the HF G10, lends high-quality video with the look and feel of professional content.
$1,299.99 MSRP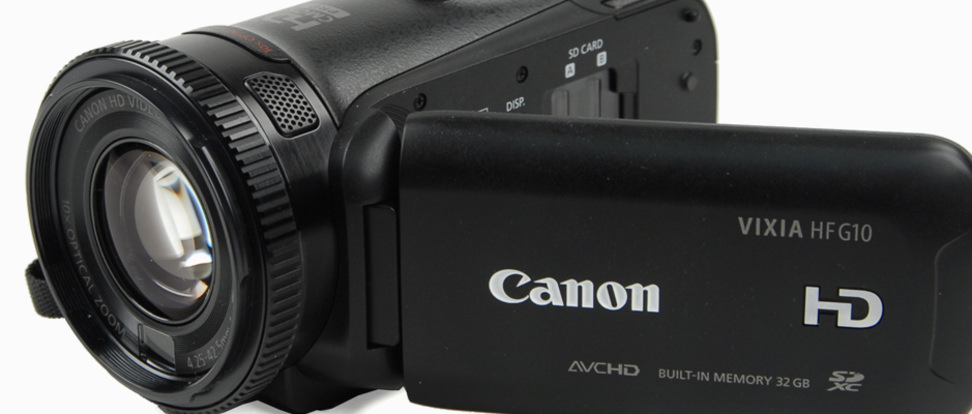 Introduction
With the Vixia HF G10 ($1499 MSRP), Canon's latest flagship camcorder, the company decided to go with a completely redesigned image sensor, made specifically for capturing HD video. The change paid off, as the HF G10 produced high-quality video that had the look and feel of professional content. The only significant drawback? The HF G10 can't capture high-res still photos.
Design & Usability
With its loaded frame and extensive controls, the HF G10 may be too daunting for novice videographers.
The HF G10 is not geared towards beginners, just to be clear. It is more like a prosumer or professional product wrapped up into a compact package. The camcorder has a lot of features, particularly advanced features, that your average videographer would likely ignore. To counter this, Canon does include an intuitive auto mode that makes life easier while you're still getting accustomed to the camcorder's manual shooting modes. Pros may complain the camcorder feels too small, and the G10 is certainly far more compact than the average professional model, but the camcorder's focus ring should prove satisfying, all the same. This ring is large and precise, and it would fit just as comfortably on a $5000 camcorder as it does here.
The control dial on the back can be a nuisance to access on the fly.
The control dial on the back, on the other hand, is a cause of concern. This dial, which can be a nuisance to access on the fly, is used to set numerous exposure controls like aperture and shutter speed. A better idea would involve the inclusion of a second lens ring, or at least a toggle function for hopping between exposure and focus adjustment with the single lens ring; this would give videographers more control at their fingertips, which the small control dial at the back of the camcorder fails to deliver.
Features
Chock-full of professional-grade controls and features
The camcorder's nine new Cinema Filters enable the HF G10 to mimic the look and feel of film.
The HF G10 comes like no other consumer camcorder, offering a full suite of manual controls, 32GB of internal memory, two memory card slots, a 3.5-inch LCD and an electronic viewfinder, a 24p cinema mode, and manual audio modes. Certain controls, like color bars, test tone, ND filters, and Zebra Patterns, are features that may only interest pros or enthusiasts, but basic consumers may come to find use for them as well. The camcorder is stuffed with so many options, it lacks nearly nothing... yet there are a few missing items worth mentioning: 60p record mode is not included, which other high-end models do offer this year, and slow motion record modes and time lapse functions are omitted as well. There are also a few gimmicky options, like Canon's story creator shooting template and digital decoration mode, which have no place on a camcorder like this.
The list of manual controls on the HF G10 could go on for days. Most interesting may be the camcorder's nine new Cinema Filters, which are designed to produce a more cinematic look. Some of the modes are cheesier than others, and most are effects that could be added using iMovie later, but they're still fun to play around with. The Cinema Filters include: Cool, Dramatic Black & White, Dream, Memory, Nostalgic, Old Movie, Sepia, and Vivid. These modes, combined with the camcorder's large lens and precise focus control, enable the HF G10 to mimic the look and feel of film.
Comparable Products
Before you buy the Canon Vixia HF G10, take a look at these other camcorders.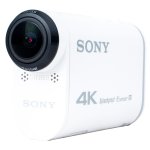 Performance
The HF G10 really shines with its low light capabilities, but it's an outstanding all-around performer, too.
The Canon HF G10 aced every single one of our performance tests. From battery life to motion performance, the camcorder put up top-notch numbers in each category and showed no glaring weaknesses.
Even in dim settings the camera produced crisp, colorful, clean videos.
Its worst results came in stabilization, but even there the camcorder was able to out-perform its predecessor, the Canon HF S21. Of course, the G10's most impressive showing came in low light, putting up unprecedented numbers. The camcorder needed very little light to record viable images, and even in dim settings the camera produced crisp, colorful, clean videos.
Conclusion
Finally, a high-end camcorder that's built with pros and enthusiasts in mind.
The HF G10 is perfect for students or first-time filmmakers who want high-end performance, but aren't quite ready for a professional camcorder. It has a ton of features, its low light performance is superb, and its just big enough to give you a slight aura of professionalism without breaking the bank. It may not have a 60p record mode, arguably the camcorder's biggest weakness, but it does have plenty of other controls and options. We can't stress enough how well the camcorder did in our overall tests, and it's unlikely you will find better image quality at this price—unless you're keen on shooting video with a DSLR.
It's unlikely you will find better image quality at this price.
The camcorder's $1499 price tag may be too high for most consumers, but the HF G10 gives you plenty for your money. People who want access to professional-grade controls often end up paying well over $2000 on prosumer camcorders, yet the HF G10 will get you the same kind of image quality at a much lower price. If you have more cash to spend, Canon does offer the professional XA10 camcorder, a model that is identical to the HF G10, but with the added benefit of a removable handlebar with XLR audio ports. It costs around $2000.
Our editors review and recommend products to help you buy the stuff you need. If you make a purchase by clicking one of our links, we may earn a small share of the revenue. Our picks and opinions are independent from any business incentives.