camcorders
Canon EOS-1D X Video Performance Review
The Canon 1D X recorded spectacular video, but doesn't offer much more than the cheaper Canon 5D Mark III.
$6,800.00 MSRP
Buy now at Amazon

Introduction
The Canon EOS-1D X recorded spectacular video in our tests, but, even for the professional videographer, the camera doesn't offer much more than the far cheaper Canon 5D Mark III. In fact, the 5D Mark III's smaller package makes the camera a bit easier to use for shooting video than the bulky 1D X. Still, if you're in the market for a pro camera and you want top-notch video performance, the Canon 1D X will not disappoint.
Motion & Sharpness
Motion looked great with the Canon 1D X, as our motion test showed very little signs of signal interference or distortion due to subject movement. There were hints of moire through the image, however, and some trailing with the RGB and monochrome pinwheels in our motion rig. Motion looked good using both the camera's 24p and 30p frame rates, with the 24p setting offering a slightly more cinematic look. Movement looked fluid and images in motion stayed quite sharp in our test, and the camera's rolling shutter effect wasn't usually noticeable.
See our full motion performance review, including video clips.
We found the Canon 1D X was able to produce sharpness results of approximately 700 lw/ph vertical sharpness (around 600 lw/ph horizontal) with the 24-70mm f/2.8L series lens stopped down to f/9. We found the sharpness was much worse with the lens wide open, but there is still relatively narrow depth of field with the f/9, so the image still has that "full-frame aesthetic" that so many videographers love. Read our full sharpness performance review.
Low Light
As we saw with the Nikon D4, the Canon 1D X can practically see in the dark. We found that with auto ISO set (max of ISO 25600) the camera produced a 50 IRE image at a light level of just 6 lux. When you allow the camera to use its maximum video ISO of 204800, you get a much noisier image, but sensitivity improves dramatically. In most low light situations, like a restaurant or living room, the Canon 1D X will produce video images that looks clean, sharp, and has minimal noise. By pushing the ISO up to its highest settings you can record images in near-total darkness, but you will start to see lots of noise—the same thing we saw with the Nikon D4.
Read our full low light sensitivity performance review.
Conclusion
There's no question the Canon EOS-1D X is capable of recording excellent video images, but that's what you should expect from a camera that costs in excess of 6000 dollars. The multiple compression options (ALL-I or IPB), as well as the numerous record modes and extensive manual video controls offer everything the professional videographer needs to capture high-quality video. But the camera isn't marketed to video users as much as, say, the Canon 5D Mark III or the Panasonic GH3. This is a professional DSLR camera that's geared towards photographers first and foremost.
In that sense, despite the camera's top-notch video capabilities, we don't recommend it over the Canon 5D Mark III based on video performance alone. Other than the ability to bump up the ISO by one more stop, and the presence of an Ethernet port for quick file transfers, the 1D X doesn't do anything for video users that the 5D Mark III can't do either. Also, the 1D X is much larger than the 5D Mark III, which makes it far more difficult to use for handheld videography. Not to mention, the 1D X lacks a headphone jack for monitoring audio levels (another advantage of the 5D Mark III).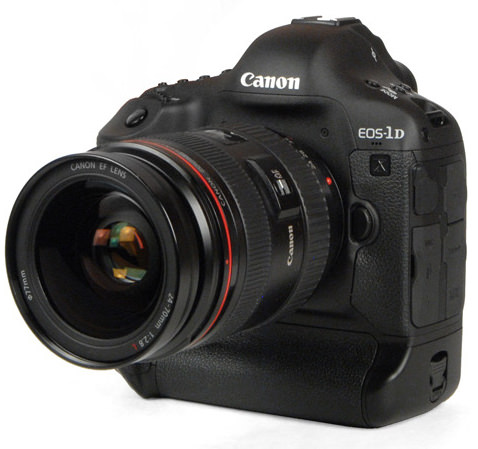 The 1D X is a great camera for pro photographers. But if you're primary concern is professional video, then you'd be perfectly fit with a cheaper model instead. If you want to stick with Canon, that means the 5D Mark III is your boy. If you want to look outside the Canon marketplace for a good camera for video, you'll find some solid competition in the form of the Nikon D800, Sony Alpha A99, and Panasonic GH3.
To read our full conclusions for the Canon EOS-1D X including analysis of the camera's video handling and audio options, plus see sample videos and photos, visit the full review at DigitalCameraInfo.com.
Our editors review and recommend products to help you buy the stuff you need. If you make a purchase by clicking one of our links, we may earn a small share of the revenue. Our picks and opinions are independent from any business incentives.