camcorders
Canon DC50 Camcorder Review

Performance
Video Performance* (6.0)*
The Canon DC50 comes equipped with a huge 1/2.7" CCD, which has a gross pixel count of 5,390,000 (effective pixel count in 4:3 is 3,980,000; in 16:9 it's 3,680,000). An imager of this size, with this many pixels, promises incredible image quality.
At 3000 lux, the colors look great, with excellent balance and saturation. This was our conclusion last year with the Canon DC40. Canon typically delivers the best looking color in the upper-end SD camcorder market, and we're pleased that this is still the case.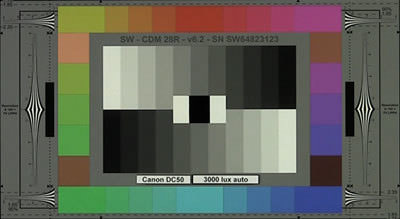 Overall, the image was a little cooler than last year's Sony DCR-DVD408, though Sony's image was crisper. The DC50 produced some haloing around high-contrast areas, places where color spilled over into areas it shouldn't. Last year's Panasonic VDR-D300 had the sharpest image in this group by a long shot. We expect that the VDR-D310 will offer the same advantage. Sony's DCR-SR300, a 2007 HDD camcorder retailing for about $200 more, produced a sharper image, but the colors appeared less distinct. Notably, the SR300 tended to expose brighter than the DC50.
One camcorder we can't comment on but should offer some stiff competition is Canon's own HR10, their first AVCHD camcorder. Also recording to DVD, the HR10 shoots with the same size chip (1/2.7") but a CMOS rather than CCD. Though it's significantly more expensive at $1199 MSRP, Canon adherents will likely take it into consideration now that AVCHD editing solutions have become available. The camcorder will surely offer better resolution, and if performance from their past CMOS camcorders is foretelling, the HR10 will probably have a better picture overall, despite known AVCHD issues like noise and trailing.
The Canon DC50 offers additional picture quality controls. The controls – Vivid, Neutral, Low Sharpening, and Soft Skin – can only be turned on and off. The camcorder also offers a fifth setting, Custom, which allows you to adjust four parameters – Brightness, Color Depth, Sharpness, and Contrast – to a degree of -1, 0, or +1. In Vivid mode, the image looks more saturated, but surprisingly, not by much. It seemed to affect the reds more than anything else.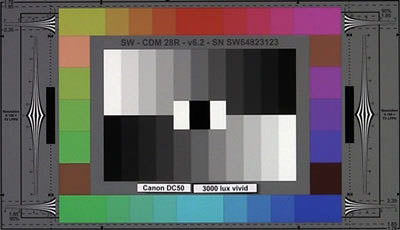 In Neutral, the image actually appears a little closer to what you'd see in a pro camcorder. If you have any intention of color correcting while editing (admittedly, this is unlikely for DVD camcorder owners), the Neutral setting may prove best to shoot in.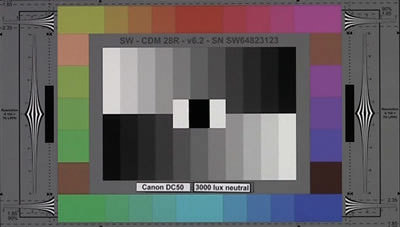 The Low Sharpening mode might prove best for shooting in high contrast shots where you don't want to draw attention to border lines. Here in the chart, you can see the black text against the gray background does not take on such a hard edge.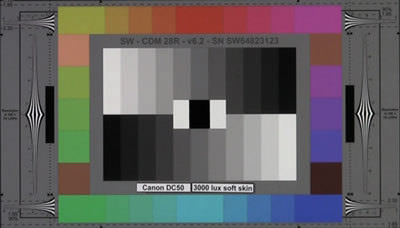 In Soft Skin mode, the image has a distinctly softer focus, perfect for hiding those premature signs of aging (what worry lines?).
Video Resolution* (5.28)

*Video resolution is tested by shooting a DSC Labs video resolution chart and observing the playback footage on an HD monitor. At best, the Canon DC50 produced a horizontal resolution of 325 line widths per picture height (lw/ph) and a vertical resolution of 325 lw/ph. The camcorder showed the normal signs of moiré patterns in the areas of the chart exceeding 325 lw/ph but no discoloration that would draw undue attention. This is a problem often seen in lower resolution camcorders, particularly in the upcoming Canon DC220 review.
Low Light Performance* (6.24)*
When we dropped the light down to 60 lux, the image lost a moderate amount of color information. The DC50 proved to be sensitive (able to produce a sufficiently bright image), but the noise increase was more than we wanted to see. The result of the noise build-up is a soft focus-look. We saw similar noise issues with the HV20, a HDV camcorder, but because the resolution is so much greater in HD, it was not as much an issue.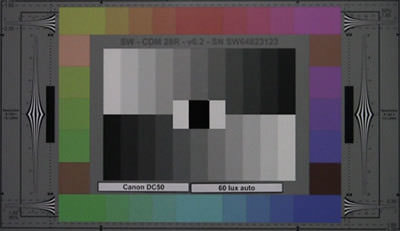 Last year's Sony DCR-DVD405 produced much more vivid colors. Though oversaturated, the image is preferable because there was hardly any noise (a rare case for a Sony, indeed). The Panasonic VDR-D300, also from 2006, has smaller chips than either the Canon or the Sony, and therefore failed to produce as well in low light. The image was dark and noisy.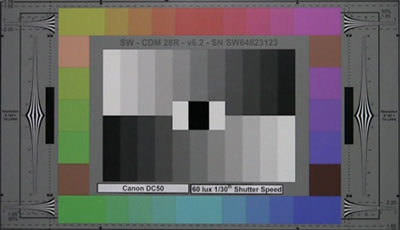 The DC50 offers manual shutter control, which is almost always a help in low light – provided you don't drop it too low. At 1/30th under 60 lux lighting, the color performance increased tremendously. If you can afford the slight motion blur that would occur with the slower shutter, this is recommended.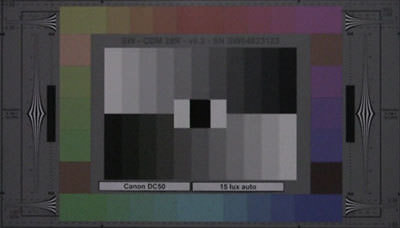 At 15 lux in auto mode, the DC50 lost a great deal more color information. While you can still make out basic tones, most people would find this an unsatisfactory image. The noise increased in a similar scale. All in all, 15 lux was a wash.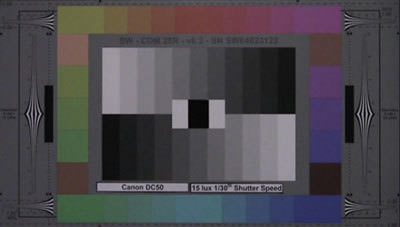 Shifting the shutter speed down to 1/30th, the 15 lux salvaged a fair amount of color, but the noise was still a problem.
The Canon DC50 managed to produce 50 IRE at 11 lux, an impressively low light level – though not surprising considering the large imager. Raising the light level to 60 lux, Imatest imaging software found the camcorder to produce a color error of 13.5, with a saturation level of 65.69% and a noise of 0.535%.
Stabilization* (7.13)*
The Canon DC50 is equipped with Super Range OIS, the manufacturer's optical image stabilization (OIS) system, to reduce the effects of camcorder shake on the image. OIS systems achieve this through an optical process that does not impact video resolution, often in the form of a gyroscopes built around the lens element. This contrasts with EIS (electronic image stabilization) systems that reduce shake through digital processing. The digital processing found in EIS systems does result in a slight loss of image resolution and are inferior to OIS.
We found the OIS system on the DC50 to be very effective. With our shake emulator device set to speed 1, roughly equivalent to the motion produced while hand-holding a camcorder and standing still, the DC50 reduced movement by about 75%. At speed 2, the more aggressive and high-speed setting, the DC50 actually reduced motion by a somewhat lesser degree: 60%. OIS systems typically lose some effectiveness at speed 2, but the DC50's overall stabilization performance was respectable, though not stellar.
Wide Angle* (10.0)*
We tested the Canon DC50 in16:9 recording mode to determine its maximum field of view. To run this test, we pulled the zoom all the way back, disabled OIS, and manually focused the camcorder to ensure a stable shot. This DC50 produced a maximum field of view of 50 degrees, placing it in the average range among comparable consumer camcorders.
Comparable Products
Before you buy the Canon DC50, take a look at these other camcorders.
Our editors review and recommend products to help you buy the stuff you need. If you make a purchase by clicking one of our links, we may earn a small share of the revenue. Our picks and opinions are independent from any business incentives.
Sections