camcorders
Canon DC220 Camcorder Review

Performance
Video Performance* (3.0)*
The Canon DC220 is a baseline DVD camcorder, all told, and the imager matches the price. Inside is a 1/6" CCD with 680,000 gross pixels (450,000 effective pixels in 16:9 with the stabilization off, 360,000 effective pixels in 16:9 with the stabilization on, and 340,000 effective pixels in 4:3).
At 3000 lux (bright light), the image was noisier than a brass band in a school gym. The noise seems to have increased from last year's Canon DC100, which had similar specs. As a result of noise, in combination with the chips low resolution, a lot of fine detail is getting lost.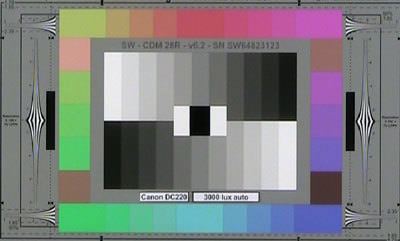 On the plus side, the color palette looks good for a camcorder in this price range. What we're seeing so far this year is that the oft-cited "Canon color" is making its way down from the upper-end to the lower-end models. The greens appear too oversaturated, which was not a problem in the DC100. Overall, the color balance is strong yet balanced. Pro users would surely scoff at the saturation levels, but in the sub-$800 market, this is what you can expect to be "good color." Comparatively, last year's Sony DCR-DVD105 favored the blue portion of spectrum too much, though fine detail capture was better. The Panasonic VDR-D100, also a 2006 camcorder, had a lot of fine grain noise and pushed the reds too hard, to the detriment of the rest of the spectrum, which appeared washed out.
The Canon DC200 offers some image control settings that affect picture quality. The feature set, dubbed "Image Settings," offers one touch on/off controls for Vivid, Neutral, and Soft Skin looks. Unlike more advanced Canon DVD camcorders like the DC50, there is no custom setting to further tweak picture quality. The Vivid setting, as you might guess, boosted saturation, though frankly, it didn't boost it that much. The saturation was heavy to begin with.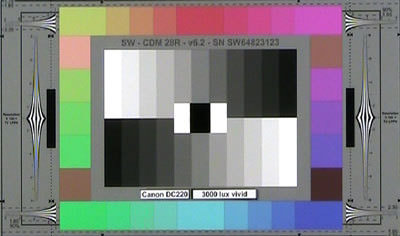 The Neutral setting, conversely, was pretty useful, and it allows you to reduce saturation. For indoor shooting, this may improve overall image quality. Once you're outdoors, a little saturation for blue skies and green grass is a good thing.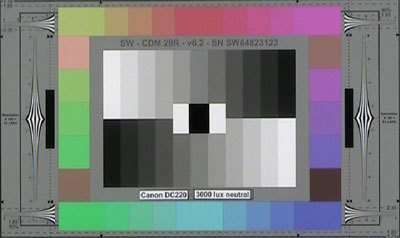 The Soft Skin just made the image look softer, which it certainly didn't need any help doing. The image lacks enough resolution – no need to help the cause.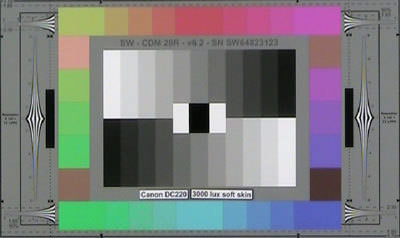 Video Resolution* (4.5)*
In order to test video resolution, we shot a DSC Labs video resolution chart and looked at the playback results on an HD monitor. At best, the Canon DC220 produced a horizontal resolution of 300 line widths per picture height (lw/ph) and a vertical resolution of 300 lw/ph. Certain areas of the chart have a great way of drawing out the moiré issues. In areas that exceed 300 line widths, the camcorder produced a lot of purple discoloration. In other areas, it produced a strange checker board pattern where there should have been only vertical lines.
Low Light Performance* (5.39)*
At 60 lux, the Canon DC220 took on a great deal of thick, blackish noise, that resulted in some loss of fine detail. With saturation levels as high as they were in bright light, the colors managed to stay relatively strong. The biggest problem was color bleed along border areas. This was noticeable in bright light, and it became worse at 60 lux.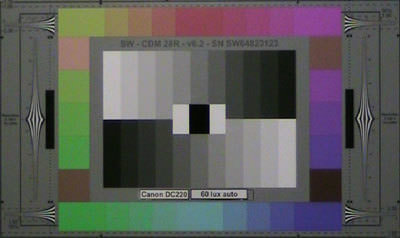 Last year's Canon DC100 looked nearly identical – same noise issues, same color. The Sony DCR-DVD105 was right on par, if not preferable. The Sony produced a finer grain noise, which is less frustrating to watch dance around the screen than thick flakes. The Panasonic VDR-D100 was the weakest of the group in terms of color. Noise issues were about equal.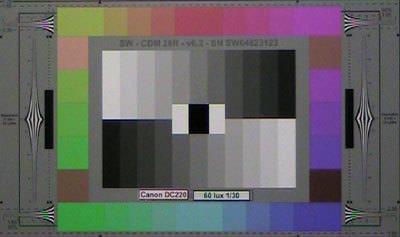 The Canon DC220 offers shutter speed control, which is a good thing to take advantage of in low light. When we dropped the shutter down to 1/30th, the colors were dramatically boosted. However, it only seemed to make the noise more obvious. Our solution is to buy something else if you want a low light performer.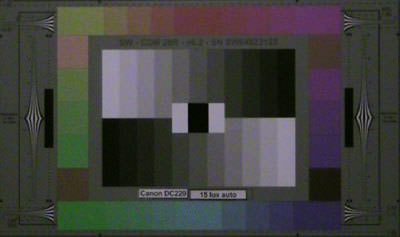 At 15 lux, the noise has completely devoured the image. New and interesting types of noise, like patches of blue, also begin to appear. This is an unusable image, for all practical purposes.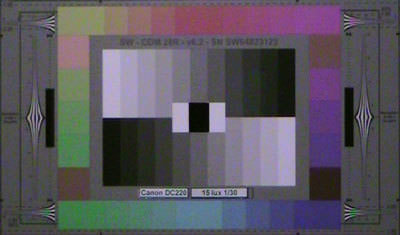 Shooting 15 lux with the shutter at 1/30th, the image brightens only to make the noise easier to see.
The Canon DC220 proved itself to be reasonably sensitive in low light, producing 50 IRE at 13 lux. At 60 lux, Imatest imaging software found the camcorder to produce a color error of 12.3, with 1.44% noise and 75.95% saturation.
Stabilization* (4.97)*
The Canon DC220 includes an EIS (electronic image stabilization) option that can be engaged to reduce moderate camcorder shake, as when operating the camcorder hand-held. EIS systems like this one are the most common type of stabilization on consumer camcorders, and function by creating a digital buffer zone around the margins of the frame. As a result, some image resolution is lost when EIS is set to on. OIS (optical image stabilization) systems do not reduce image resolution because they stabilize the lens element itself, sometimes through the use of gyroscopes. OIS systems are the superior image stabilization method and are generally seen on higher-end models such as the Canon DC50 – the company's flagship standard definition DVD camcorder.
To their credit, Canon publishes the resolution difference between an image captured with EIS on (360,000 pixels) and EIS off (450,000 pixels) in their user's manual. Most manufacturers do not disclose this, in part, because the decrease is dramatic. For this reason, EIS should only be engaged when absolutely necessary.
The DC220's EIS system was quite effective for countering the effects of moderate shake. At the speed 1 setting of our shake emulator device (roughly equivalent to the motion produced while hand-holding a camcorder and standing still), the DC220 reduced movement by about 81%. At the more aggressive shake speed 2 setting, the DC220 reduced perceived shake by only 21%. At speed 1, the DC220 performed better than average, while at speed 2, it was less effective than most comparable camcorders.
Wide Angle* (10.0)*
We tested the Canon DC220 in16:9 recording mode to determine its maximum field of view. To run this test, pulled the zoom all the way back, disabled OIS, and manually focused the camcorder to ensure a stable shot. This DC220 produced a maximum field of view of 50 degrees, placing it in the average range among comparable consumer camcorders.
Comparable Products
Before you buy the Canon DC220, take a look at these other camcorders.
Our editors review and recommend products to help you buy the stuff you need. If you make a purchase by clicking one of our links, we may earn a small share of the revenue. Our picks and opinions are independent from any business incentives.
Sections